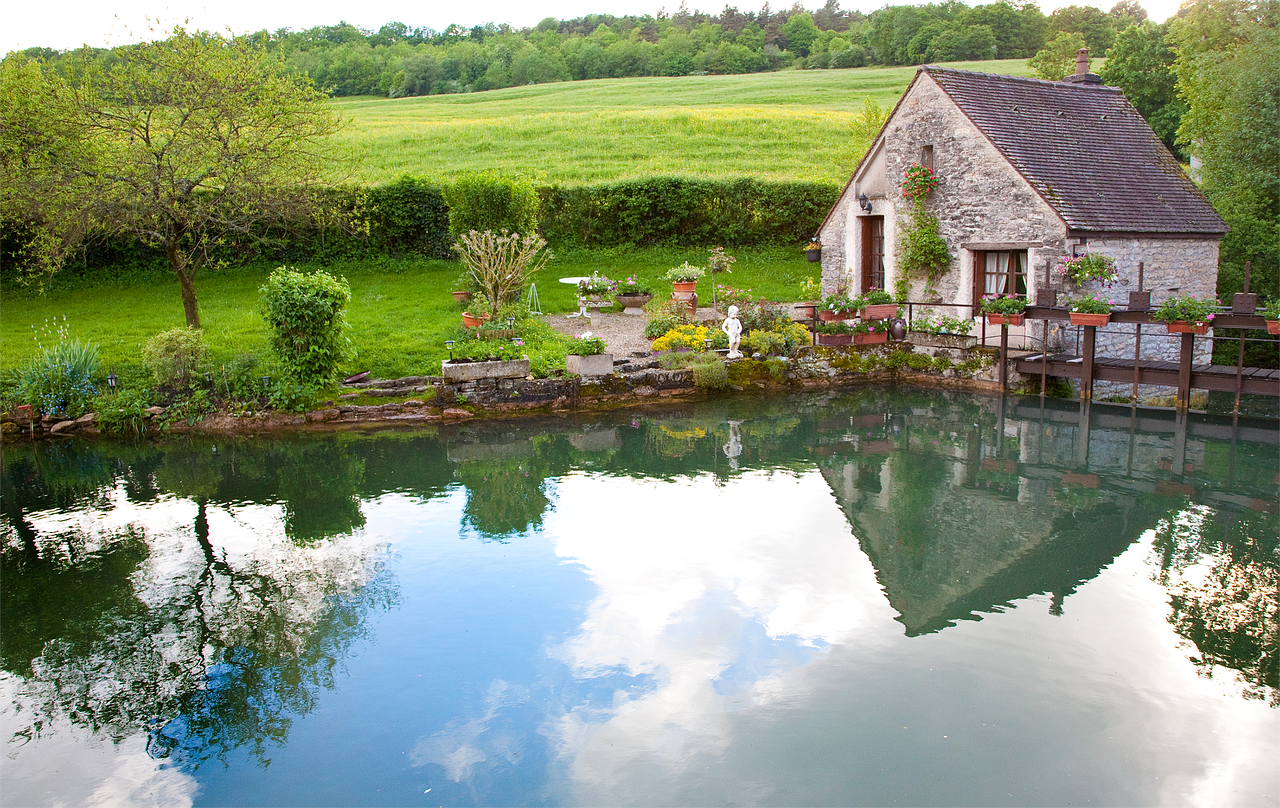 Planning a winter getaway for the upcoming holiday season? Perhaps you have cottage plans and are searching cottage homes to find the right one for you. 
Maybe you prefer outdoor camping trips or quiet evenings spent indoors and want to purchase a cabin you can enjoy all year long. If you're looking for a cabin to spend your winter holidays in, there are camping cabin kits, one bedroom cabin kits, and many more prefab cabin kits to choose from to create that cozy and comfortable cabin retreat you've always dreamed of. 
Whatever your preferences and whatever your plans, whether you enjoy discovering new places with friends and family or you enjoy spending time alone as a way to escape the daily pressures and tedium of life, there's a cabin or cottage for you. 
Cabins and cottages offer a peaceful, relaxing, and tranquil environment to retreat to for the winter. But which one should you choose: a cabin or a cottage? And what's the difference (if there is one) between a cottage and a cabin?
There's a lot of debate surrounding this question. This article aims to clarify the distinctions between a cabin and a cottage and help you determine the best option for your winter getaway.
What is a Cottage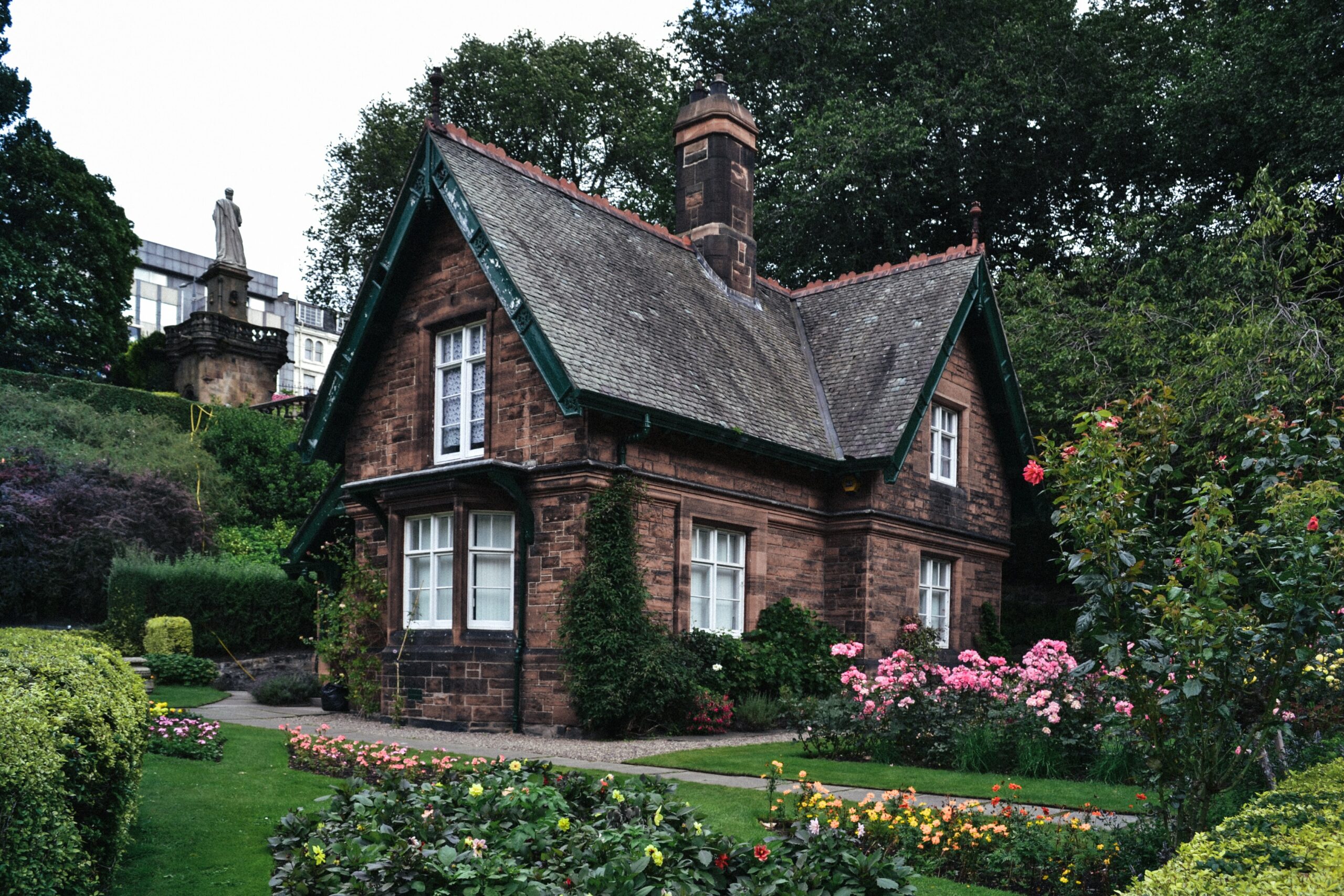 A cottage home is a small, modest house, typically located at or near a lake, beach, mountain resort, etc., that is owned or rented as a vacation home.
However, the word "cottage" also encompasses a whole range of other possible structures, which may, in part, account for some of the confusion surrounding the differences between cottages and cabins. 
The most commonly accepted definition for cottage, however, is the first one we mentioned. Nevertheless, it's important to acknowledge these other definitions which reflect the rich history of cottages. 
Cottages have been around for centuries. And before they were used as vacation homes, they were used as small houses during England's feudal period. A cottage during this time period referred to a small house held by a cottager who was required to provide some form of service to the landowner in exchange for the use of the cottage.
With time, however, cottages came to refer to any small house and, eventually, became the general term for a modest, cosy dwelling typically situated in a rural or semi-rural location. In America the term has come to mean a holiday home.
The history of the cottage accounts for its widely varied definitions and likely contributes to the ongoing confusion between cottages and cabins. Suffice it to say that a cottage is (generally speaking) a small, simple house located at or near a lake, countryside, beach, mountain resort, etc., owned or rented as a holiday home. 
What is a Cabin?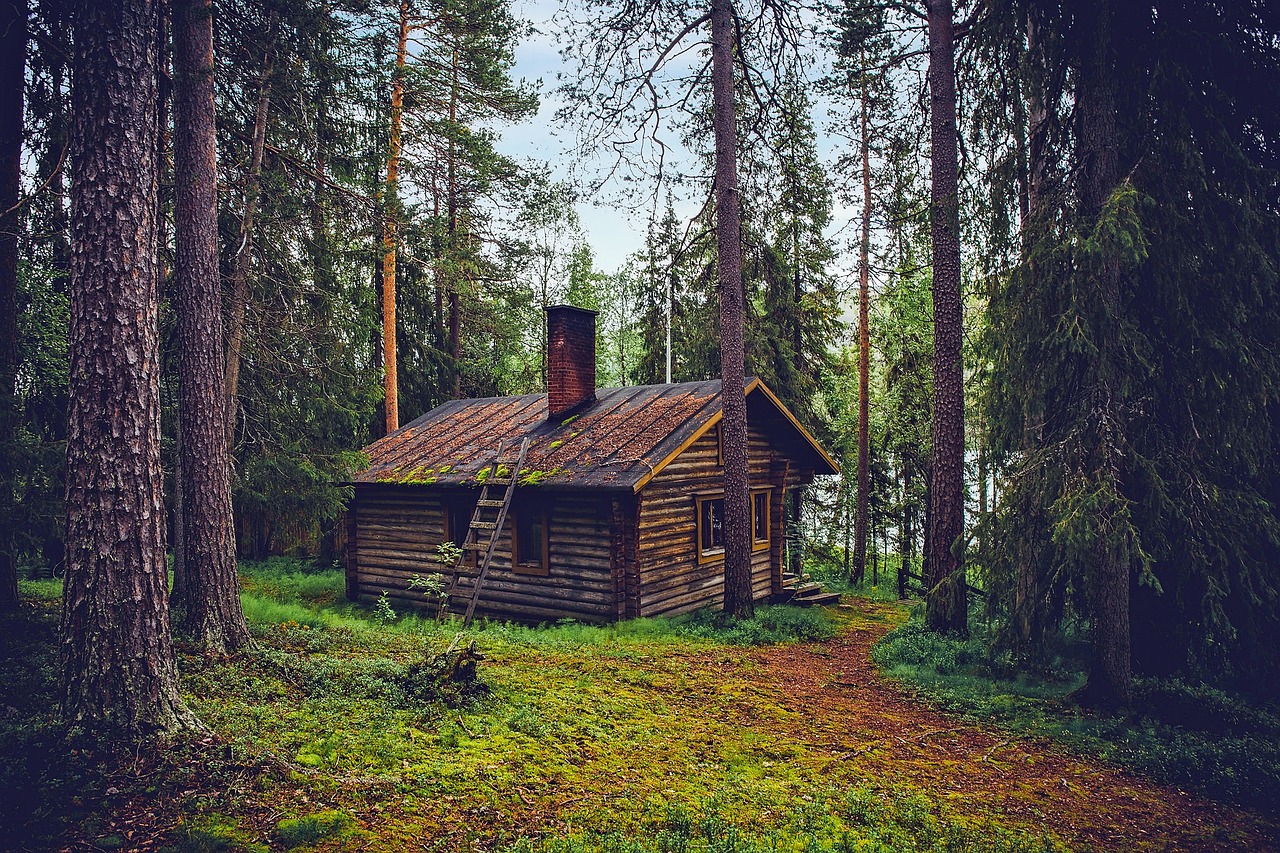 A cabin is a small shelter or house located in a wild or remote wooded area and composed entirely of wood.
As with cottage, the word cabin carries with it a couple of other meanings which stem from its history. Cabins have an ancient history in Europe and America which extends further into the past than that of cottages.
The structure has its historical roots in Scandinavia and Eastern Europe. Though the precise origin of cabins is uncertain, the first log structures were likely being built in Northern Europe by the Bronze Age (approximately 3500 BC).
Early settlers to Northern America often built log cabins as temporary shelters to live in while constructing larger, more permanent houses. The log cabins were then either demolished or repurposed as outbuildings for chicken coops or barns.
These historical particulars explain the association of cabins with temporary shelters and structures of rough or rudimentary construction. Of course, log cabins have evolved significantly since the arrival of the first settlers in North America, and these definitions are no longer appropriate when discussing modern day cabins. Nevertheless, these different definitions and histories still help us make some general distinctions between cabins and cottages.
Nowadays, log cabins serve as leisure homes and are often sold as prefabricated kits rather than being hand-built. Prefabricated kits can be tailored to meet certain specifications. For example, there are camping cabin kits, tailored to cater to the needs of campers, and one bedroom cabin kits, tailored to suit a range of individual needs, whether they be used for extra living space, storage space, or workshops.
So What's the Difference?
Already we begin to see some key differences emerging between cottages and cabins simply by examining their definitions and their histories. However, modern cottages and cabins have changed drastically over the years, and their differences are no longer as pronounced as they once were, making it more difficult to differentiate between the two.
In truth, modern day cabins and cottages share many more similarities than they do differences. And when it comes to their differences, the best we can do is speak in broad, sweeping generalisations. But there are many exceptions to these generalisations and the differences are not as definite as we might like them to be. 
So while we outline some general differences, it's important to remember that there are many exceptions to them. Rather than thinking of cabins and cottages as two completely different structures on opposite sides of a scale, it might be more productive to think of the structures as existing on a spectrum, with cabins on one end and cottages on the other, and a whole range of hybrid structures in between.
That being said, the definitions and histories for each structure help us identify some general areas of difference in terms of size, composition, use, appearance, and cost.
Location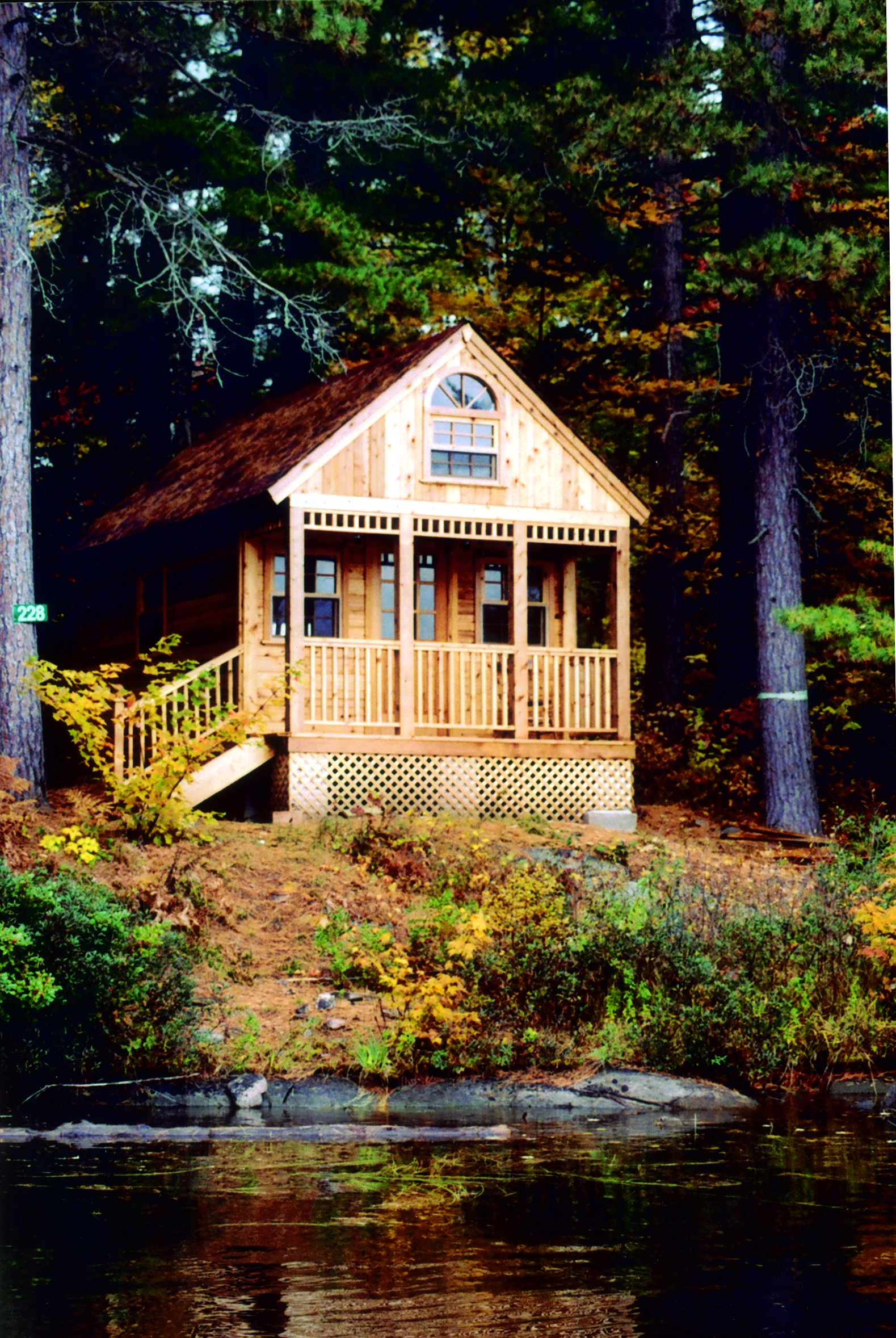 Both cottages and cabins are typically located in remote, natural areas that are mostly secreted away from roads, highways, and other highly populated areas.
Cabins are usually situated in wild or remote areas, in the middle of woods, up mountainsides, or on grasslands. They are often located in natural, wooded areas that are more remote from populated areas than cottages usually are.
Cottages, by contrast, are typically located closer to more populated areas and are usually situated on waterfronts, overlooking bodies of water such as lakes, beaches, seas, and waterfalls. They can also be found in the countryside.
While cabins are typically located inland and cottages are usually situated along shorelines, there are, of course, many exceptions when it comes to location. For instance, you may have a cottage located in a heavily wooded, remote area or a cabin located near a shoreline.
Size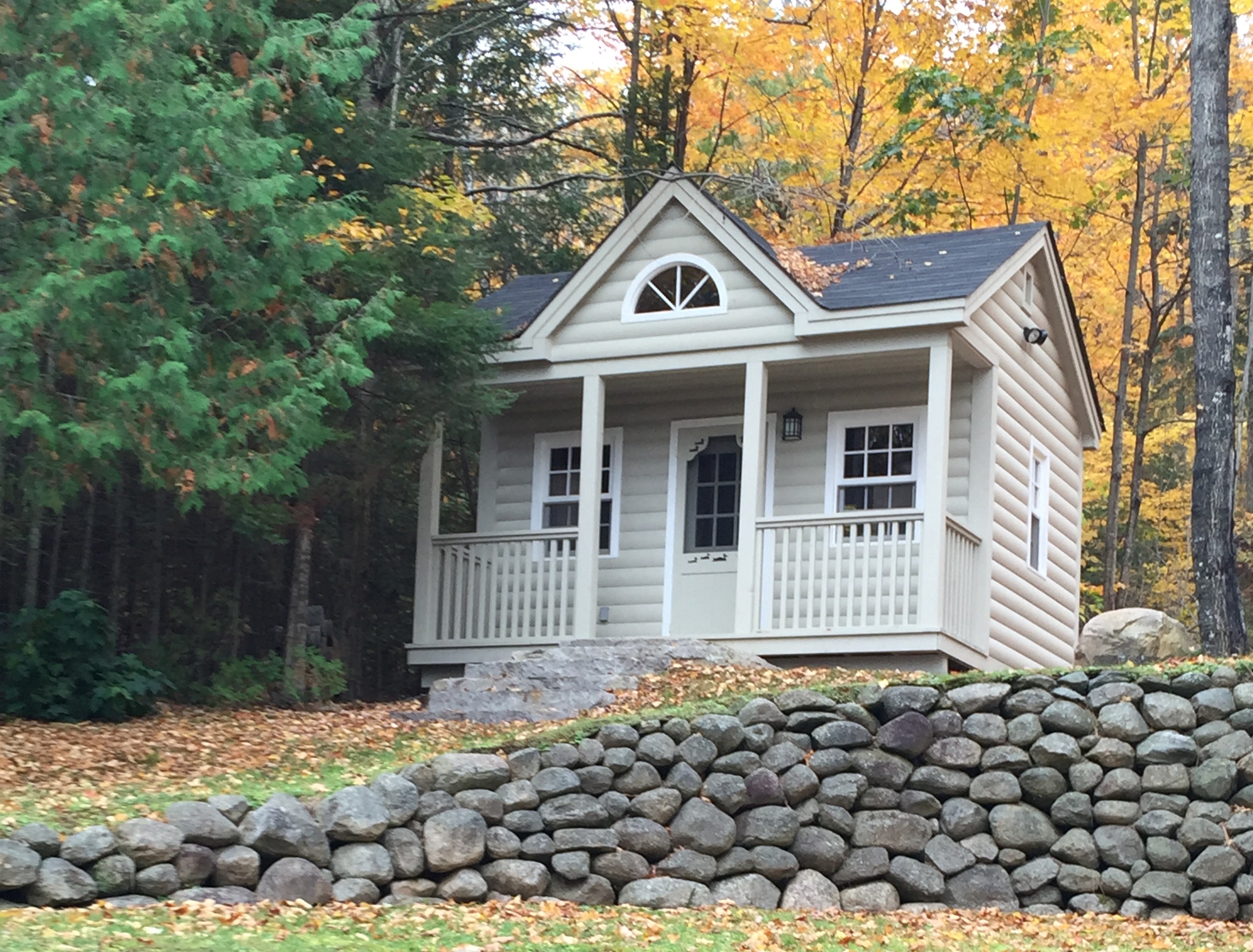 Cabins are, on average, much smaller than cottages. Most cabins have a single room that can house two or three people or else a single floor. It is not uncommon for cabins to be sold either as one bedroom cabin kits or single floored camping cabin kits.
By contrast, cottages are much larger. They have a double-story structure, with a ground story as well as one or two bedrooms located in the upper story of the cottage, typically under the gable, and can fit an entire family.
Once again, the size differences between cottages and cabins are by no means fixed. While many cabins tend to be smaller and have a single story, some cabins have two stories and are by no means humble in size.
Composition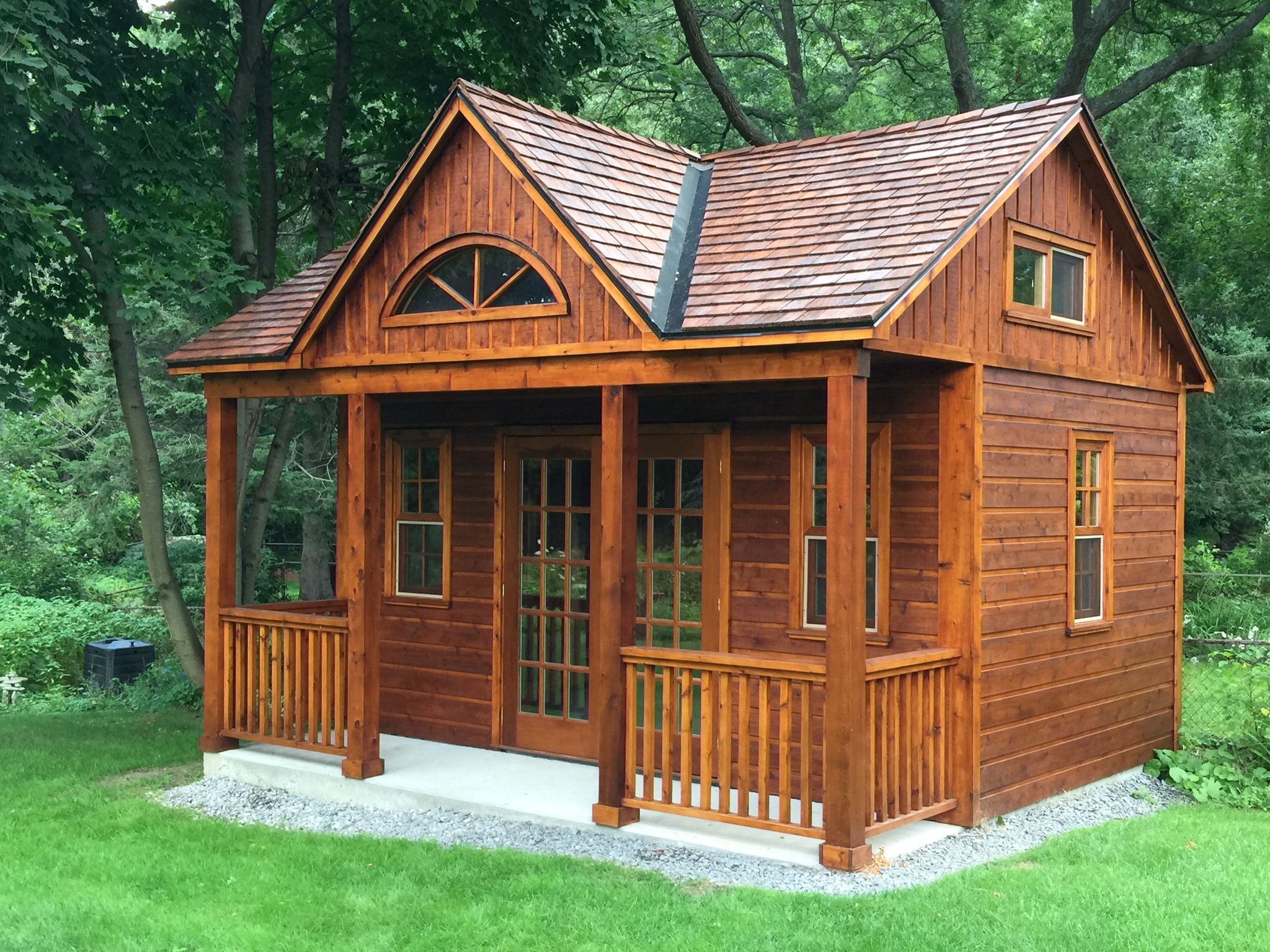 Cabins are made almost exclusively from wood; or, more specifically, they are constructed of logs. Pine and cedar are the most commonly used species of wood used to build cabins in America. Other commonly used trees to construct cabins include Cyprus, Douglas Fir, Hemlock, and Oak.
Unlike cabins, cottages can be made out of several different types of material, including wood. Cottages are composed of materials such as sod, stones, wood, bricks, mud, etc.
Facilities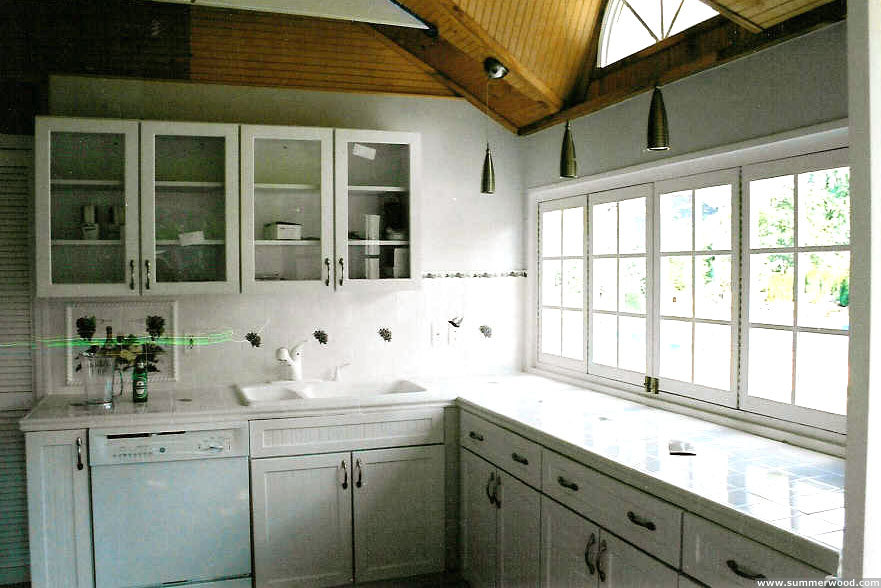 Although cabins have come a long way since their original inception, they may not always have modern facilities like running water or electricity. This is likely due in large part to the different types of lifestyle commonly associated with cabins vs. cottages: people who use cabins typically spend most of their time outside and only use their cabins as places to rest for the night. 
However, that being said, this is not always the case. More and more cabins are now equipped with such amenities as plumbing, electricity, and insulation, as cabins continue to evolve to compliment modern tastes. 
By contrast, cottages almost without exception have modern conveniences such as running water and electricity since they are meant to be lived in like regular homes. They often have designated rooms for kitchens, bathrooms, living rooms, and bedrooms, just like any regular home. In fact, they could serve as year-round abodes even if they don't. They are equipped with all the necessary amenities to live comfortably since they are built with the assumption that they will be lived in.
Appearance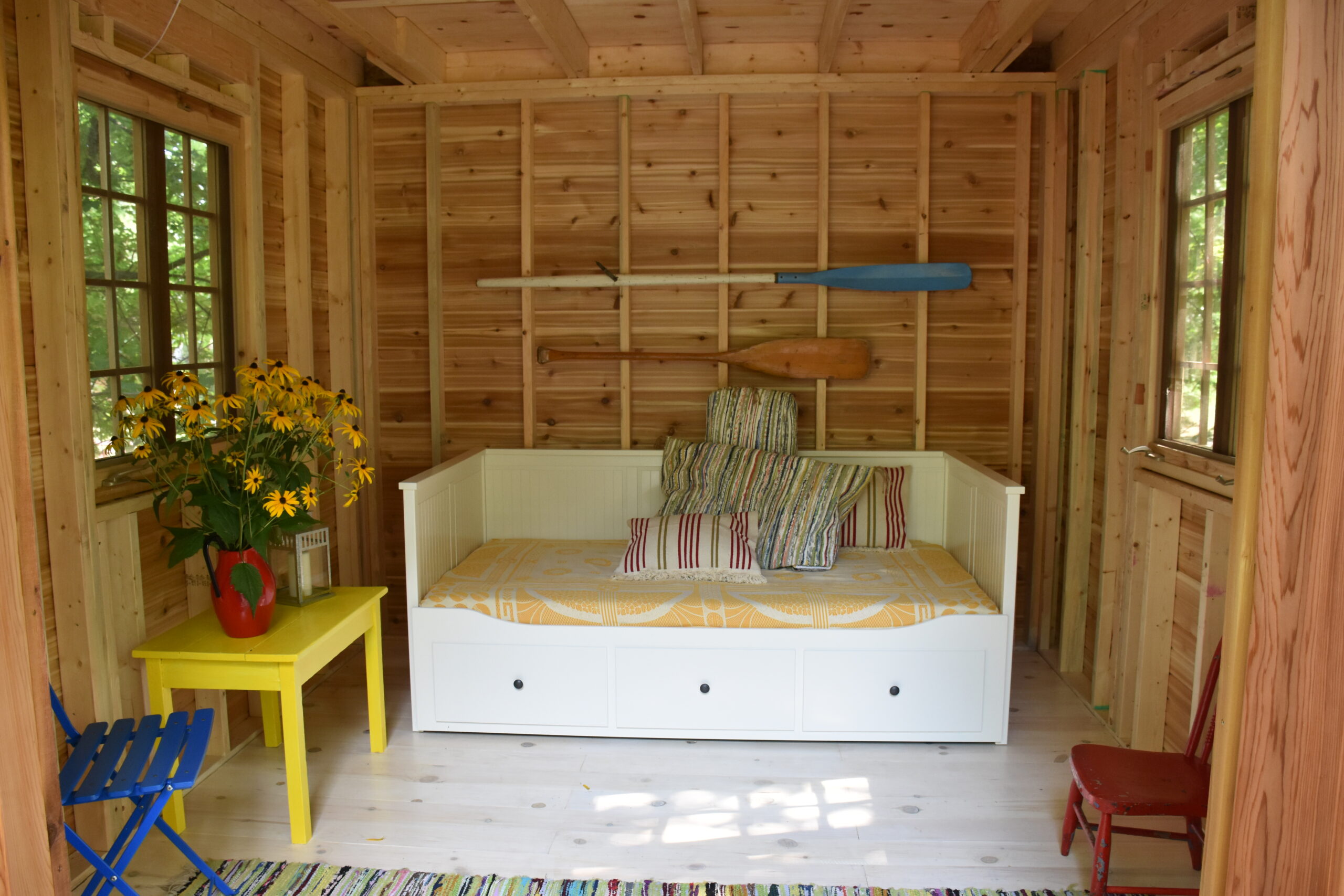 For the most part, cabins tend to have a more rustic, unfinished look and are cruder in appearance than most cottages. They are often less finished and architecturally simpler when compared to cottages. 
Cottages tend to be larger and have more complicated structures, often having two stories. Characteristically, they have a more sophisticated and finished look than do cabins. 
Whether you're envisioning a cozy cottage or a rustic cabin, incorporating thoughtful garden design can elevate your outdoor retreat to a whole new level, creating a harmonious connection between your charming abode and the enchanting natural surroundings.
When it comes to appearance and the presence or absence of utilities like plumbing and electricity in cabins vs. cottages, there are many exceptions. While cabins are often associated with a more rustic, unfinished look and a lack of modern conveniences like running water and electricity, many modern cabins now possess a variety of luxury features that make them just as sophisticated and finished as cottages.
Lifestyle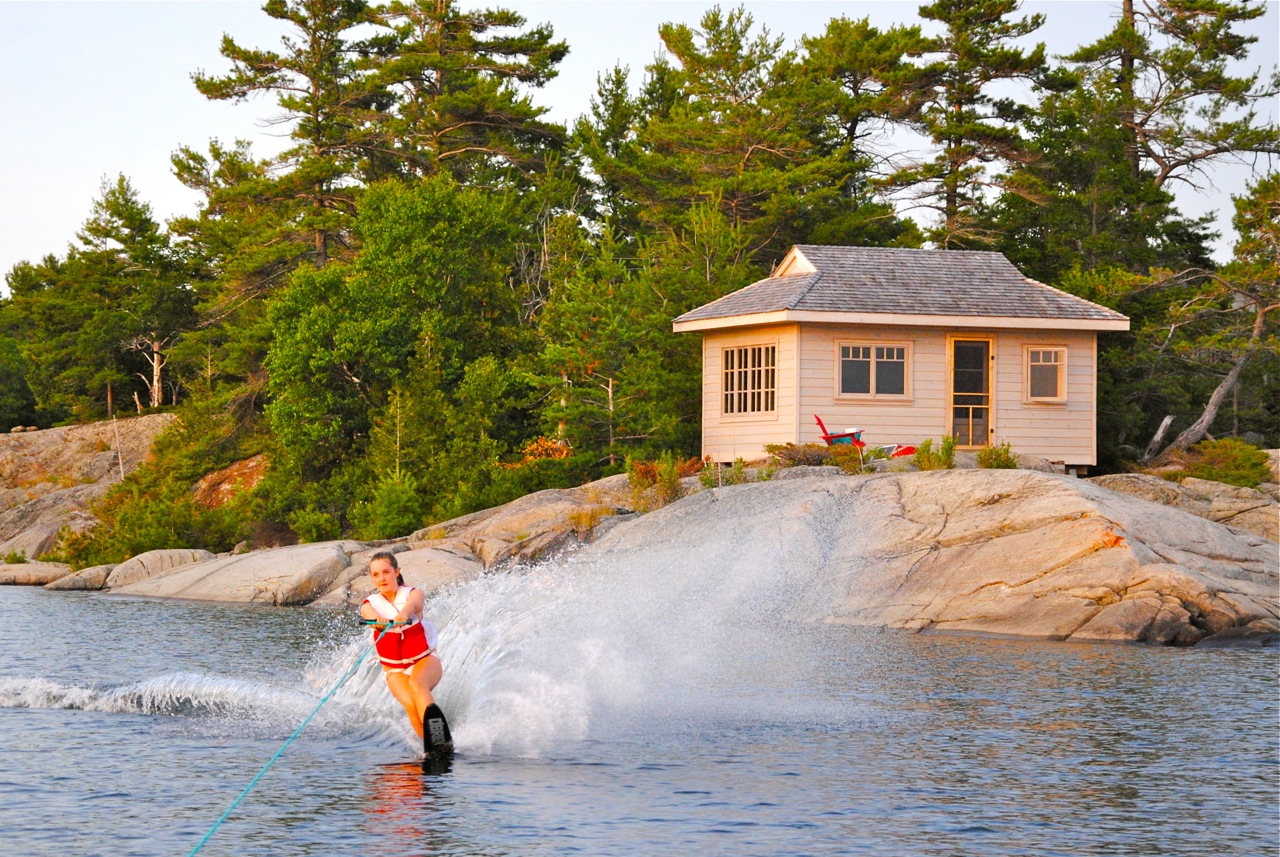 In choosing between a cottage or a cabin, you need to consider how you intend to use the space, as their different locations, sizes, compositions, and appearances encourage different lifestyles and can therefore play a significant part in deciding between the two. 
For instance, cabins are often located in more remote areas of nature and are not typically close to populated areas. People who stay at cabins usually spend most of their time outside engaging in a variety of recreational nature activities like camping, hunting, fishing, hiking, and more. They are usually used by hunters or people who intend to spend most of their time enjoying the great outdoors and only require a place to rest for the night or take temporary shelter from the elements.
Because they are situated further away from populated areas than cottages, major grocery stores and other services are typically not readily accessible. So if you are planning a cabin vacation, you will need a few essentials to stay comfortable and safe. 
Your packing list for a cabin getaway will look much different than one for a regular vacation since you will need to do the cooking and cleaning yourself. After all, restaurants and other services won't be within easy reach. So you will want to prepare yourself with all your favourite foods and any other necessities to enjoy your stay. 
A cottage will best suit your cottage plans if you are planning to spend most of your time living in it or if it is situated near a body of water where you can engage in recreational water activities or just relax. Cottage homes are closer to populated areas and are meant to be lived in like a regular home. They can be thought of as 'holiday homes.'
However, just as with everything else on this list, there are many exceptions when it comes to the uses of cabins vs. cottages. Cabins that are finished and possess modern amenities are often used as living quarters in much the same way as a cottage is. For instance, a cabin can provide the perfect space solution for those looking for additional living or storage space. They can be made into the perfect man/woman cave, or converted into a comfortable guest house.
Cost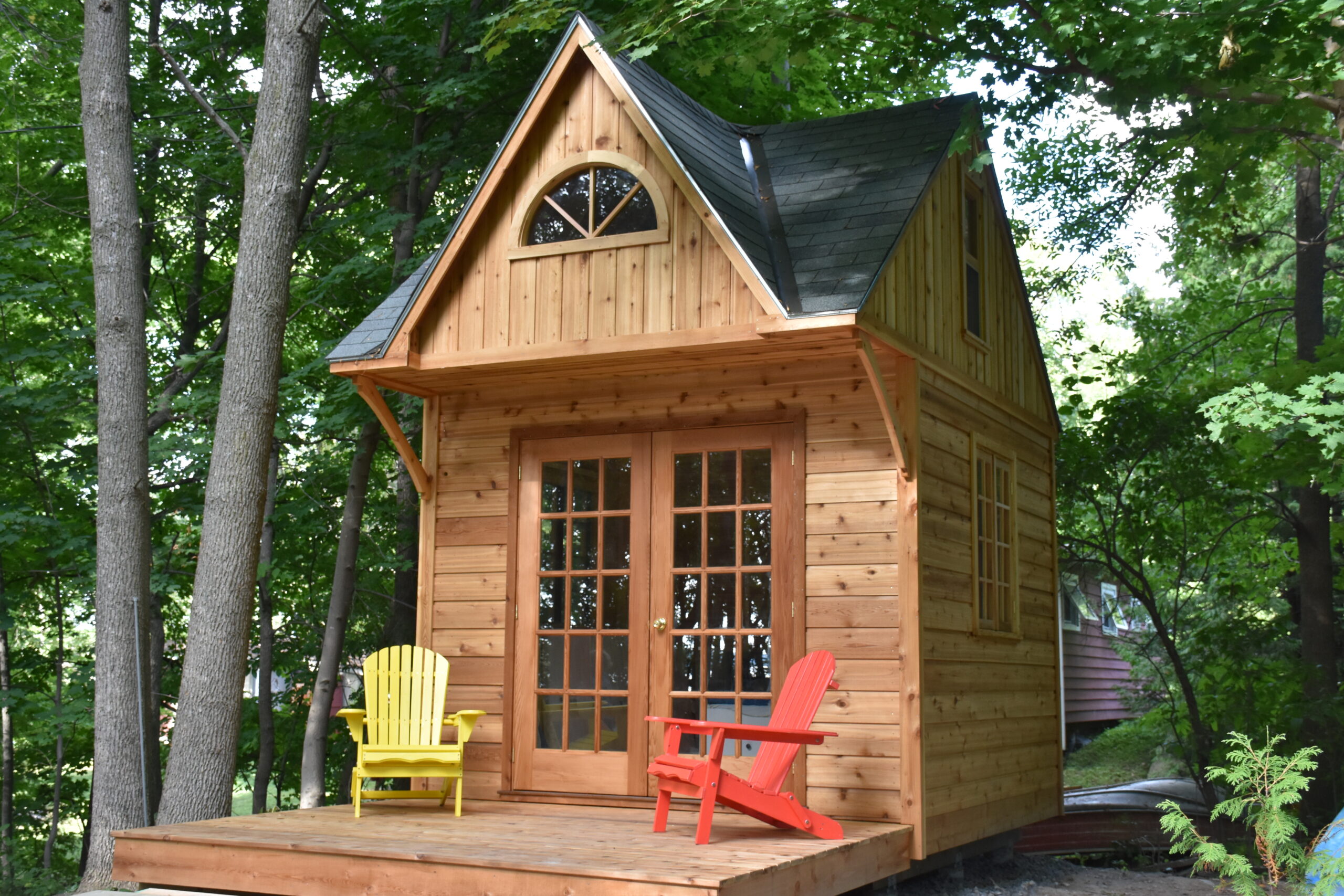 Generally speaking, cabins are more affordable than cottages because they are composed entirely of wood whereas cottages are composed of a variety of materials. Of course, this largely depends on the type of wood used and where you live. Cabins can also be customised in a variety of ways, making them the ideal holiday home for people looking to own their own private retreat. 
As you can see, the differences between cabins and cottages are by no means clear cut. While there are some general differences between cabins and cottages, they are by no means set in stone. 
How to Choose the Perfect Cabin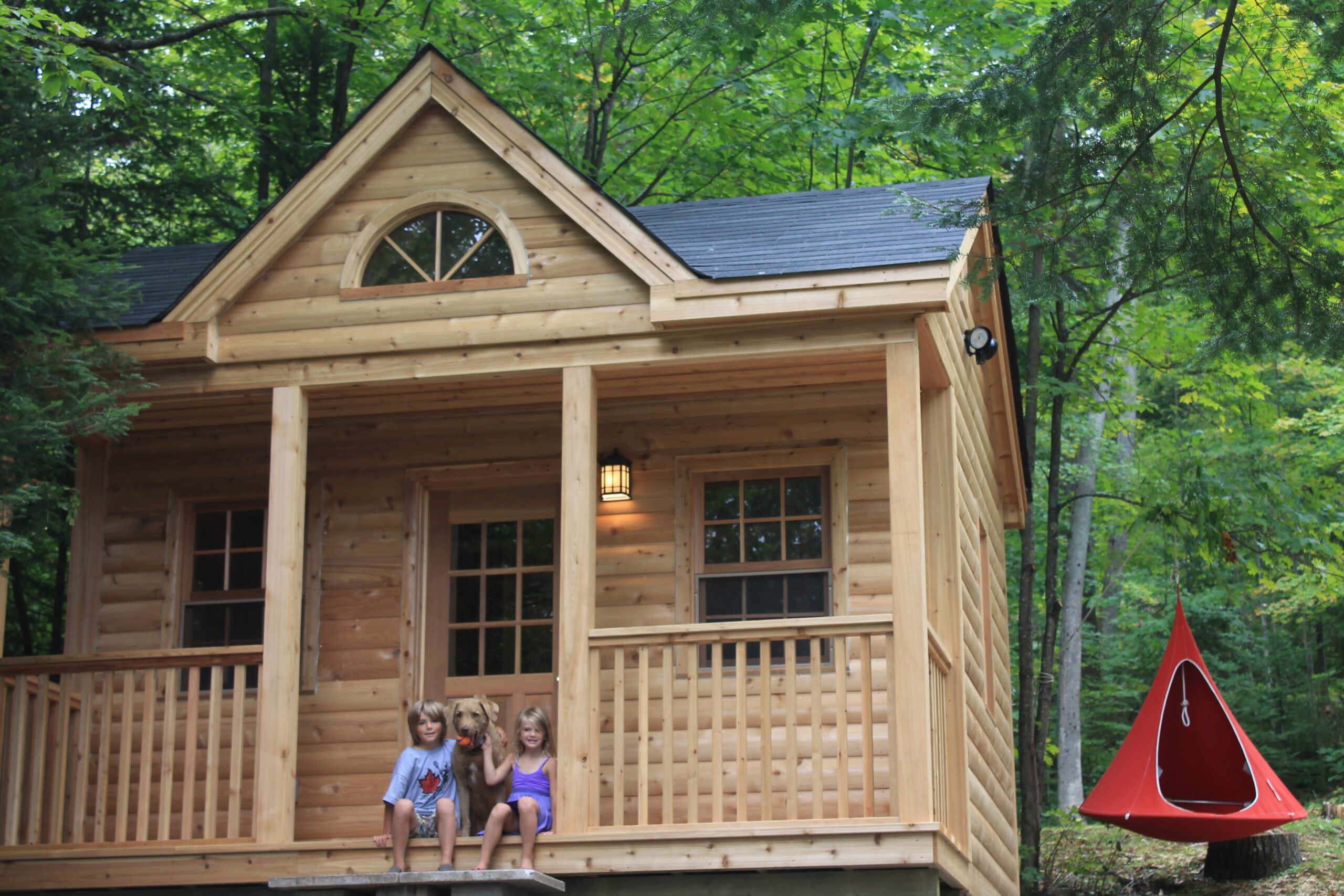 So to answer our earlier question about which to choose for your upcoming winter vacation? Well, it sort of depends on where you want to go and what you want to do on your vacation. Cabins and cottages share many similarities, with the possibility of being converted into their opposites.
If you are looking to create the perfect cabin for your winter getaway, Summerwood offers a variety of luxurious, customizable prefab cabin kits. Whether you enjoy spending time alone or with others, prefer forests or beachsides, seek adventures or relaxation, there's a cabin lifestyle for you!
Whether you're looking for a one bedroom cabin kit to build a backyard man/woman cave or a camping cabin kit for those exciting summer getaways, Summerwood has the cabin of your dreams. 
To choose the perfect cabin, you must first locate the perfect spot to build your home away from home, picture what you want it to look like and what you want it to include, and then browse through our wide selection of prefab cabin kits to find or create the perfect cabin for you. 
Summerwood's collection of professionally designed cabins contain modern and classic styles, so you will be sure to find a structure that will fit your vision. Our cabins combine style with function and every model has its own unique design with distinct advantages and personalities.
More Posts You May Find Interesting