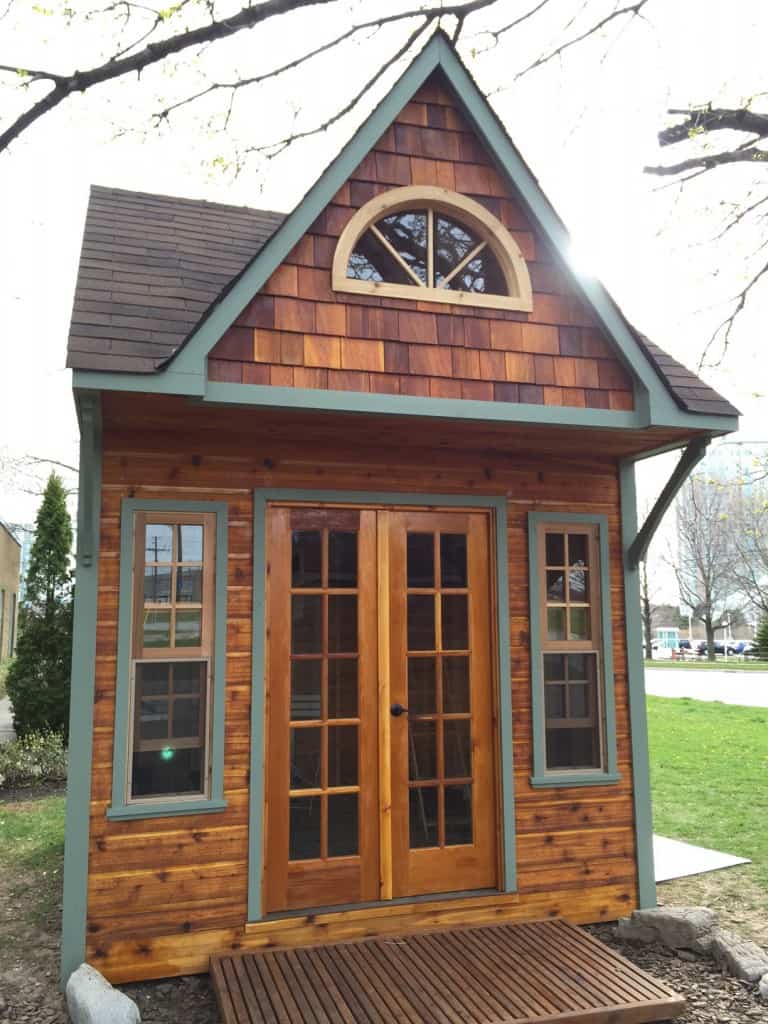 If you enjoy escaping the demands of life by heading into nature, you will love the beauty and utility of a Bunkie. The innovative Bunkie is a small, yet fully functional cottage or cabin that you can place nearly anywhere. As a completely customizable building, this structure will transform your nature retreat into a place you always look forward to visiting. The Bunkie offers an immense number of unique features that turn a simple cottage space into a relaxing, comfortable home away from home.
What is a bunkie?
The term bunkie originates from the word "bunkhouses" which were built by rural farmers and ranchers to help house seasonal employees. A bunkie is a bunk house that is now typically used now for helping with the overflow of guests and family members that are visiting and need a place to sleep at the cottage or cabin. And as the name suggests, it typically houses bunk beds. However it can also be used as the perfect place for extra space at the cottage or in your backyard.
Bunkies are the perfect addition to a cottage, especially for ones that are looking to add more sleeping room for guests. In addition to providing extra space for overnight guests, our bunkies can also be used for a variety of different purposes. While the bunkie is ideally designed for use in the summer months, we have also had various requests for four-season bunkies. With an increase in individuals working from home, it is also the perfect home office that can be added to your backyard to give you some peace and quiet from the many distractions within your home.
What are the benefits of adding a bunk house to your property?
Because bunk houses can have many different functions, there are several reasons why they can be beneficial. For starters, a lot of them may include a small kitchenette, bathroom or living area – making it a great option for visitors. A few other benefits include the following:
Add value to your property 

Flexible designs

Affordable living options

Improved sustainability 

Customizable styles
Key Bunkie Features
The style elements and layout features that come with your Bunkie depend on the build style you select. The majority of the following key features are included in the basic layout for this iconic structure.
Personalized Exterior
Each cabin design is made from western red cedar, which often ranges from rich yellow to deep red tones. You can further personalize the look of exterior surface by applying stain or paint. Stain accentuates the natural tones and grain of the wood, while paint completely alters the color and finish. You can also add alternate design features, such as a tall porch or planter boxes, to complete your personalized exterior layout.
Customizable Interior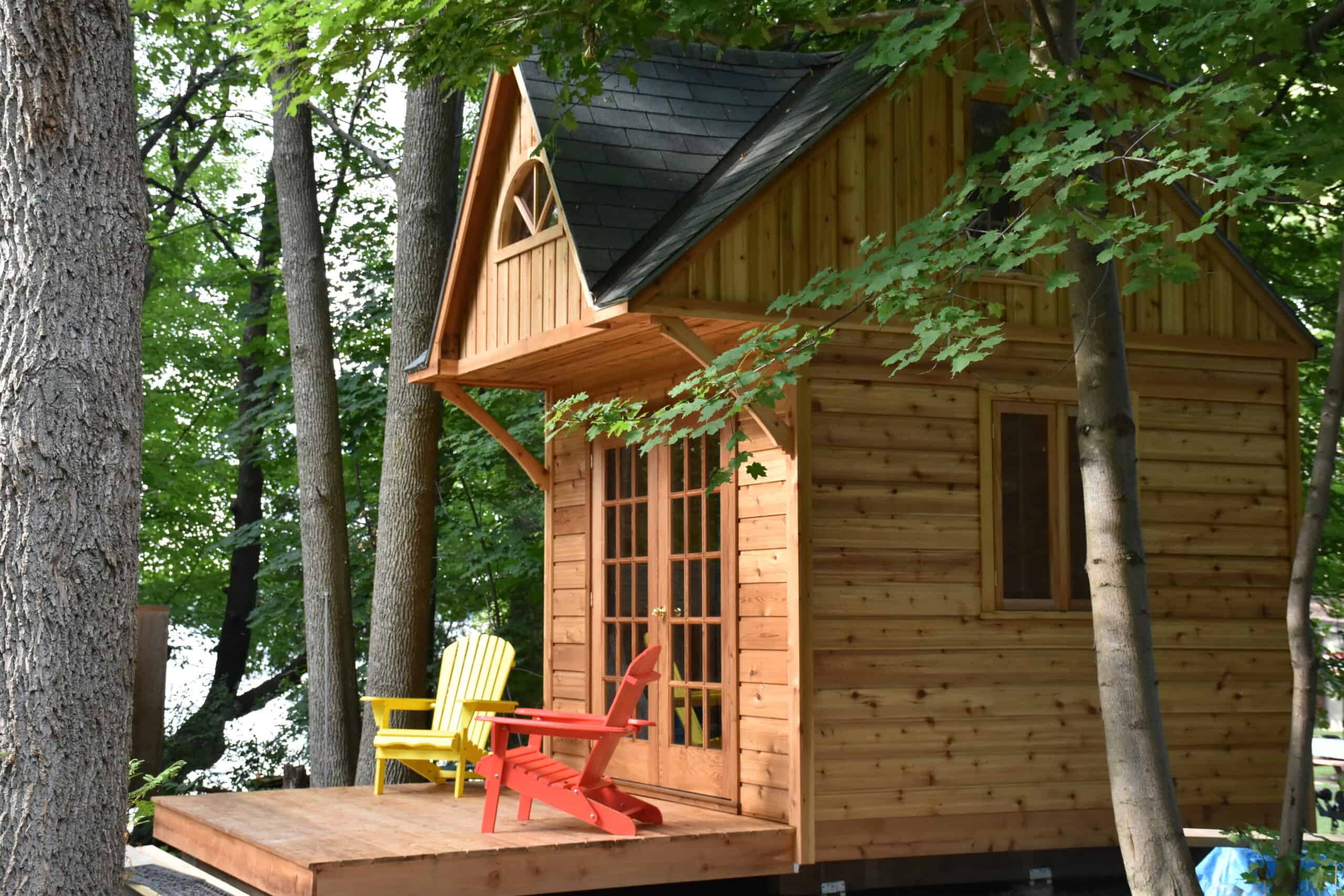 You can design and furnish the interior space any way you like. You can fit bunk beds or simply go with a pull-out sofa to maximize your floor space. You may add shelves, racks and drawers all throughout the space for additional convenient storage options. You can select curtains or blinds to go over the windows or leave them bare to allow more natural light into the dwelling. The space is fully customizable to give you ample decoration options.
Loft Space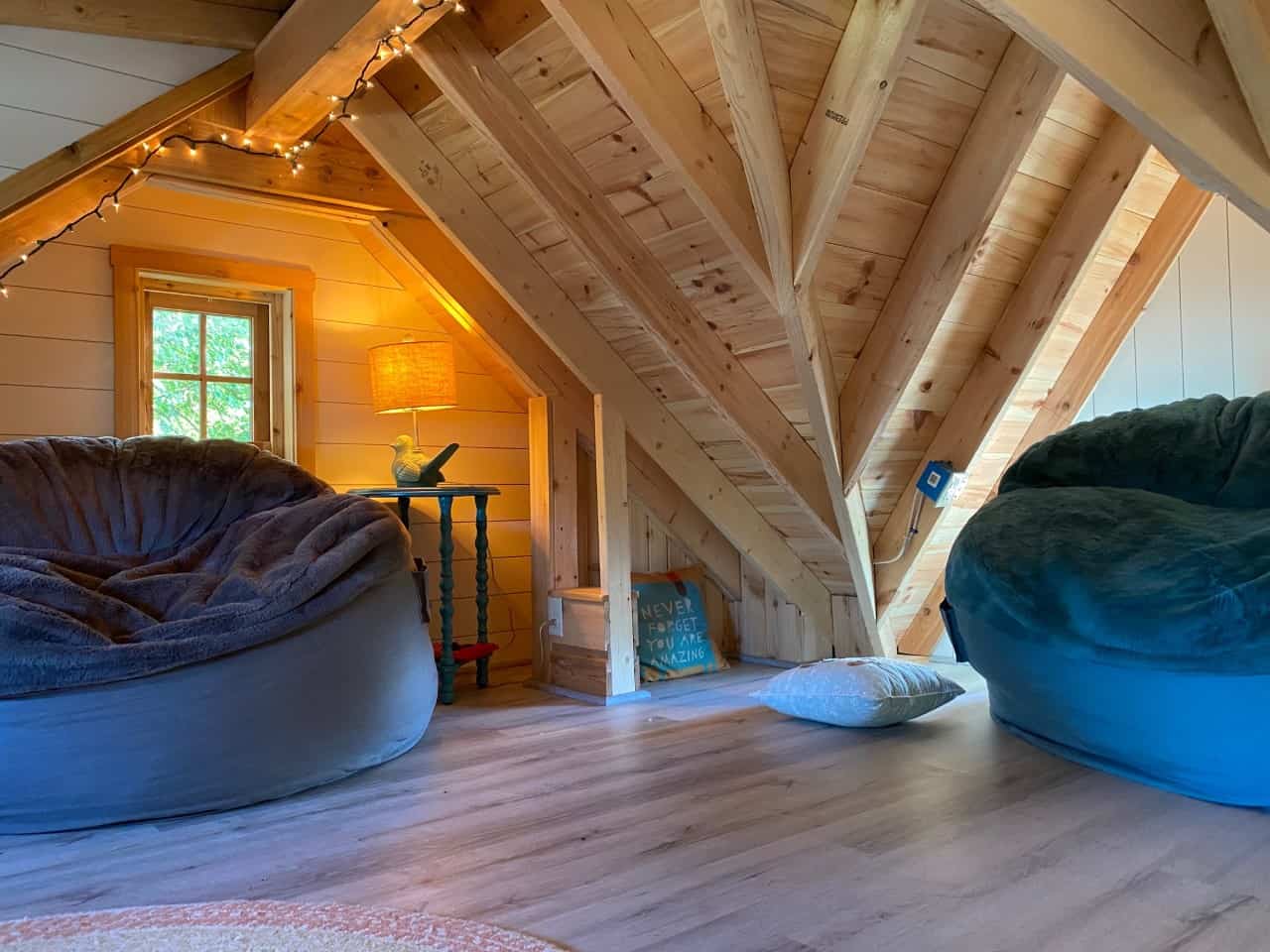 The 10×10 Glen Echo Bunkie features 100 square feet downstairs with an approximately 130 square feet loft upstairs. Due to the floor space and height increasing dormers, the loft can accommodate a large queen size bed with room to walk around. Additional shelving can go in the loft as well for storing blankets, clothes and other personal items. You can also use a fold-away ladder to access the loft space to keep the walkways through the main floor clear.
French Doors
French doors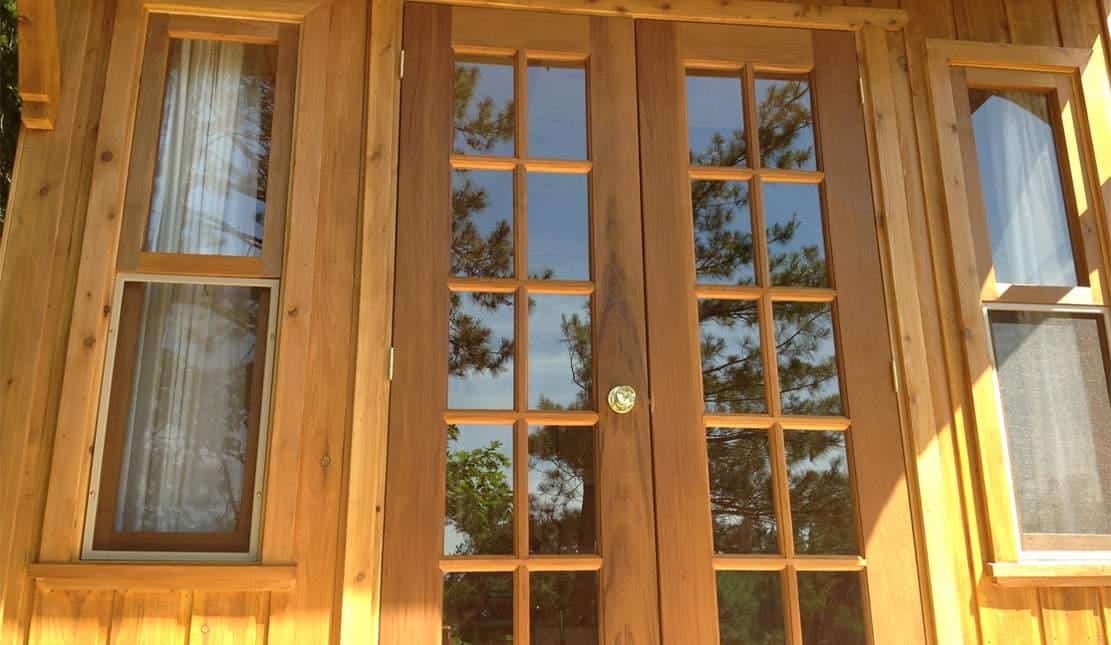 on your Bunkie allow you to remain in close proximity to nature throughout your entire trip as they open up the building. The fresh air will help keep the space feeling fresh and airy. The French doors also provide the building with a sophisticated look and feel. If you prefer, you also have the ability to replace the French doors with a single door and two screened windows.
Screened Windows
Across the rest of the Bunkie walls, you will find slide-open screened windows that let in natural light. When closed, the windows are highly insulated to keep the outdoor weather from causing unwanted temperature fluctuations inside the cabin. The screens allow you to let in fresh air without allowing mosquitos and other insects into your dwelling.

Where to place the bunkie?
Usually the bunkies do not have electricity and it is important to consider light and airflow before you start any construction on it. If you are planning to add a bunkie to your cottage or backyard, make sure to stand where you want to place it. Have a look around the site and see how the air moves around it, look around where it is going to go, as well as help to decide where you should put the windows and the doors.
You should also have a look at our 3 Smart Considerations To Keep In Mind While Choosing Your Shed Location to help with selecting the perfect location for you new bunkie. After weighing all of the above factors, you likely will have an ideal place in mind for your new bunkie.
Selecting and Building Your Bunkie
When you are ready to obtain a Bunkie to perfect your nature retreat spot, contact us at Summerwood to discuss your options. You can choose from nearly one dozen fully customizable cottage or cabin styles. Each of the style options can be delivered as a pre-assembled or pre-cut kit.
If you prefer, you can use the provided labor quote to obtain an estimate from your contractor for professional assembly at your desired location. Either way, as a building with a small footprint, many municipalities do not require that you secure a permit before erecting this structure at your chosen location. Building permits are typically only required for buildings over 100 square feet, which is far larger than a typical Bunkie layout. 
Summerwood produces high quality structures designed to increase the aesthetics, utility and value of your properties. When you are ready to proceed with this project, you can view and design your Bunkie at the Summerwood website or call 1-866-519-4634 to discuss your order. You can also inquire about the available pre-fab sheds, playhouses, pool houses and garages to complete your outdoor project needs.

More Posts You May Find Interesting