Do you have cottage plans this coming season? Small prefab cottages could be exactly what you need. They are unique not just in design but also in the ambience they project. Prefab cabins/cottages are warm, inviting, relaxing and can be the perfect getaway when you want to take a break from the hustle and bustle of everyday life.
Benefits of Prefab kits for Cabin Plans
There are many benefits to wood prefabrication, which include: process efficiency, a controlled environment, material efficiency, reduced waste (on and off-site), and sustainability. 
Process efficiency is possible at every stage, from design to fabrication to construction. Detailed blueprints of your cabin plans allows construction processes to be standardized and streamlined. This includes construction efficiency that meets aggressive schedules and decreases on-site assembly time. 
Using kits to build small prefab cottages results in material efficiency because prefabricated components are made with technology that provides extreme precision, so you won't end up paying for more wood than you actually need. This also results in reduced waste and minimizes the environmental impact of the project. Now let's get into the specific wood type components you could choose for a small prefab cottage and their benefits.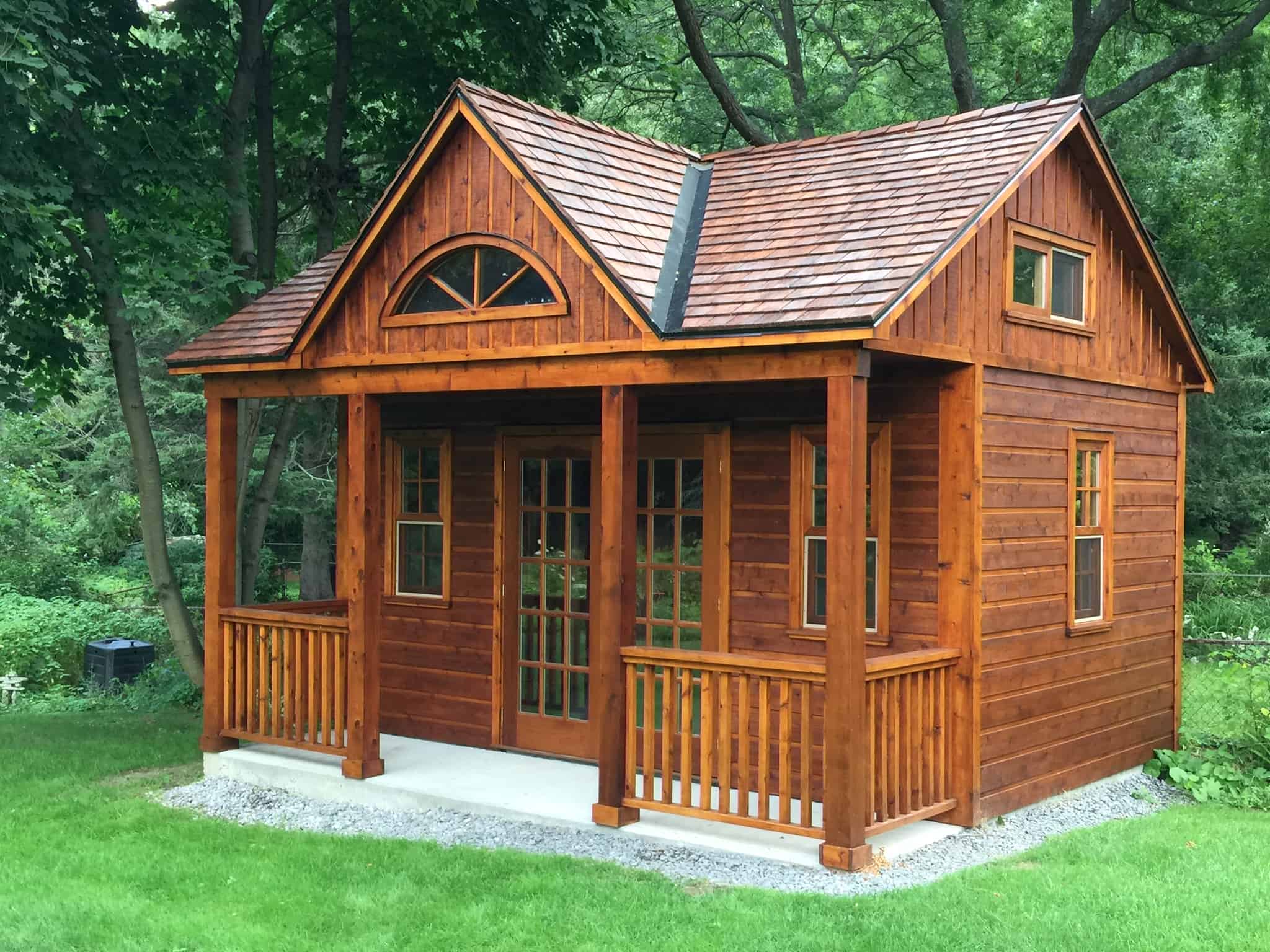 Prefab Cottages Ontario – Softwood Wood Choices
Light structural lumber

is mainly used in the residential construction of single-family homes. This timber is milled from softwood trees (spruce, fir and pine) that are sawn and machine-planed to standard dimensions (2×4″, 2×6″, 2×8″, etc.).  Wood as a framing material is advantageous in that it doesn't undergo many transformations during processing, it has a low embodied energy (embodied energy means the total amount of energy it takes to get materials to the job site, for example, the gas it takes to run the chainsaws, transportation to the mill/job site, and also the energy it takes to cut the timber and turn it into framing material), it's a renewable resource and it stores carbon.

Heavy timber

refers to any dimensional lumber over 4.5″ and is often used for post-and-beam construction or timber frame homes. Large dimensions of wood can support heavy loads and facilitate long spans, in addition to being surprisingly fire-resistant.

Finger-jointed lumber (also known as end-jointed and end-glued) is manufactured using short, dry pieces of wood that have been machined on each end and joined using a water repellent structural adhesive. This technique is ecologically beneficial, as it makes use of short pieces of wood to create a finished product that is larger, more stable and easier to align.

Cottage Kits Ontario – Engineered Wood Choices
Engineered wood is more expensive than the types described above, and has a higher embodied energy. However, it still has many technical and ecological advantages: it's very strong, facilitates a large span without requiring large trees, and still has a lower embodied carbon footprint than concrete. 
Engineered wood also makes it easier for the electrician and plumber to pass pipes and wires through existing openings rather than drilling holes in your floor. 
Here is are the different types of engineered wood: 
Glulam or Glued Laminated Timber

is a multi-layered wood that is made using several thicknesses of thin pieces of solid wood held together with mildew-resistant phenol glues. Since glulam is strong and very easy to work with, it is often used in roof framing but is finding more and more applications in structural elements of buildings.
Cross-laminated timber (CLT)

is manufactured using many sheets of wood stacked on top of each other and then glued together. Each layer is oriented crosswise to the next, which makes for extremely stable and strong panels. This type of wood has excellent thermal and acoustic properties, is highly resistant to fire, and provides exceptional structural strength. CLT can be used to build load-bearing walls, floors and roofs.

Plywood

is most commonly found as a 4 x 8′ panel that is made from thin sheets of wood veneer that are bonded together using phenol-formaldehyde glues, although some manufacturers are trying to use formaldehyde-free plywood products. Plywood is used for different structural elements such as studs in load-bearing walls, partitions, floor beams and roof supports. It is assembled with the grain of each layer running in the opposite direction of the previous one, therefore making it a very stable and strong final product that is highly resistant to cracking, twisting and shrinkage.

Nail laminated timber is a mass timber panel system that can be used for floor, wall and roof structures. NLT floor and wall assemblies have been used for more than a century, particularly in warehouses where solid, sturdy floors were required; it is now being recognized again as a valid substitute for concrete slabs and steel decking in commercial and institutional buildings and residential buildings where it is often exposed to create a unique aesthetic. NLT is created from dimensional lumber stacked on edge—2×4, 2×6, 2×8, 2×10, or 2×12 at 1-½ inches on center—and fastened together with nails.
There are many different types of wood you could use for your small prefab cottage, so be sure to do your research and ensure you get the wood that best suits your needs and budget. Another important aspect to consider is how to choose siding for small structures, as this will have an effect on the stability and aesthetics of your cottage kits in Ontario. 
Prefabrication is an efficient and sustainable building practice, therefore making it a great option to get your cabin plans in motion quickly. Contact our team of professionals today to learn more about the perfect prefab cottage kits for your Ontario space this season!
More Posts You May Find Interesting