Every homeowner has experienced the need for extra storage space at some point. And during these moments, you've probably considered buying, a small outdoor shed. However, buying the right kind of shed is not as simple as you may have thought, but don't worry, you're not alone!
Whether you are looking to buy a small garden shed or already own one, you more than likely have questions. This article aims to answer some of those commonly asked questions about sheds so that you can make the best, most informed decisions for your shed and enjoy it for many years to come.
Is it Cheaper to Build Your Own Shed?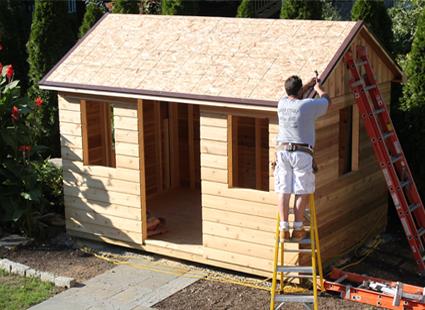 One of the first questions many people will ask when looking into buying a small outdoor shed is whether or not it will be cheaper to build it themselves or buy one already made. The short answer is yes, it is often times cheaper to build your own shed. 
But while it might be cheaper to build your own shed, there are many more things to consider before building a small outdoor shed. The first is your skill level and experience. Building a small garden shed is a pretty labour-intensive task. If you work in construction, building a shed on your own will pose no problems. If, however, you have zero experience in construction it might be a bit more difficult to accomplish (but by no means impossible!). 
It's important to consider your skill level before working towards your shed plans. If you do not have experience, you might need to consider consulting experts, watching videos online, or reading up on construction manuals to learn more about building a shed before actually undertaking the project. 
Just because you do not have the experience does not mean you cannot attempt to build it  on your own–there are many DIY guides and videos for building small sheds. It just means it will take you a bit longer to build and will require more work.
On top of evaluating your skill level, you will also need to factor in how long it will take you to build the small garden shed. If you already have a busy schedule, it might be challenging to find the time to work on your shed plans. 
There are also many costs associated with building a shed that are important to consider before you begin building it. You will need to purchase tools (if you don't already own them) and hunt down all the necessary building materials. By contrast, buying an already built small garden shed is much simpler–even if it is a bit more costly. 
If you buy a prefab or pre-assembled shed kit you will get the best of both worlds: they are cheaper than fully assembled sheds and provide you with the option of installing it yourself so you can still have the pleasure of building it on your own without the hassles of actually having to build it from scratch. Moreover, with prefab kits such as the kind Summerwood specializes in, you have ample opportunities to customize your small garden shed to your taste.
What Should You Look for in a Shed?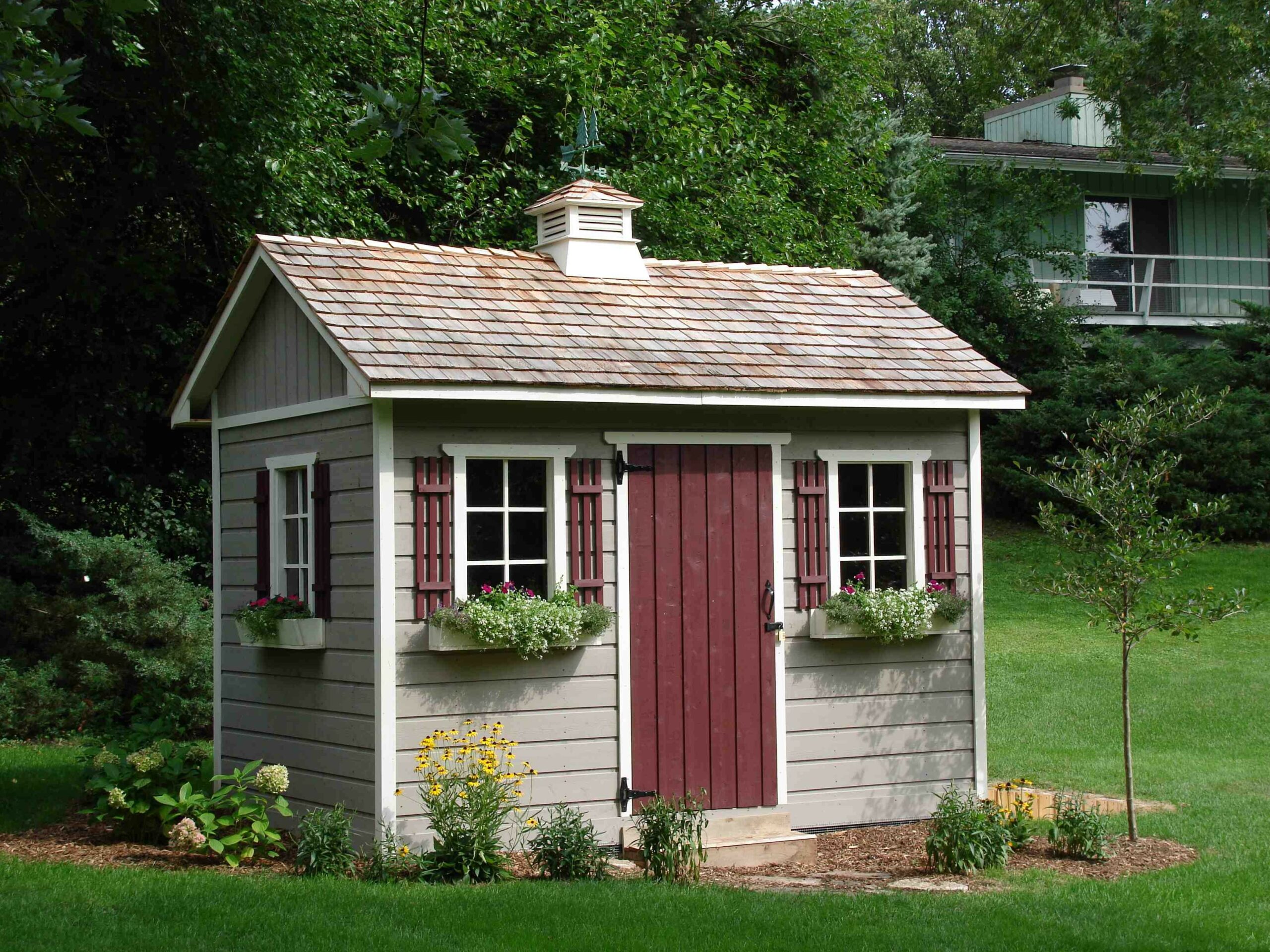 What you look for in a small outdoor shed will largely depend on your personal preferences, needs, and its intended uses so it's difficult to provide a clear answer as to what to look for. However, there are some general guidelines to follow when shopping for a small garden shed. 
One of the foremost things to consider is the durability and longevity of a shed's materials. You will, of course, want your shed to last a long time, so giving particular attention to the materials used will pay off in the long run. 
There are many cheap alternatives, but you have to consider how long they are expected to last. While it might be tempting to purchase a shed with a low price tag, it could end up costing you more later on. The last thing you want is to purchase a small outdoor shed only to have to replace it the following year. 
If you're looking to purchase a wood shed, using pressure-treated wood for the shed's siding is the best choice. The high pressure used when treating the wood surface forces the chemical preservatives into the wood, making it much less susceptible to water and insect damage. Pressure-treated wood protects outdoor structures from rot, warping, and decay, especially in structures that are close to the soil or regularly exposed to moisture. 
If your shed siding is not made out of pressure-treated lumber, fear not. You can enhance the protection of untreated lumber with weather-resistant sealants. However, you will need to re-apply the coating regularly. Although less effective, this is still a great alternative. 
When it comes to your shed's shingles there are several options to choose from, one of the most popular options being asphalt. Great for those living in areas with wet climates due to their ability to resist water damage, asphalt shingles are better than most other materials. The downside is that they absorb heat, making them a less effective insulation material. Additionally, they wear out over time and require replacement at least every 5-25 years. 
Some other shingle materials that are frequently used besides asphalt include cedar and clay. While cedar shingles reflect heat well, they are difficult to install, making them a slightly less popular option. Clay shingles are more expensive than other materials but last 4 times longer (depending on geographical location and how they are installed).
In the end, how much you spend on your small garden shed will depend on the size, location, materials, customizations, amenities, etc., that you choose for your shed.
What Should You Not Put in a Shed?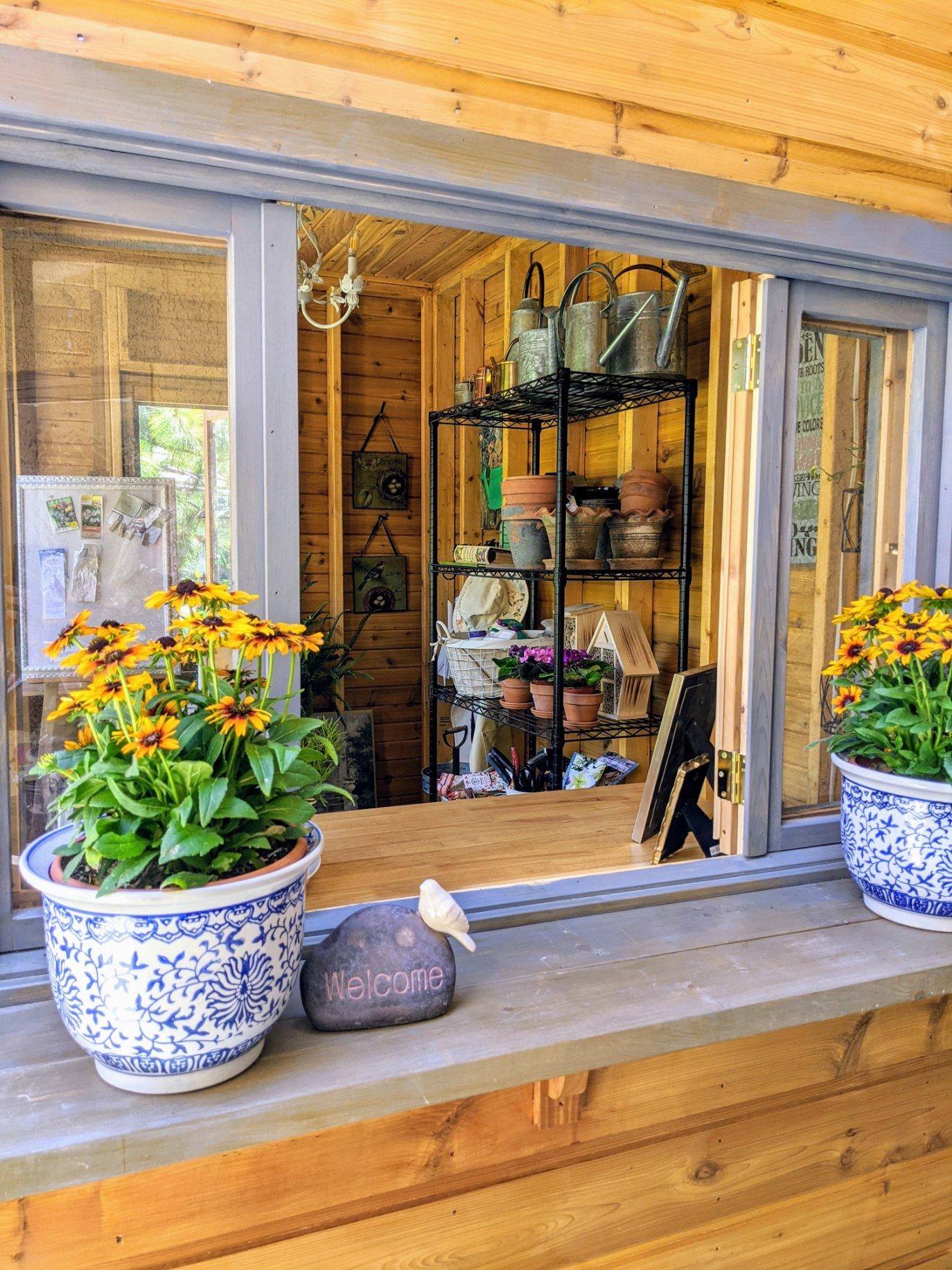 You've learned what to look for in a shed, but what should you absolutely avoid putting in your shed when it's ready for use? 
There are things you should avoid putting in your small outdoor shed at all costs in order to preserve it as long as possible. Certain things will accelerate your shed's rate of decay and/or attract pests. Foremost among the things to avoid putting in your shed is food.
If you shop for food in bulk, you're likely in need of additional storage space. But storing food in your shed is bound to go wrong. There are a number of ways that doing this can either damage your shed or else spoil your food. For example, heat and humidity in the warmer months can lead to food spoilage–even for canned goods–that might attract pests and rodents which, in turn, will destroy your small garden shed.
For similar reasons you should avoid storing electronics like computers, video game consoles, laptops, record players, or phones in your shed. Fluctuations in temperature, from severe heat to extreme cold, can ruin the electronic components (and, if you should have the misfortune of attracting any rodents or experience a flood, your electronics will likely suffer).
Contrary to popular belief and practice, storing your possessions in cardboard boxes and putting them in your small outdoor shed is also not a good idea. Because cardboard readily absorbs moisture, it is highly susceptible to moulds and fungi, meaning anything you store in them can be ruined (not to mention the damage it would cause to the wood of your shed). They are also extremely attractive to pests and other insects. Rather than using cardboard boxes, it's better to use waterproof plastic ones. 
In addition to avoiding placing food, electronics, and cardboard boxes in your shed, you want to avoid putting artwork, photos, and musical instruments in them as well. Heat can cause canvas paintings and photos to warp, crack, or flake, and the humidity can lead to mould. Musical instruments are highly sensitive to fluctuations in temperature and often have very specific storage requirements, especially when it comes to wooden instruments. 
Finally, you should also avoid storing clothing and bedding in your shed, as insects, heat, and humidity can all end up ruining them. Clothing is best stored in a wardrobe, dresser, or closet.
What is the Lifespan of a Shed?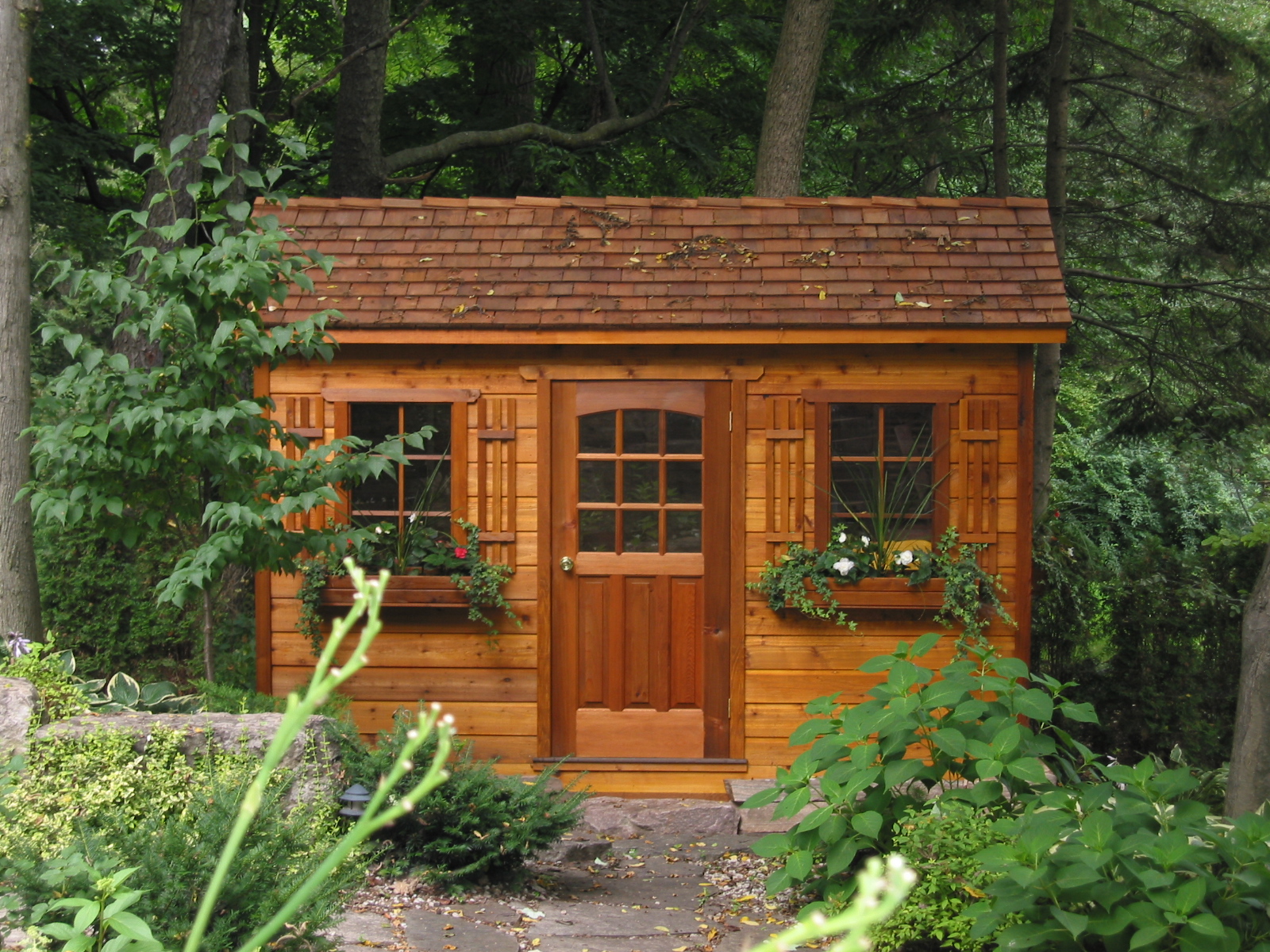 The lifespan of a small outdoor shed depends largely on the type of material it is composed of and how well you maintain it. For instance, a wooden shed can last from anywhere between 20 to 25 years, and sometimes much longer with extra care and attention. 
With pressure-treated wood sheds, they can last even longer than that. On average, a pressure-treated wooden shed lasts up to 40 years with minimal maintenance.
A shed's lifespan varies according to the materials it is made of. A vinyl shed lasts upwards of 30 years and requires minimal maintenance. Plastic sheds last 5-7 years and are practically maintenance free, but are prone to cracking. Finally, metal sheds last less than five years mostly due to corrosion.
What Type of Shed Lasts the Longest?
If you compare the various types of small sheds listed above you will see that a pressure-treated wooden shed will last the longest. With minimal care and attention it can easily last up to 40 years. 
Can I Add Electricity to My Shed?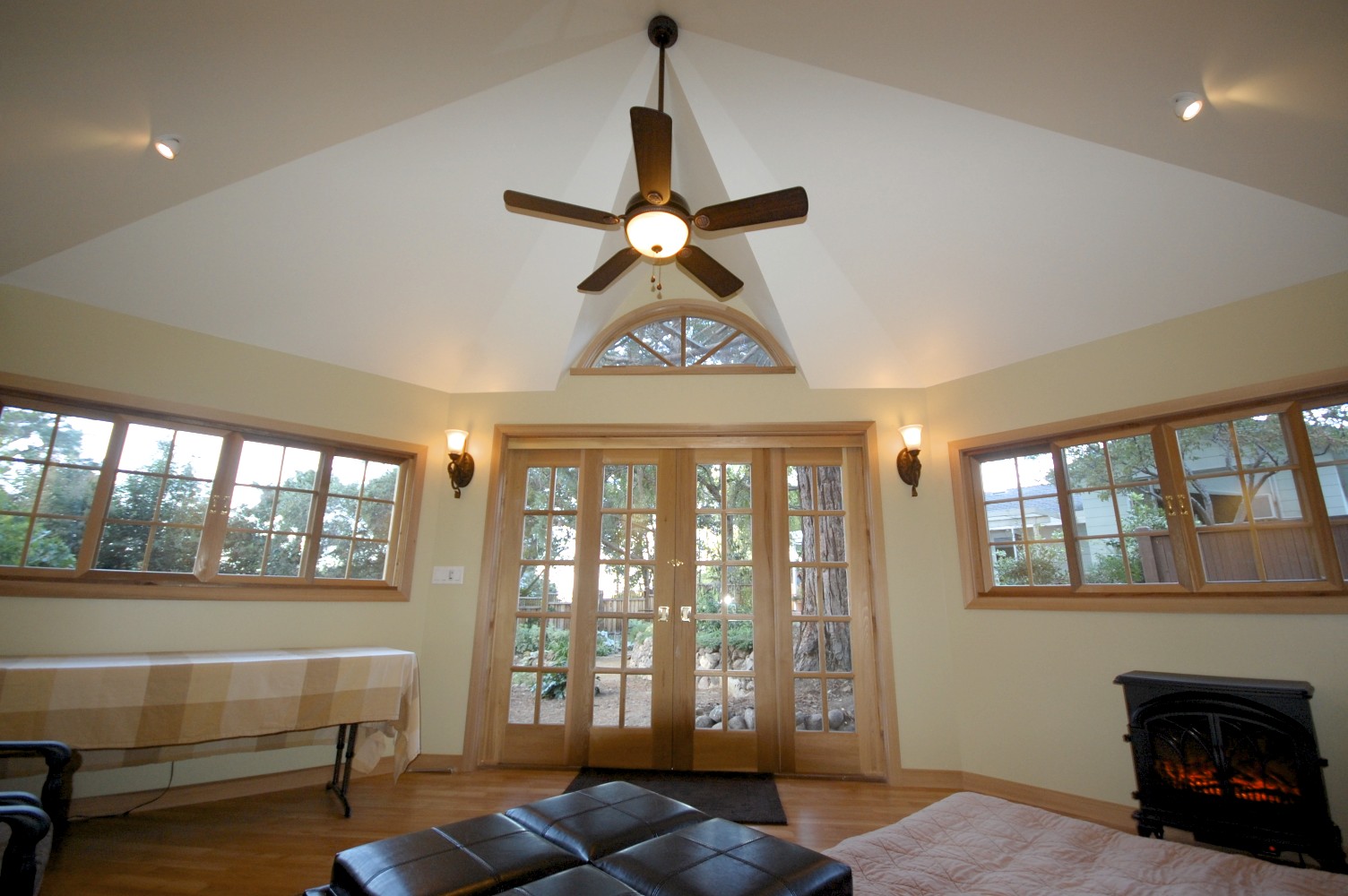 < Yes! You can absolutely add electricity to your small garden shed. However, the ease with which you can accomplish this will differ depending on a number of factors and considerations. 
The first thing you need to do is consult your area's zoning regulations. While most places will allow you to add electricity to your shed, you will likely need a permit to do so. 
A secondary consideration is how you plan to get electricity to your shed. Bringing electricity to your small outdoor shed by wiring it up to your house's main electric panel is the best option. However, despite being the most reliable and safe method by far, this option involves a lot of work and can be quite difficult and costly to accomplish.
You might consider alternatives such as installing a generator or solar panels but both of these options present other difficulties that make them less reliable. For instance, a generator cannot be used in closed spaces and needs to be properly stored after each use, making it the most labour intensive option. Solar panels, on the other hand, are dependent on sun exposure meaning you could be left without electricity on a particularly cloudy day when you need it the most.
Do You Have to Pour Foundation for a Shed?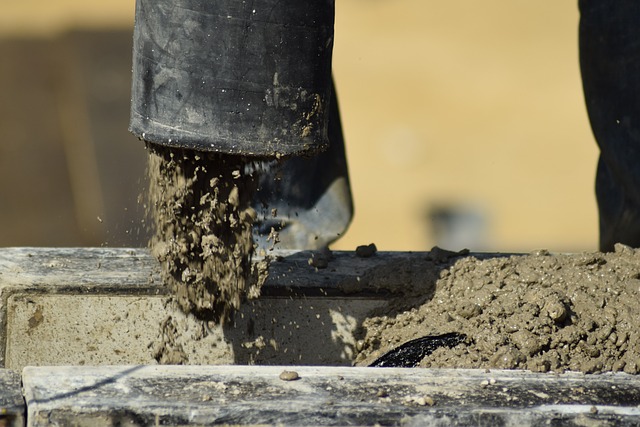 The simple answer is no, you do not necessarily need to pour foundation for a small outdoor shed. But whether or not you do will depend on the type of shed you want. Some small sheds are designed to be placed directly on the ground, while others need a foundation.  
Whether or not you need to pour a foundation depends on the size, weight, and floor of your shed. For example, small sheds used to store light items will not need a foundation while larger ones meant to store heavy equipment will. 
The general rule of thumb is that if your small garden shed is smaller than 8×8 feet and lighter than 300 lbs then you do not require a foundation, but you will still want to place the shed on some sort of base. 
Placing a shed directly on the ground is not advisable as wet or damp soil will rot a wooden shed or rust a metal one. In time, the natural swelling of the ground will cause your shed to warp, leading to permanent structural damage, and the weight of the shed will sink into the ground.
If your small outdoor shed is smaller than 8×8 ft. but heavier than 300 lbs or bigger than 8×8 ft. but lighter than 300 lbs, consider a gravel foundation, as this will help with water drainage. If it is bigger than 8×8 ft. and heavier than 300 lbs it's best to pour a concrete foundation.
Do Sheds Decrease Home Value?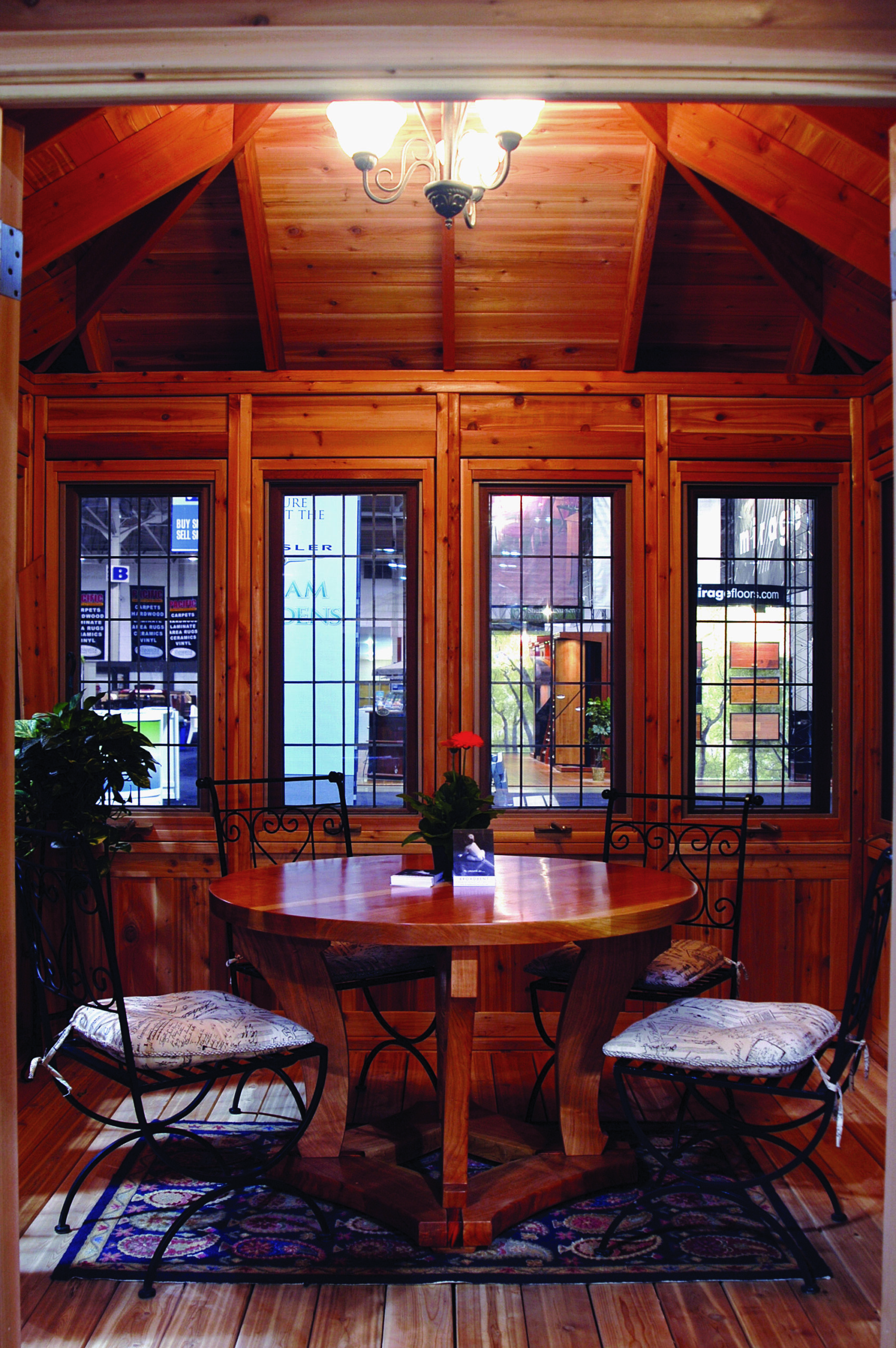 No, a shed will not decrease your home's value, in fact, it can actually increase the value of your home. Provided it's in good condition, has an attractive and luxurious outer appearance that matches your home, and sits on a foundation, your shed will increase your property value. And if your shed can be converted into a living space or garage, your property value will increase even more. 
How Do You Keep a Shed Warm in the Winter?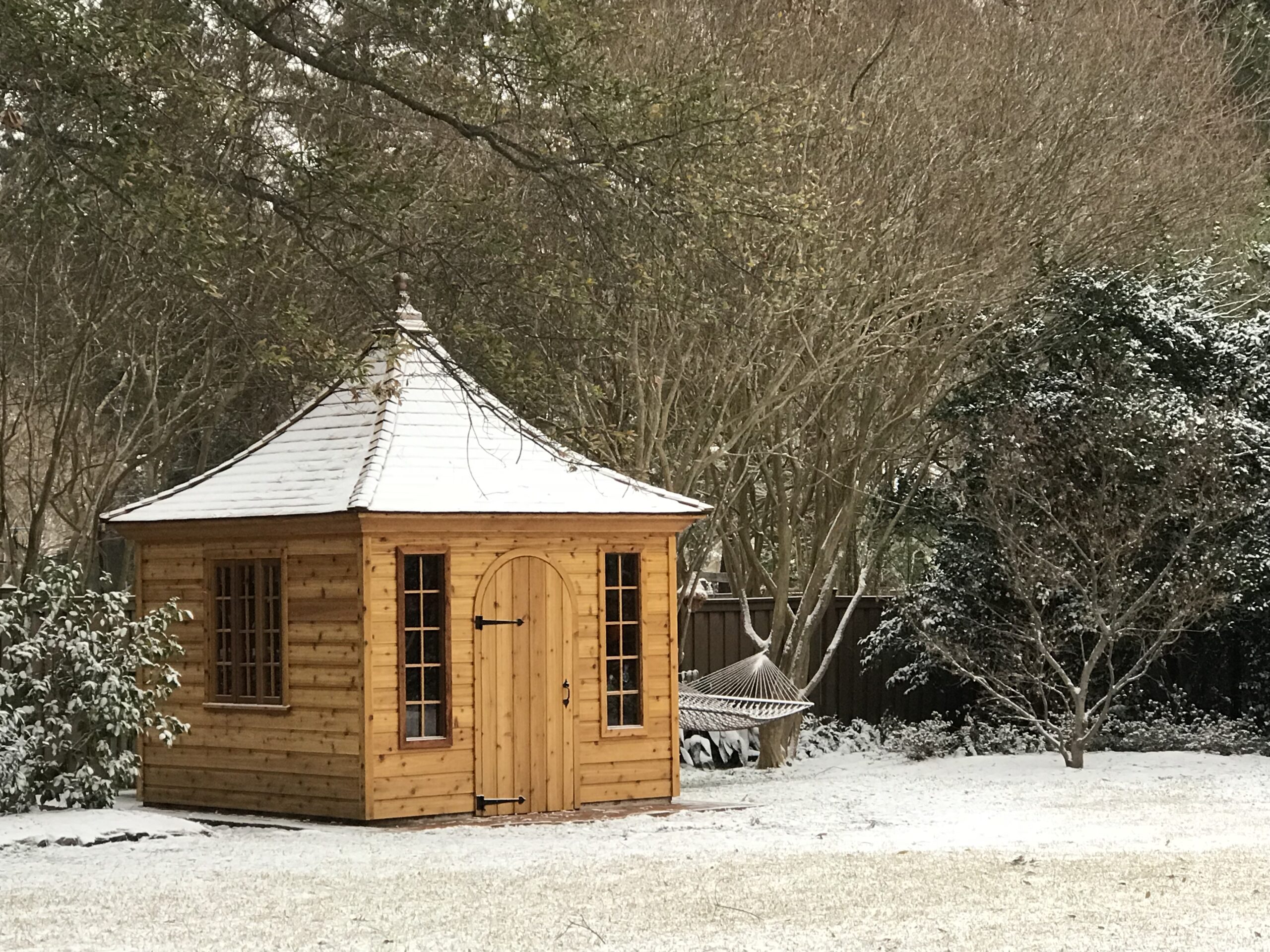 When preparing your shed for the winter, one of the first things you need to do is weatherstip all windows and doors. Weatherstripping your small garden shed will prevent rain, water, snow, and wind from entering your shed all the while trapping the warm air inside. This helps you keep your shed warmer during the colder months. 
You may also consider adding insulation to your shed's siding and roof so that you can continue to use it all winter long. Insulating your shed will protect it from the cold air while trapping the warm air inside. This will prevent any damage that may occur due to the cold.
Another step you can take if you want to enjoy your shed all winter long, is to install larger windows in it to increase the amount of natural lighting you get. Larger windows will allow you to harness some of the sun's warmth to heat up your space during the winter. 
If you have electricity, the obvious solution is to either turn on the heat or else use a space heater of some sort. However, if your small garden shed does not have electricity–not to worry! You can install a chimney, stove, or fireplace where you can burn wood or fuel to stay warm.
Whatever your shed plans, it's important to find the perfect small garden shed to meet all your needs. A small outdoor shed can be customized to suit your preferences. It can be used as an extra storage space, an art studio, additional living space, a guest house, and much more. 
To create the perfect small outdoor shed, visit Summerwood Products and browse through our stunning array of small sheds to add luxury to your outdoor space. Summerwood's prefab small outdoor sheds make the building process both easy and fun.
More Posts You May Find Interesting