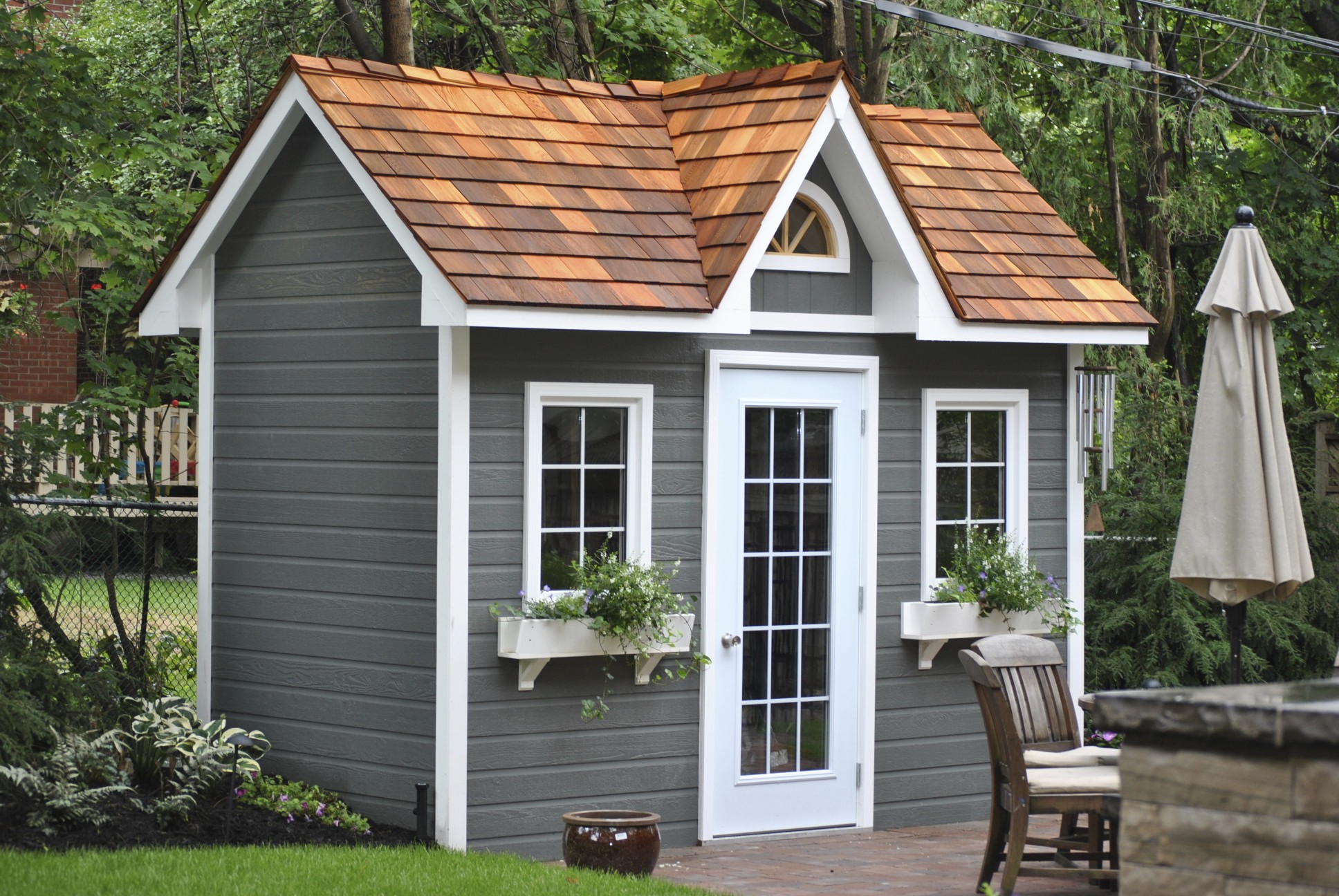 There are numerous options to build a shed. For example, you can source the materials for the shed and have a professional build it for you, or you can purchase pre-cut or pre-assembled kits and have it installed by a professional or install it yourself. The costs for the shed may vary depending on the roadmap you choose to build your shed. 
We put together the various options you have for building a shed and the cost estimates for all the different projects. This article will educate you on which option may be best suited for you and how much the entire project may cost.
Cost of Materials
Following are all the key materials you will need to complete your shed project. The costs are sourced from various construction websites. However, you can inquire about the materials from a single supplier too. This way you can negotiate and get a good deal for all the material.
Lumber
The wood required for the project will amount to the biggest cost out of all the materials. The wood will be used for the legs and frame of the shed. Treated wood can also be used for the exterior of the shed in the form of wooden siding. You will also need wooden boards for the flooring and wooden joists and rafters for the floor and ceiling.
The price of lumber fluctuates frequently. However, the cost estimate for house building lumber ranges between $15 to $30 per square foot.
Fixings
Construction fixings or fasteners are used to hold things together or attach them to surfaces such as walls, floors, or roofs. They play an integral part in construction in the form of connectors, therefore the quality of the fixing pieces you purchase also dictates the quality of the overall project. 
The price of fixing items like bolts, nuts, screws, washers, etc. range from 5 to 10 cents, so the overall cost depends on the amount required for your project.
Roof
Roofing tiles or sheets are another material that will take up a large portion of the total budget. When it comes to roof materials the cost can be directly related to the expected lifespan. Therefore, purchasing the cheapest material might not be the best idea in the long run. 
The cost for roof tiles/sheets are as follows:
Plastic polymer shingles cost $400-$1,200 per square

Clay tiles cost $800-$2,500 per square

Wood shake costs $250 to $600 per square

Concrete tiles cost: $150-$250 per square

Metal roofs cost: $300-$1,800 per square

Asphalt shingles cost: $100-$150 per square
Siding
Natural wood sidings are the most common siding installations used in North America. There are various types of natural wood used for sidings such as cedar, miabec, or siparila. 
The cost for natural wood siding estimates to range between $6-$12 per square foot.
Windows and Doors
You will need a way to enter your shed, so a door is an important piece of the build. The door could be purchased new or you could look for recycled second-hand doors. Additionally, while a window is not essential for a shed, you can still consider it for aesthetic reasons or if you intend on utilizing it.
The cost for both windows and doors varies depending on the size and materials used. However, you could budget the two to range anywhere between $100 – $300.
Cost of Fully Assembled Sheds
The cost of fully assembled sheds varies drastically depending on various factors like size, style, quality of materials used, and manufacturing brand. You can check out the various options available and assess the best pick based on your preferences. You could also look for bunkies for sale or cheap prefab cabins that could serve the purpose of a shed. 
Sheds can elevate the aesthetic of your garden by ten folds and also increase the valuation of your house. At summerwood, we offer professionally crafted furniture and woodworking, so if you're looking to get a shed that'll appreciate your house, look no further.
Our catalogue includes a plethora of sheds of the highest craftsmanship, in multiple styles and sizes, and made with the best materials. Our price points range from the lower $10,000 all the way up to $100k. The price points reflect the lifespan of these sheds too, lasting a minimum of 10 years. 
If you are looking for a shed purely for utility purposes and don't care about the aesthetic of materials used, you can look at sheds at cheaper price points. These sheds, however, are manufactured with plastic and cheaper materials. Consequently, the lifespan of these sheds and cheap prefab cabins is shorter and may require replacement more regularly. You can find these types of shed offerings at big-name stores at price points ranging from the lower prices like $500-$1500 to mid-range prices like $2,000-$5,000.
DIY Shed Costs 
Depending on the cost of the materials sourced, a DIY shed project should cost you around $15 – $150 per square foot. Based on these estimates, the cost of a complete shed at different sizes would amount to the following:
4 foot x 7 foot = $100 – $1,000 USD

8 foot x 10 foot = $300 – $3,000 USD

10 foot x 12 foot = $500 – $1,000 USD

12 foot x 16 foot = $2,500 – $15,000 USD
When evaluated, the total cost of a DIY project is comparatively cheaper largely because you don't have to pay any mark-ups on materials, labor, or installation fees.
Pre-assembled vs Pre-cut kits by Summerwood
The cost of building a shed from scratch could be a cheaper option. However, it can also be very time-consuming. If you don't have a lot of time on your hands to build a project from scratch you can still explore different time-effective options. 
The quickest option would be to look for sheds or bunkies for sale around your area. You can also look for cabin kits for sale since cheap prefab cabins could serve as a spacious shed in your backyard, especially if you're looking to build a bigger shed.  
You can also purchase shed kits that come in pre-cut and preassembled formats. They are very easy and quick to install and will also save you time. You can look at the distinctions between the two below:
| Pre-assembled | Pre-cut |
| --- | --- |
| Pre-assembled kits have all floors, walls, and trusses assembled and shipped for a quick and easy final construction. | Pre-cut kits have all the framing and siding components cut to fit together perfectly. The assembly may be similar to pre-assembled kits but with a few extra steps. |
| Ideal for people with less time on their hands or someone who wants the shed built conveniently | Great for people who like to do it themselves, and work on projects such as these. |
| The cost of pre-assembled kits are cheaper compared to fully assembled sets. | The cost of pre-cut kits are relatively cheaper than pre-assembled kits. |
| | |
Custom Built Sheds
This option gives you the freedom to design the shed that you want and have it developed for you. These sheds are a premium offering and the prices will reflect the same. It is hard to quote the cost to build custom sheds since we don't know the dimensions of the wood sheets and materials that'll be required to complete the project. 
Often, woodworking companies will ask the client to send in a drawing of their design. Our design team is able to assist with custom designs for you! Please contact us and we will be happy to help.
Installation Costs
If you decide that you need to hire labour to install the shed for you, this will add up to the cost of the kit and materials. This is a good option for people that have no time to work on a shed project and want the shed to be built professionally. 
On average, the cost to hire labour to install the shed will cost around $70 an hour. If you want a shed kit to be installed, expect to pay between $100 to $500 per day depending on the complexity of the project.
Miscellaneous Costs
While budgeting for a shed, you will also need to take into account all the miscellaneous costs associated with the project. These costs could include adding a warranty, acquiring municipal permits, or adding additions like electricity and wirings. 
Speaking on permits, the cost may vary depending on your location. You can call the local authorities to inquire about the procedures and costs to get the required permits. Generally, the authorities may ask you to pay a $20 administration fee and the permit may cost around $170-$180 for a residential property. 
You can also protect the structure with a comprehensive warranty. It is common for shed kits to come with a limited-time warranty. However, you could also look into buying a warranty for your DIY shed. It is important to note that all Summerwood buildings come with a full two-year warranty on materials and craftsmanship, so you can buy knowing your structure is well protected. 
For quality materials, shed and cabin kits for sale, installation, warranties and more, consider using the professional services of Summerwood to help you build your dream shed this season. Contact our team of experts to learn more today!
More Posts You May Find Interesting