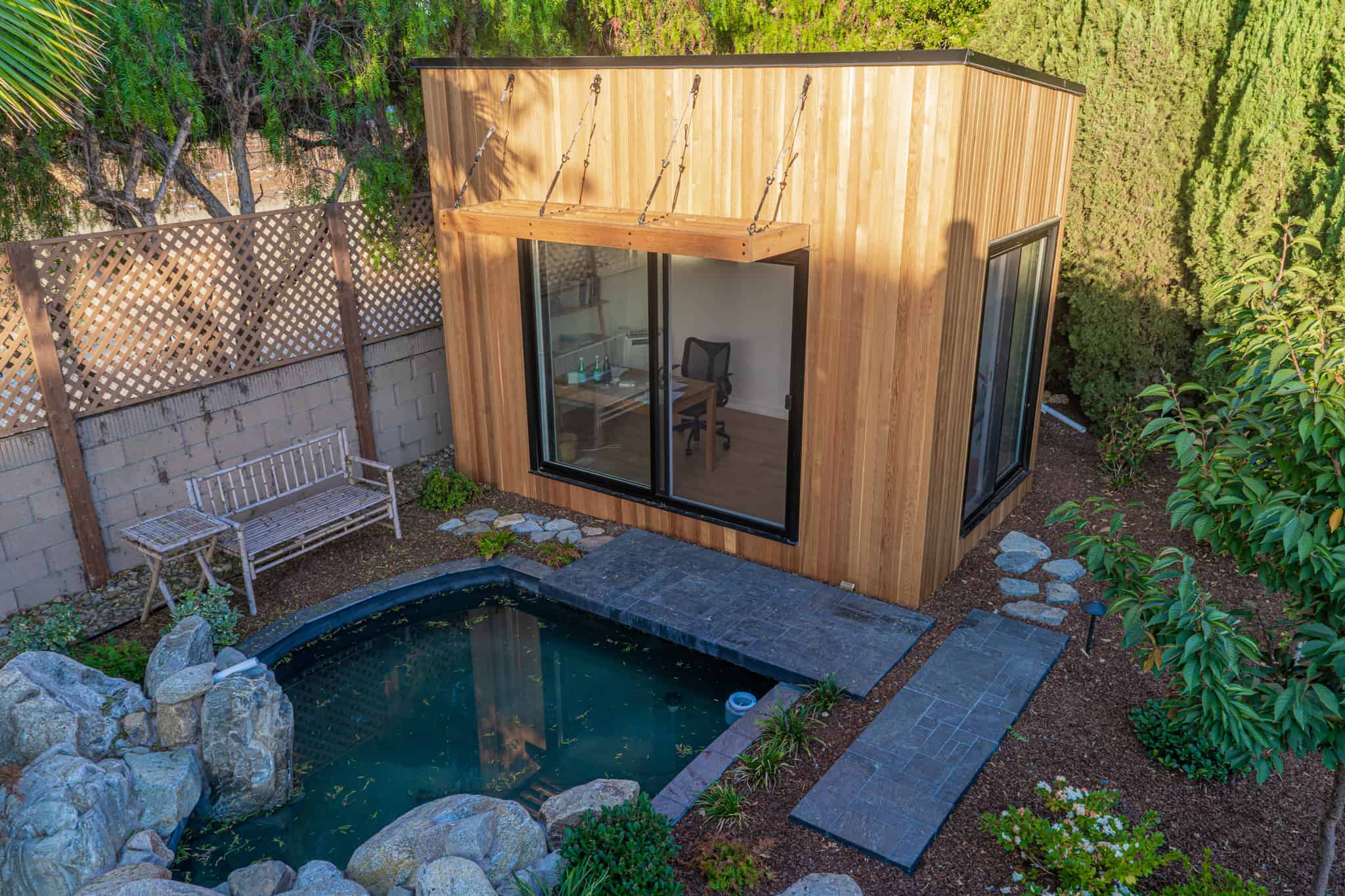 Sometimes life can be overwhelming and busy, and after a long day of work all you want to do is relax or participate in leisurely solo activities. Thankfully, with the help of a backyard studio, you can stay close to home and enjoy your me-time. With Summerwood, you can configure your private, purpose-built studio in any way imaginable to support your passions and interests – but get creative with it! Here are a few ideas to get the ideas flowing. With a unique studio space on your lot, the chance to have the time of your life will always be steps away. 
What is a backyard home studio?
A backyard home studio is a separate structure that's detached from your main property or residence. The beauty behind this type of studio is you can transform and customize it into any type of space. From a home office, man cave to a hobbies room, and so much more – there are tons of options to choose from. Not only are backyard home studios an affordable way to add value to your property, but it's a little oasis and space you can enjoy for years to come. 
If you have a decently sized backyard, a studio space can add value to your property. Depending on your municipality, you might not even need specific local council approval – you can just get started right away without waiting for a permit. Here are some key benefits to a backyard home studio:
Offers a multi-functional space that can change as your needs do

Allows you to host friends and family in your hobby space

Creates a separate environment from the main residence
Creative backyard home studio ideas
1. Video Arcade
If you're someone who loves gaming and wants your own space to play with your friends, then a backyard video arcade studio is for you. When designing and creating your studio space, consider lining the bookshelves to store your games and adding a big-screen tv and sofa to host people. If you prefer more traditional games, you can line up a pinball and arcade machine along the walls for an authentic feel. The great thing about backyard studios is you can customize it to your liking – whether it's paint colours, decorations, the type of games you want and so much more. 
2. Personal Gym
Over the past few years, personal and home gyms have become more and more popular. When it comes to blasting away stress, nothing seems to beat exercise to the punch. By converting your studio to a dedicated personal gym, you will always have a place to come and run, bike or lift. With the exercise room close to your house, you can actively avoid distractions that would normally interrupt your workouts. If you design your studio to have enough space, you can even invite your friends to workout with you. 
3. Reading Room
When you want to cuddle up with a good book, there is no better place to go than your quiet, secluded backyard home studio. Outfit the space with  comfortable furniture, including a chaise lounge, microfiber recliner and glider chair, to feel like you are floating on a cloud as you drift into the literary world. You can also add a window seat into the build so you can enjoy peeks of your garden space between paragraphs. With enough space in the home studio, you can even host monthly book club meetings with your friends, family and neighbors.
4. Space Observatory
If you want to see the stars in a whole new light, consider making your  home studio into a space observatory. A moderately priced telescope, home computer and collection of stargazing books are all you need to gaze upon the wonders of space. Make sure to reserve several windows for your telescope setup, so you can view the changing sky from multiple angles throughout the year. Consider adding recording equipment to your setup if you want to share your view with your friends, family or local community.  
5. Craft Nook
Anyone that's a serious crafter knows that materials can quickly take over any space as you build. By moving your crafting nook into the studio, you can expertly control your use of the space without having the situation run out of control. Be sure to use precise interior design techniques, like maximizing your use of vertical space, to keep your materials and tools organized and accessible. Create a separate corner for your crafting partners in crime, or little crafters in training, to join you from time to time.
6. Recording Studio
To create crisp, clean audio or video recording studio, you need  a quiet, distraction-free space for your equipment. A backyard recording studio can act as the perfect place to create the high quality videos or audio files you want to make. Having a separate studio keeps your recording equipment from overwhelming your main living space. You can also spice it up and include furniture to give yourself a space to relax between takes. 
Transforming Your Property With A Backyard Home Studio
When you find that you're ready to transform your home studio, or better yet, when you decide to property with a backyard home studio, give the team at Summerwood a call to discuss your outbuilding needs. Creating your dream backyard home studio is only a quick phone call away. Contact us today and explore our home studio options. No matter what your hobby is, we'll find a home studio solution that works for you. 
More Posts You May Find Interesting