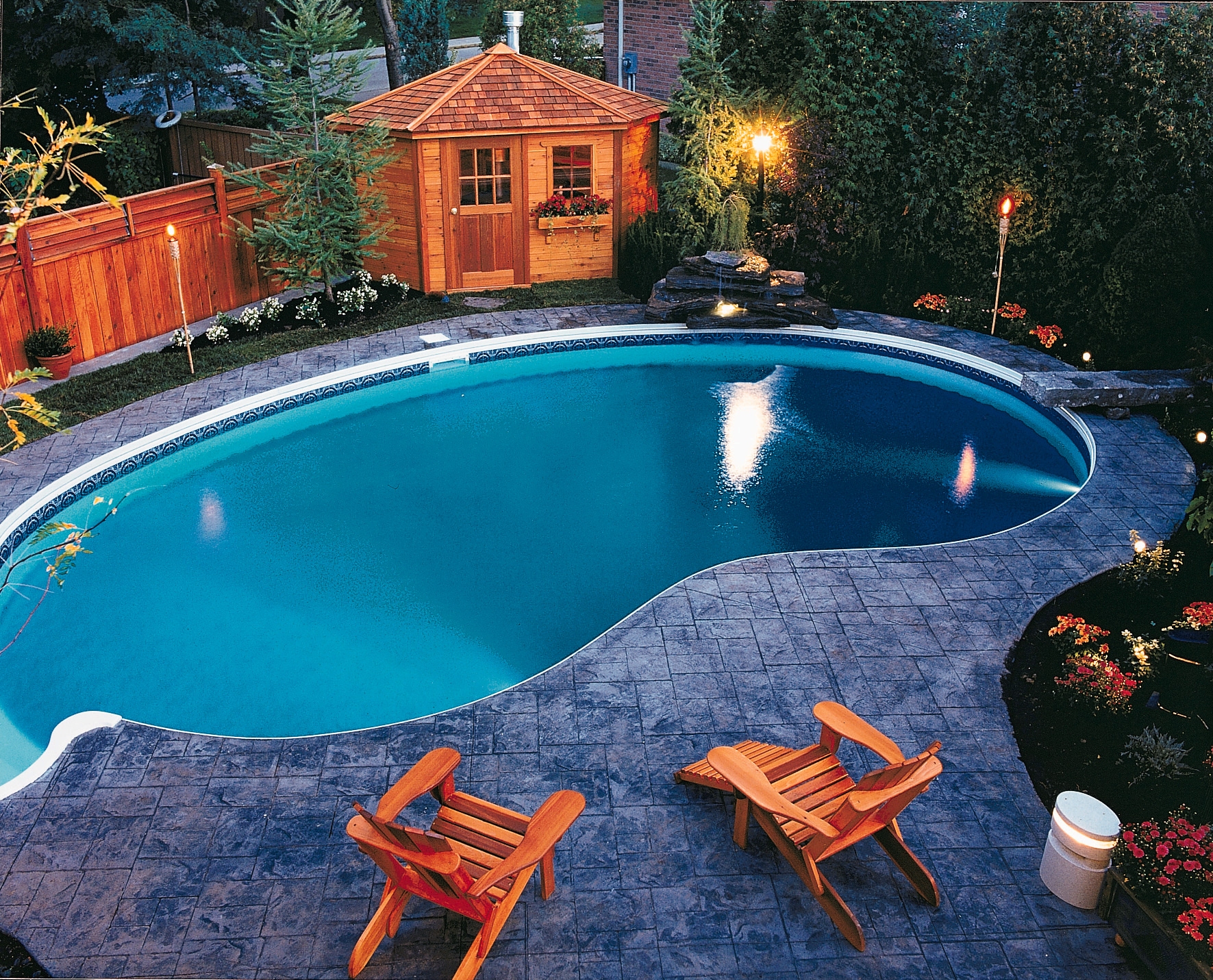 With winter fast approaching and almost upon us, now may be a good time to consider winterizing your pool area, including any pool houses or cabanas, if you haven't already done so. And with the holiday season just around the corner, you might consider spicing up your pool area so you can enjoy it throughout the winter holidays. Just because summer's over doesn't mean that you can't still enjoy your pool cabana.
In this article, we'll explain how to go about winterizing a pool area, covering how to do a thorough pool closing for the winter and how to prepare a winter cabana or pool house you can enjoy all winter long.
Why Closing a Pool for Winter is Important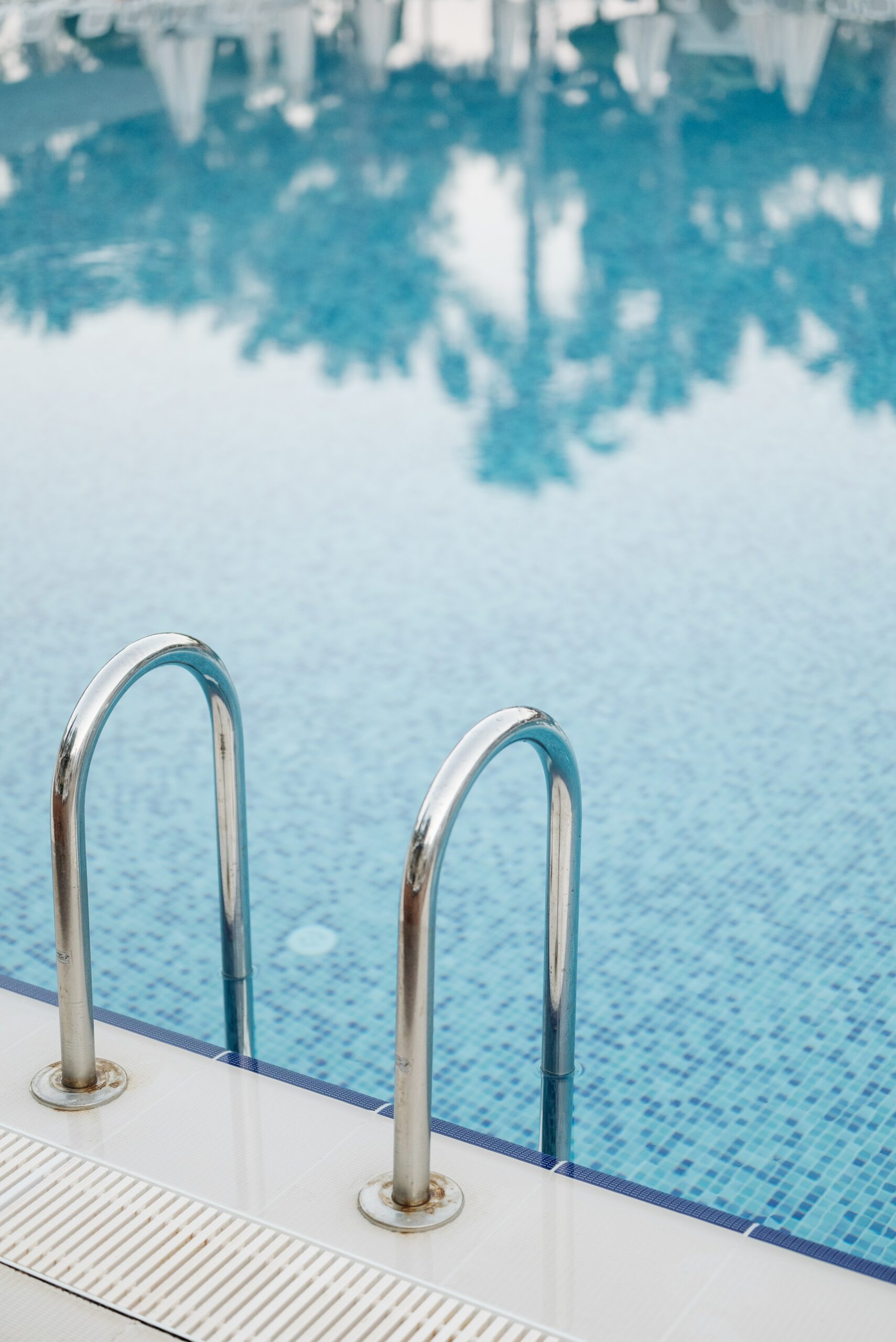 The winter season can be both unpredictable and harsh, especially Canadian winters. Within the same week you could have frigid temperatures, snow squalls, windstorms, freezing rain, blizzards, snowstorms, and even a sunny day above zero degrees. Such unpredictable and harsh weather can cause significant damage to your pool. 
If you delay your pool's closing or neglect to close your pool correctly for the winter, it can lead to damage to your pool's finish and equipment, leave nasty stains, result in costly repairs, and cause a delay in opening your pool the following summer. The remaining pool water can freeze and damage pool liners, pipes, filters, pumps, and more. This kind of damage can shorten the life of your investment in the long-run.
This is why closing each component of your swimming pool correctly at the end of the summer season is absolutely essential if you want to keep it in great shape. 
Why You Should Also Winterize Your Pool Cabana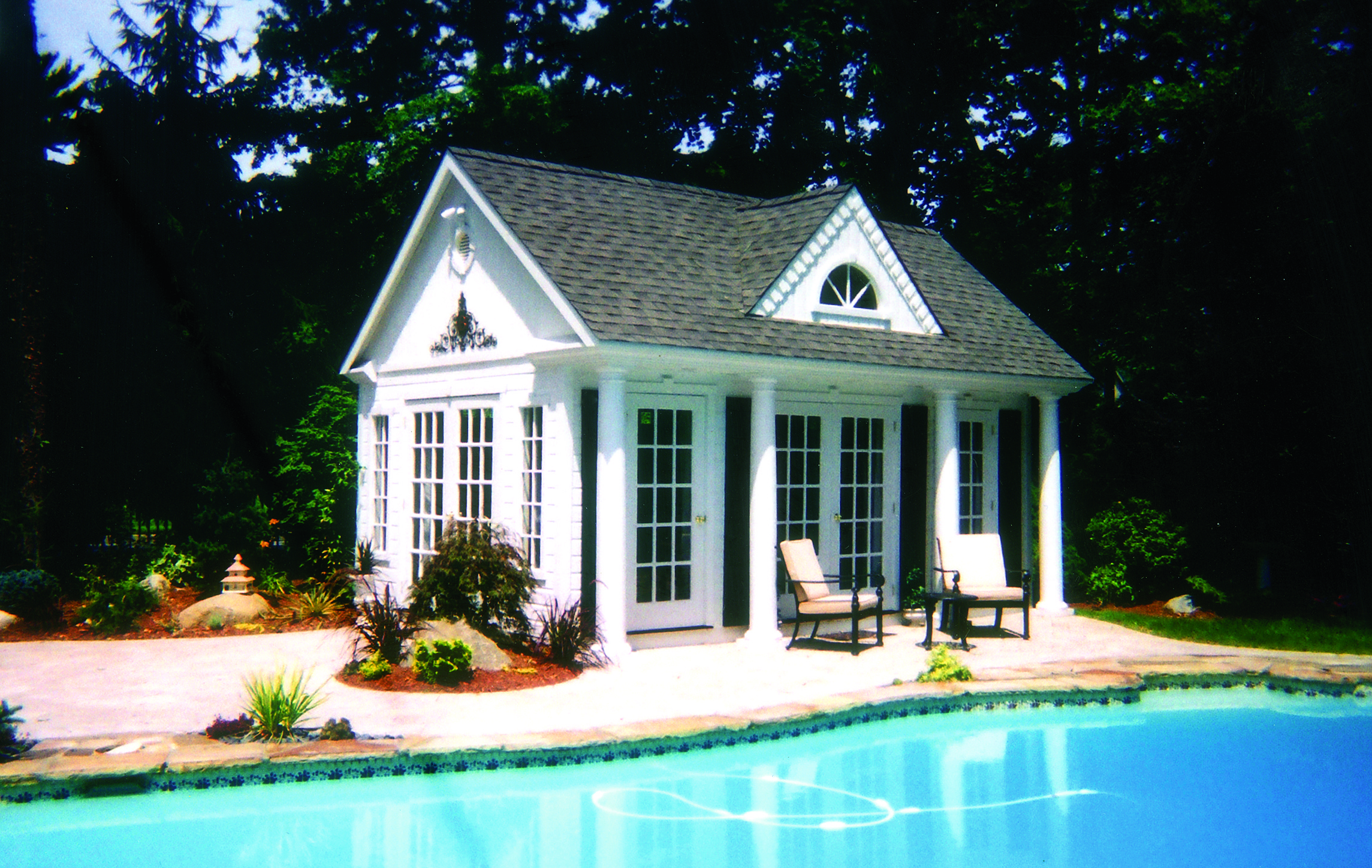 We all know we should be closing our pools for the winter season, but what's less discussed (though by no means less important) is the need to winterize any pool houses, cabanas, sheds, or other outside structures.
Just as the drastic and unpredictable winter weather can damage your pool, so too can it ruin your pool houses and cabanas. Improper care and severe changes in weather conditions or temperature can lead to roof leaks, fallen gutters, peeling exterior paint, siding damage, pulled caulking, mold growth, foundation cracks, and infestations, among other things.
To preserve your outbuildings, be sure to properly winterize them so you can continue to enjoy your cabana or pool house for years to come.
When to Start the Process?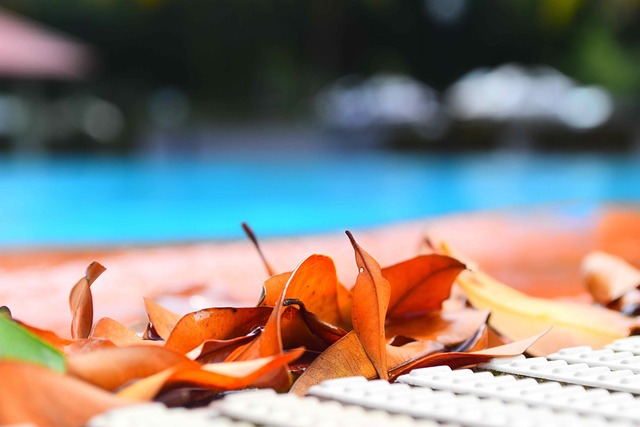 Now that you know why it's so important to properly winterize your pool area, we can discuss when to go about starting the winterizing process. 
There are no hard and fast rules when it comes to determining the right time to close your pool area. It all depends on where you live and its seasonal temperatures for that year. Some areas are located in colder climates than others and experience more severe winter weather than others. Weather conditions also vary from year to year–you may experience an unseasonably warm winter one year and an exceptionally cold winter the next. You may not even need to close your pool area for the entire year, depending on your location.
While there is no clear rule to follow to determine when to close your pool area, there are several factors that dictate when it's time to winterize your pool area. For instance, if you have a pool heater, you can extend the amount of time your pool is open for another month or so before and after the standard pool season, making your pool season last from April to October.
However, for those who live in a colder region that experiences harsher winters and who don't own a pool heater, the regular pool season is typically between May and September. For people with a pool or a pool cabana in Toronto, you will likely need to close your pool around September. Again, this will depend on the actual weather conditions for that year. It would be a safer bet to pay close attention to the actual temperatures on the nights leading up to the regular closing season than to rely on the month of the year. 
When temperatures fall under 30°F (-1°C) at night, you need to close your pool area. September, October, and even November tend to be the optimal months for closing your pool. 
Just remember: closing your pool too early, when the weather is still warm, can be just as bad as closing it too late. If you close your pool when the weather is still warm, it can prompt algae growth in your pool, a problem that will require a significant amount of money to correct and clean your pool water. 
How to Close a Pool for Winter in 10 Steps
When you're ready to close your pool for the winter, following these steps will help to protect your pool from damage and keep it clean for the next season.
1. Inspect your pool for damage:
Inspect your pool for cracks, leaks, or any other damage as cold weather will exacerbate these problems. In the event that you discover any damage, contact a local pool professional for repairs immediately.
2. Clean your pool:
Thoroughly cleaning your pool will make the next steps of the winterization process much easier. Remove leaves, dirt, and other visible debris that may have fallen onto the surface of your pool using a handheld pool skimmer or a leaf rake. Empty out the pool skimmer baskets. Then, using a pool brush, scrub the walls of your pool clean. 
Once you've cleared the surface debris and scrubbed the pool walls, you can use a pool vacuum to vacuum the pool's surfaces. Be sure to vacuum all surfaces, especially areas with poor water circulation. This will help prevent algae from forming. 
There are two types of pool vacuums: 
Manual Pool Vacuum: requires that you manually push the vacuum over all surfaces of the pool you want to clean. You will need to take your time to clean all surfaces if you want optimal cleaning results. Some manual pool vacuums have a higher suction power than automatic pool vacuums and will provide a deeper clean for your pool.

Automatic pool vacuum: skims the entire pool for an overall clean. It's a handsfree process. The pool vacuum crawls the floor of your pool to clean surfaces and circulate water.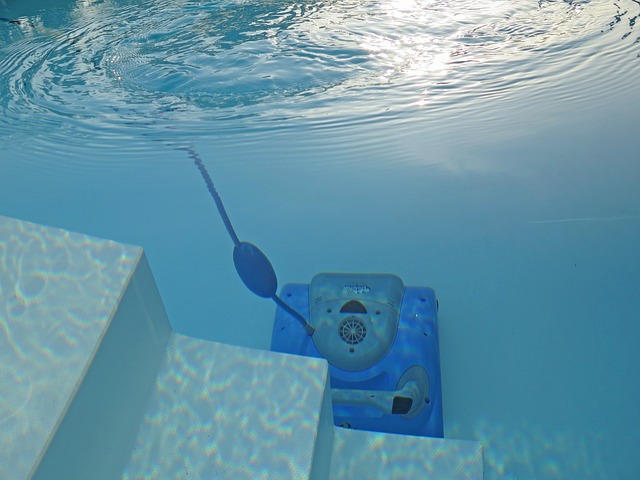 3. Check and Adjust Water Chemistry:
Once you've cleaned the pool, it will be easier to balance its water chemistry. By balancing the water chemistry, you can protect against etching, staining, and corrosion. A few days before closing your pool, run the filter system and shock the water. After a few days have passed, you will need to use a pool test kit to check and adjust the water balance, checking the pH, alkalinity, and calcium levels. To do this, simply dip the strip into the water and compare it to the chart included in your kit.
4. Chlorinate Water and Add Algaecide:
Check chlorine levels (or the levels of whichever sanitizer you are currently using). Chlorinate the water if chlorine levels are too low to kill any bacteria that could linger throughout the winter. Add algaecide to kill existing algae and prevent algae growth during the winter season.
5. Backwash the Filter:
Backwashing cleans the filter by reversing the flow of water through the filter directly into the waste line. Set the filter to backwash and run the filter for three to five minutes or until the water is clean in the sight glass next to the waste port. Shut off the system and set the filter to rinse, running the system for 30 seconds. This allows water to run through the filter and reset the filter element. Finally, open the pressure relief valve next to the pressure gauge.
If your pool doesn't have a waste drain, connect a backwash hose to the waste port and run the hose to a safe site. Then proceed with the next steps outlined above.
6. Lower the Water Levels:
Depending on the type of pool and pool cover you own, you will need to lower the water a few inches below the skimmers or any decorative tiles to prevent ice damage. Be sure not to completely drain the water. Maintaining a higher water level during the winter places less stress on the cover and liner. Set the filter valve to waste, turn on the filter system, and when the water reaches the appropriate level, turn it off.
7. Drain and Store Equipment: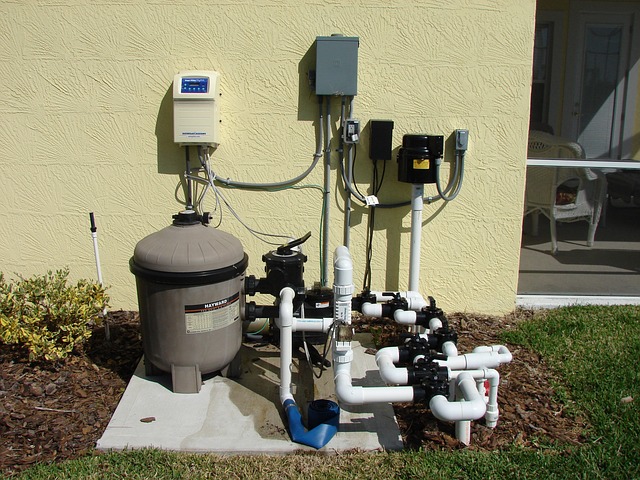 To protect your pump, filter, heater, and plumbing lines for the winter, you will need to drain all water from them and properly store them. Any water left in the system can freeze and expand, causing damage such as cracked pipes.
First, remove, clean, and store any filter elements. Then clear plumbing lines for above-ground pools by disconnecting them and letting the water drain out, storing them in a warm and dry place. For an in-ground pool, the process is more complicated and is best left to professionals. You can click here for general steps to show how professionals go about clearing pool lines with an air compressor connected to a pump.
Finally, shut off the filter system. Remove the plugs on the filter system, the sight glass, and the pressure gauge and store them in the pump strainer basket inside the pump. Then cover the system with a tarp, taking care not to cover the pump too tightly, as this will cause damage. Covering the pump will prevent water from getting into the system and freezing there.
8. Remove Pool Accessories:
Before covering the pool, remove all pool fittings and equipment such as ladders, hoses, filters, pumps, heaters, toys, etc.
9. Cover the Pool:
To prevent leaves, rainwater, snow, and ice from getting into your pool during the winter, cover your pool by unfolding the cover and pulling it over the pool, trying not to let it dip into the water. Then secure it tightly in place. A good pool cover will also help maintain balanced chemical levels.
Be sure to have any rips or tears in the cover repaired and place cardboard or rags over sharp objects to prevent any tears or rips.
10. Maintenance: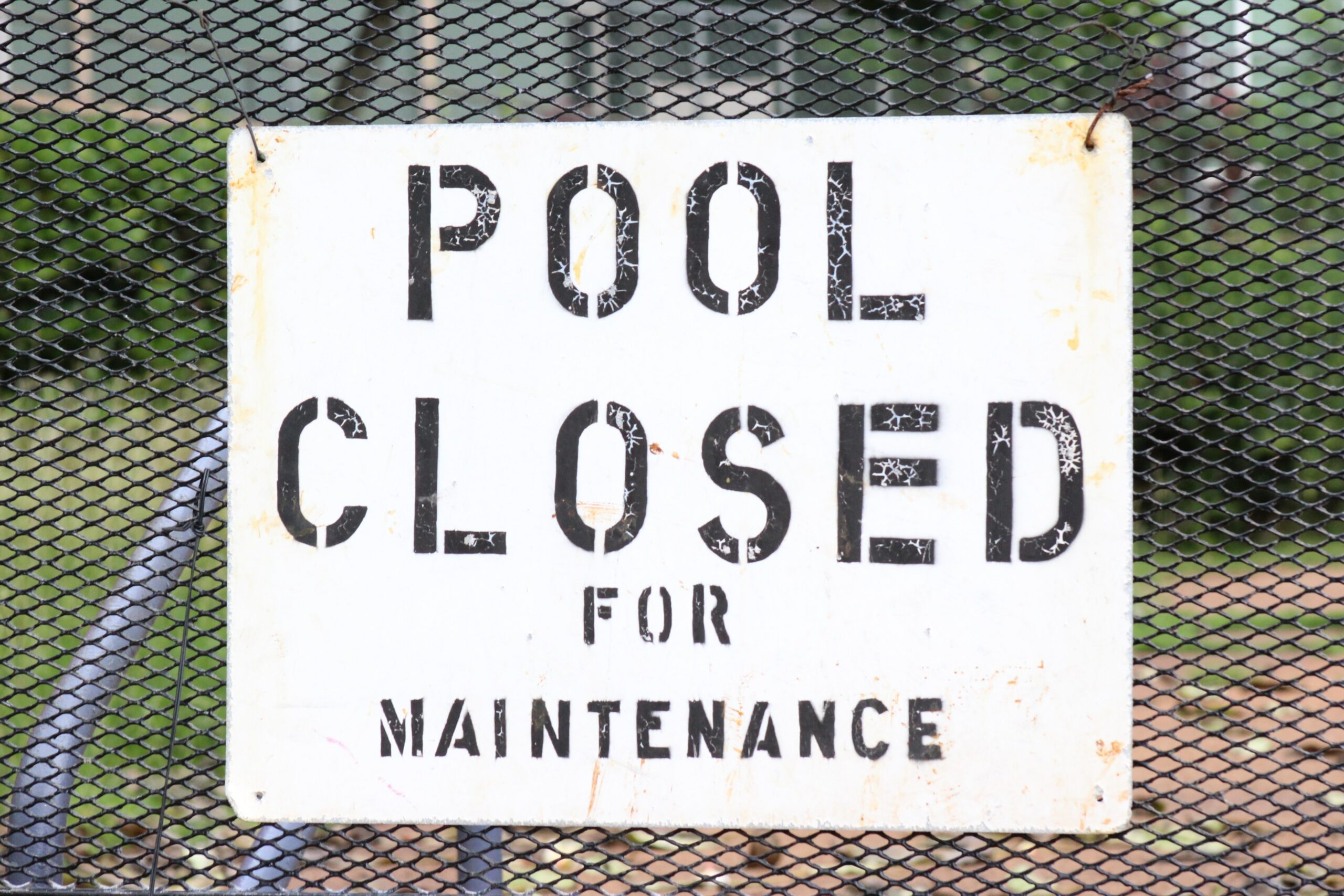 Even though you've completed the closing process, you're not finished with your pool. Though you aren't using the pool in the winter, it's important to stick to a maintenance schedule throughout the winter season. Check the water level and chemical balance periodically and do quick inspections to ensure the cover is still in place. Remove any water, leaves, or snow from the cover to protect it.
That's it! Follow these simple steps and you will enjoy your pool for many summers. Keep in mind, however, that every pool is different and yours might need special care not outlined in this article.
How to Close a Pool Cabana for Winter:
If you own a cabana or pool house, don't forget to winterize it before the cold weather sets in. Winterizing your cabana or pool house is just as important as closing your pool or preparing your shed for the winter to protect it from damage. Below we've included some tips on 3 areas to focus on when winterizing your cabana:
1. Clean the Outside:
Start your winter preparations by cleaning your cabana or pool house. Accumulations of dirt and debris can wear down the material of your cabana. Inspect your cabana carefully to see what repairs are needed, especially if it is made out of wood, as wood can be particularly vulnerable to wet conditions. Be sure to:
Thoroughly wash the outside of your cabana with a garden house. 

Clean windows and sills by hand. 

Ensure gutters are firmly attached and clear out any leaves and debris. 

If you don't already have some, consider using some covers to protect gutters. 

If you don't have guttering, consider installing it to prevent undirected runoff from creating puddles that may result in water collecting under your cabana, causing rot and decay.

Inspect the roof for any lingering debris as well as for any holes that may need to be repaired before the winter sets in. 

Wash down sidewalks and paths

Remove items sticking out of the ground (i.e. sprinkler heads, lights, etc.)

Check and oil window and door hinges, handles, and locks to keep them in good condition

Clear window vents of debris and check draft excluders and seals. Replace if necessary.

Repair broken or damaged panes.  

Wash down wooden frames with hot soapy water before inspecting for paint blistering, water ingress, and rot 

Treat any water penetration by removing paint to allow the wood to dry before treating with end grain sealant and repainting. 

Use a screwdriver to gently probe woodwork for rot. Dig out affected areas, treat with preservative and fill with exterior grade wood filler. Allow to dry, then sand, prime and paint.
2.Taking Care of the Inside: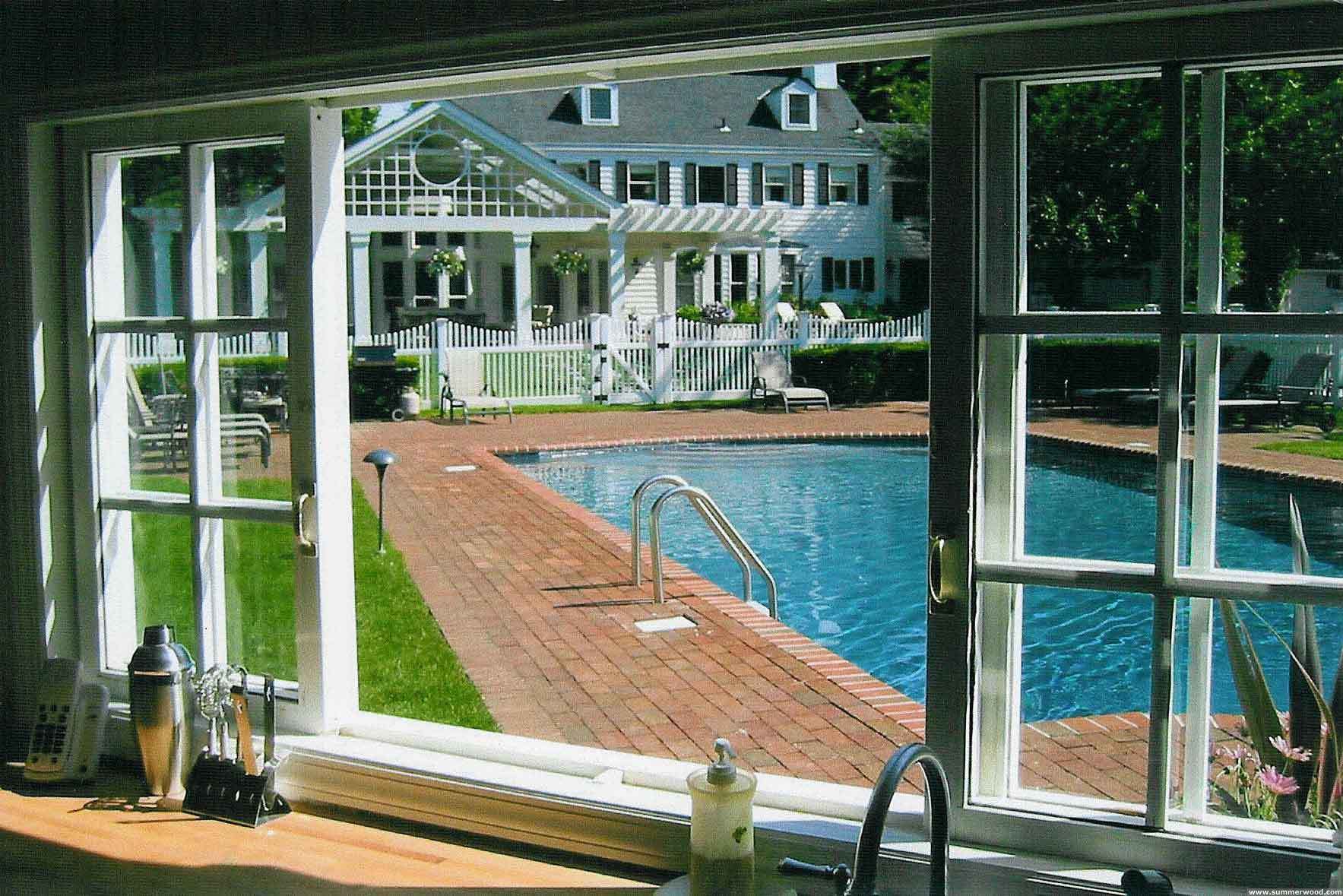 Cleaning out your cabana of any debris or junk before winter sets in is highly recommended. Debris can attract bacteria and rodents, both of which are bad for your cabana. To care for the interior of your cabana:
Sweep floors, scrub all surfaces, and clear out any webs or nests. 

Ensure there are no holes in the walls that will allow critters seeking protection from the cold to enter.

Store items on shelves and label them to improve the overall organisation in this space.
3. Insulate and Weatherstrip:
Good weatherstripping can keep out most moisture from your cabana or pool house. Checking the weather stripping around your doors and windows for damage before the wet wintery season can save you time and money in the future. Weatherstripping is a standard every year, when doors and windows can become unsealed and let air in or out. Be sure to weatherstrip your poolhouse or cabana if you notice any damage. This can be done for about $30 per door and $15 per window, on average.
Adding insulation to your cabana or pool house means you can continue to use it all winter. It will also prevent damage caused by cold weather. Insulation reduces the risk of the cold temperatures causing cracks, chips, or breaks in any stored items.
How You Can Use Your Cabana or Pool House all Winter:
You may be asking yourself–how can I still make use of my pool house or cabana once the winter season settles in? Many people think that the benefits of a pool house or cabana are limited to the summer. However, a pool house or cabana offers many benefits during the fall and winter seasons as well.
Below we've included a few possible ways you can transform your cabana or pool house for the winter season.
1. Entertain Guests in Style:
With the winter holidays just around the corner, it may be time for you to start planning those fun parties.You can host a mini-party in your cabana or pool house or else stock it with everything that you will need to make your party a hit, from food and drinks, to party games, chairs, tables, and utensils.
2. Additional Guest House Space: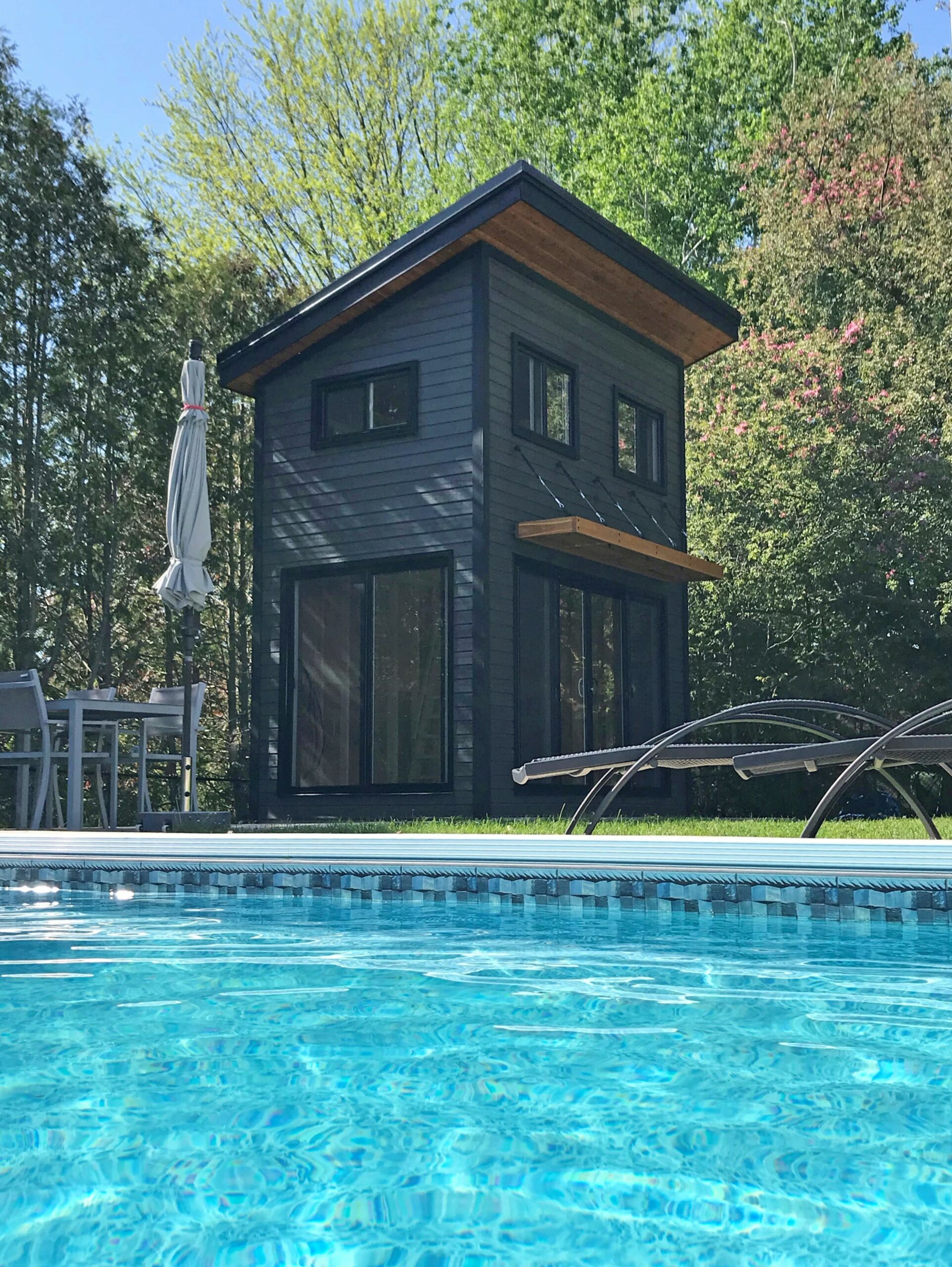 We've all experienced the hassle of trying to find enough guest rooms and spaces to accommodate our guests at some time or another. And we've all probably experienced the discomfort of having to sleep on air mattresses that always seem to have holes in them. Or worse, sleeping on the floor. 

With the holidays fast approaching, you might be finding yourself in desperate need of more rooms to accommodate family and friends. If you find yourself running out of bedrooms around this time of the year, consider transforming your pool house into a guest house. Having an easy to set up mattress and bed as well as other essentials is a great solution for when you're entertaining a houseful of guests and family. You can level up your hosting by having your visitors stay in beautiful, luxurious surroundings while keeping your privacy.
3. Extra Storage Area for the Winter:
With winter comes the need for increased storage space, as you pack up gardens and close pools. When you close your pool for the winter, you need somewhere to store all your poolside toys, deck chairs, tables, filters, pumps, heaters, pool chemicals etc. Pool houses and cabanas can be made into great storage spots for the winter. 
4. Transform Your Cabana into a Home Gym, Art Studio, or More:
Things can really slow down during the winter months, and you might find yourself looking for new things to do and new ways to occupy your time. Besides using your cabana for pool-related activities, you can repurpose the space to set up a home gym, art studio, or workshop. 
You can set up gym equipment in the space to get a home workout. Many people like using their pools for exercise, so having a small gym set-up can be the perfect addition to supplement their home workouts. 
You can also make it into an art studio or workspace to work on seasonal projects. To learn more about how you can make the ultimate backyard art studio, click here. 
5. A Casual Hangout Spot: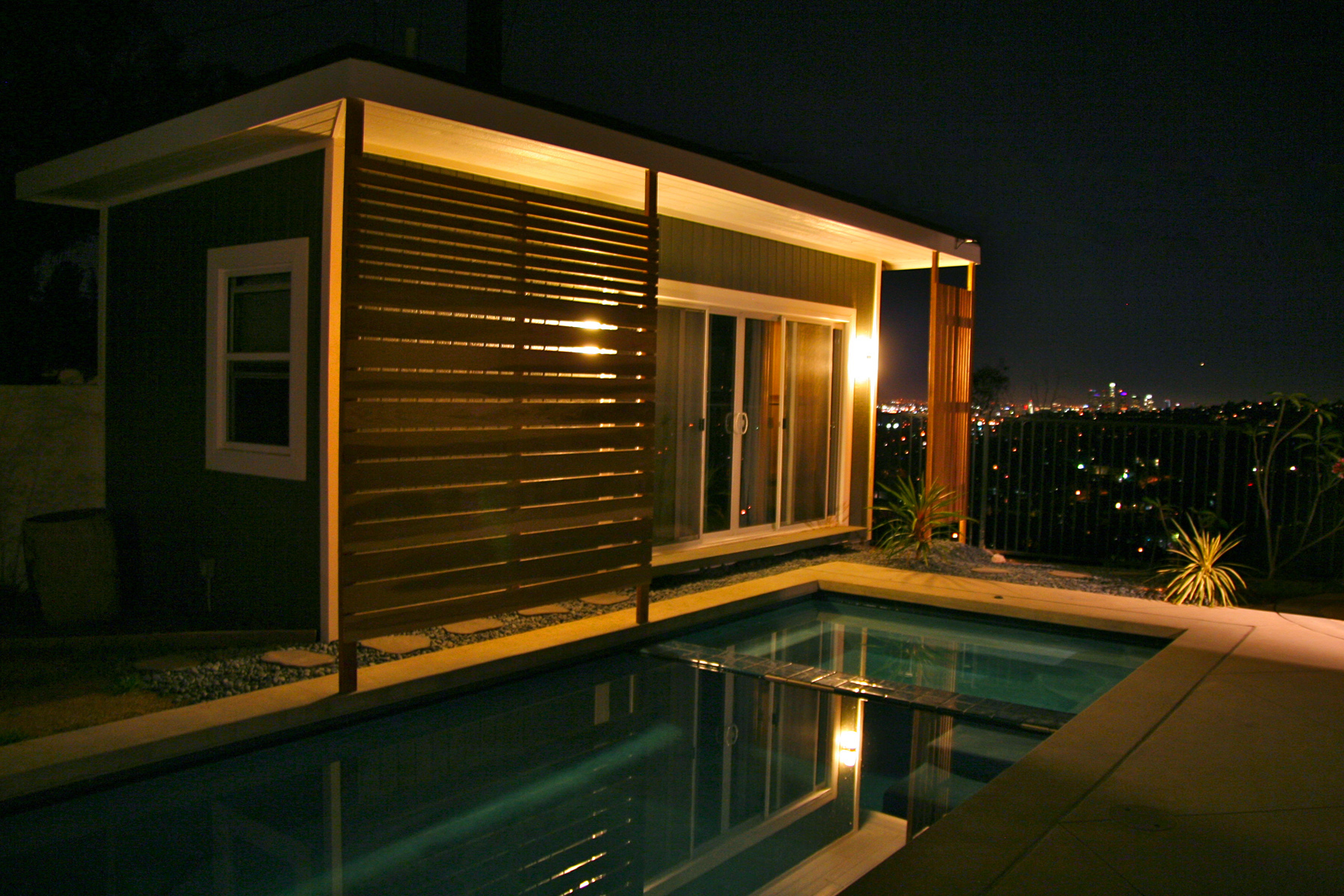 Since a cabana offers protection from rain, snow, and harsh winter winds that usually keep you cooped up inside all winter, it might be a great way to get out of the house. A winter cabana offers you a nice change of scenery and a great place to just hang out with family and friends during those long winter nights. A cozy, warm, dry, and comfortable winter cabana can be a great sitting area where you can peacefully watch the snow fall outside, play games with friends, or just relax with a great book.
Knowing what you want to use your cabana or pool for during the winter months should be the first step in winterizing it, as preparation steps will vary depending on what you will be using it for. Knowing in advance the purpose of your winter cabana will help you determine the time, money, and resources you will need to transform the space into the perfect winter cabana or pool house.
If you want to enjoy your pool area all year round, you need to properly winterize both your pool and your cabana. Doing this will extend the life of both so that you can get the most out of your investment. To enjoy your cabana during the winter season, transform it into a new space by making it a home gym, art studio, storage room, guest house, or more.
To create the perfect winter cabana or pool house, visit Summerwood Products and take a look at their stunning array of pool cabanas to add luxury to your outdoor space.
More Posts You May Find Interesting