Maybe you live in a rural area, or maybe you've just purchased or come into some land. It's beautiful and you're excited to show it off to friends and family. But is the place big enough to house everyone comfortably?
Often one cabin isn't big enough for everyone to be comfortable, especially if you have a large family or love to entertain.  A second smaller guest cabin (or 'bunkie') helps keep families and friends close … but not too close. It can be used for various purposes – a hang out space for teens, an in-law suite, or even as a tiny home/rental income property when you aren't using it (just like Rebecca does in "Small in Size, Big on Function: Leading the Tiny House Movement".)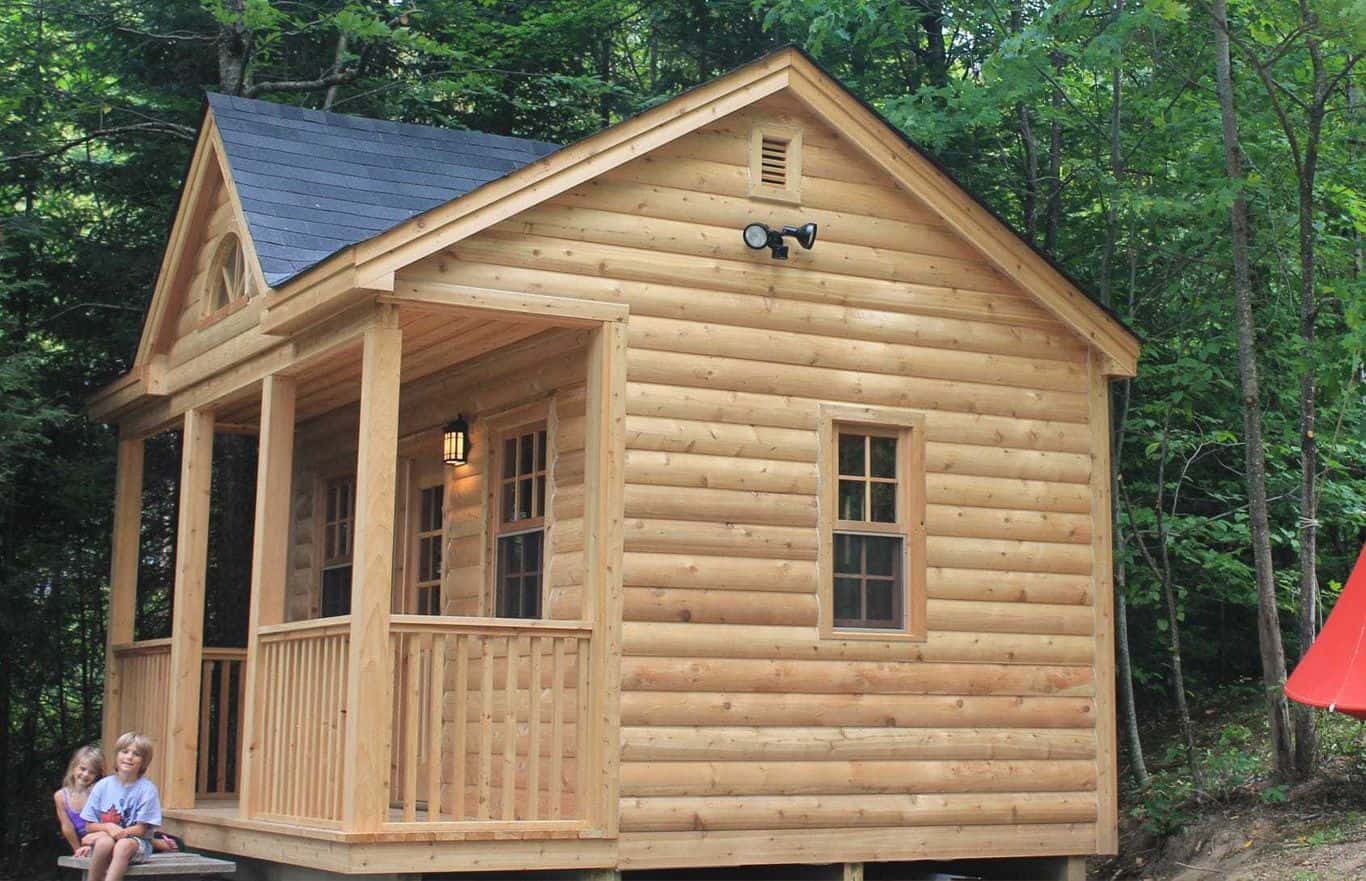 Regardless of what you're going to use your cabin for, there are a few things you should consider before entering into the design process. Below, we've got a few questions to consider before building your very own custom cabin. Let's get those wheels turning!
Do I need to insulate?
You may need to insulate your cabin depending on what climate you live in. If it gets chilly where you live, you're probably going to want to insulate the building so you can use it year round. If you are adding plumbing, you may also consider adding insulation to ensure your pipes don't freeze during the colder months.
Does it need ventilation?
Yes, a cabin definitely needs ventilation. Consider that someone may not be there all the time to open a window, perhaps it's a vacation property that you only visit on weekends or holidays. Air will get stale and can lead to rot and major air quality problems down the line – such as mold. No thanks!
Do I need a permit?
In most cases you will need a permit for a cabin as you'll probably want it to be a bit larger than the average shed or pool cabana. If you're planning on making it larger than 100 square feet, or adding plumbing, you will have to go through the permit process. Learn more about obtaining a permit, and how we can help in "Building Permits: What You Need to Know".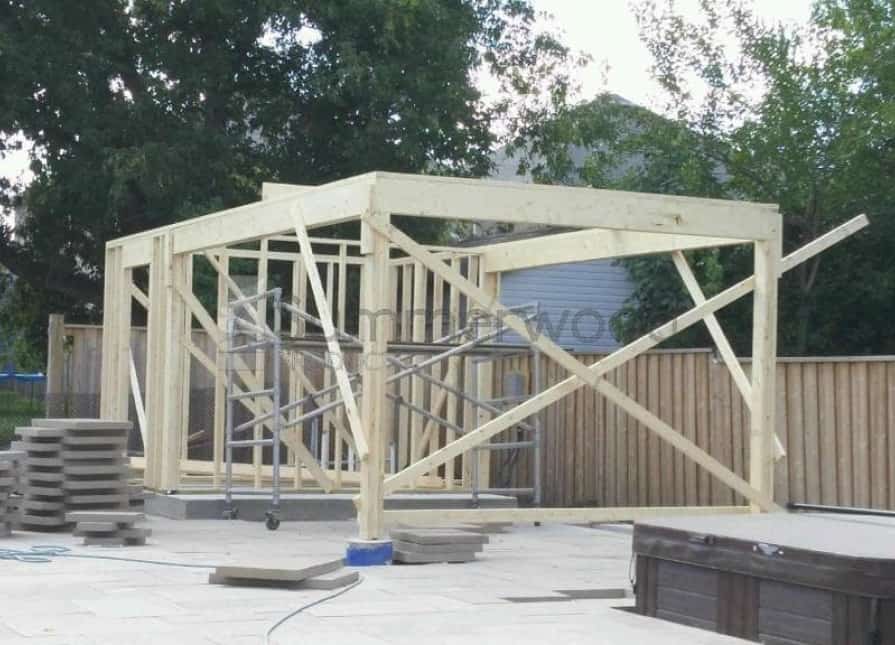 Should I stain it?
Yes! You should always stain or paint a cedar sided building. Unlike a deck or a fence, which you can let grey and whether over time, when cedar is used as a siding material it should be maintained. Since the idea is to keep the elements out, you'll want to stain the structure to ensure the wood does not warp or rot. If occasional staining just isn't for you, consider a maintenance-free option, such as Canexel. It has a 25 year warranty and comes in a multitude of colours. Read more about weathering in "Understanding Weathering: The Effects of Rain or Shine on Your Outdoor Storage Unit".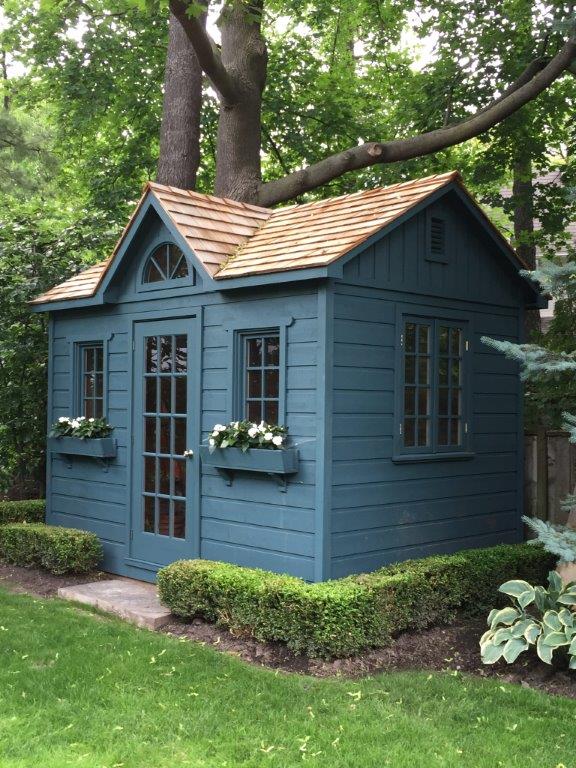 What about Storage?
Storage can be tricky in a small cabin space, but a loft is an ever popular solution. If you're working with a gable roof building, it's very easy to incorporate a loft space. If a loft is what you desire, we'll add a floor and a ladder, and voila! A loft can be used for storage, but is also beloved by children. The little ones won't mind sleeping in a loft space either, but you may have trouble convincing them to ever leave!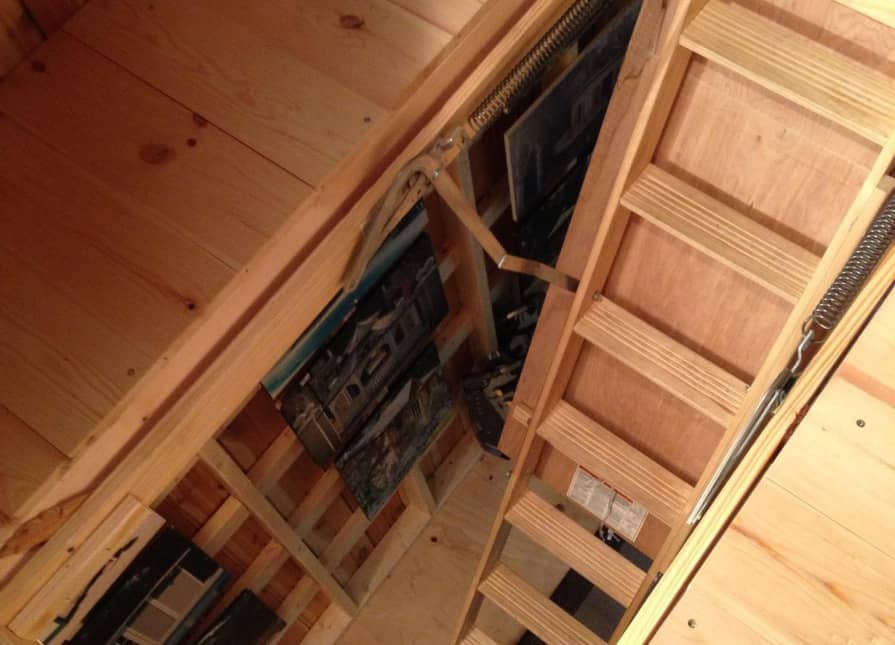 What goes on the roof?
Shingles are by far the most popular roof material. The options for colours and styles of shingles are truly endless. If you do choose to add a loft space as mentioned above, consider whether or not visitors will be sleeping upstairs. A tin or metal roof, although durable can create a noisy atmosphere when it rains, so it's important to keep interior comfort in mind when choosing roof materials.
Can I include outdoor living space?
You absolutely can include this in your cabin design! After all, you're there to enjoy the great outdoors. If you would like to add a porch to your building, keep in mind that it will count towards your overall footprint. A porch is included in this calculation as it is supported by posts. If this is a concern, perhaps our Ultimate Cottage Bunkie would be preferable. It also provides a front-porch like space, but with just an overhang. Because the structure is cantilevered, this overhand does not count towards your overall square footage. Read more in "Spring Best Seller: Permit Free Cottage Bunkie".

What about foundation?
Foundation is dependent on a few factors: is the ground beneath flat and level? Is there a slope? Can rock or stone be found under the ground? Is the structure near water? Our design experts are here to help determine what kind of foundation is best for your particular situation, that's why we call ourselves custom builders! The underlay of your building can be as simple as gravel and patio stones, although this is generally more appropriate for smaller or shed-like structures. A concrete slab, or piers is more likely what you'll need to support your cabin foundation.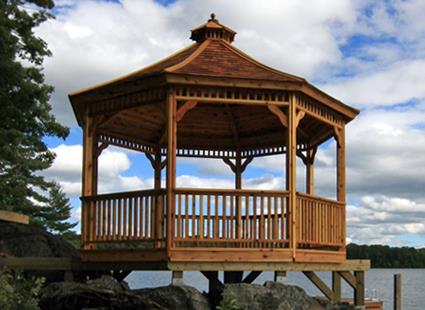 A few years ago, we assisted Tracy and her husband when they bought a cottage in Muskoka, Ontario. Initially, they didn't consider a guest cabin, and they lived comfortably in their space for quite some time. As the family grew, and new grand-kids, nieces and nephews began to visit the property, they realized they could use some more space. The need for more space for friends and family was apparent, but they didn't have time to build something themselves.
Instead, they decided a little elbow grease was just what they needed to solve their problem. The old cabin needed some work anyway, so when they renovated it they also had a Summerwood Canmore cabin built. "Now everyone has their own space to relax and spread out. Our mothers come up a lot and feel right at home in the Canmore. The kids love it too. They play up in the loft."
Tracy and her family had the cabin built just off the driveway, right behind the main cabin. "It's the first thing you see when you come up the driveway." First impressions matter, so it needed to be adorable!
You decide just how cute, or rustic your perfect custom cabin will be!
Contact Us:
Email us: design@summerwood.com
Call us toll-free: 1 866 519-4634
More Posts You May Find Interesting