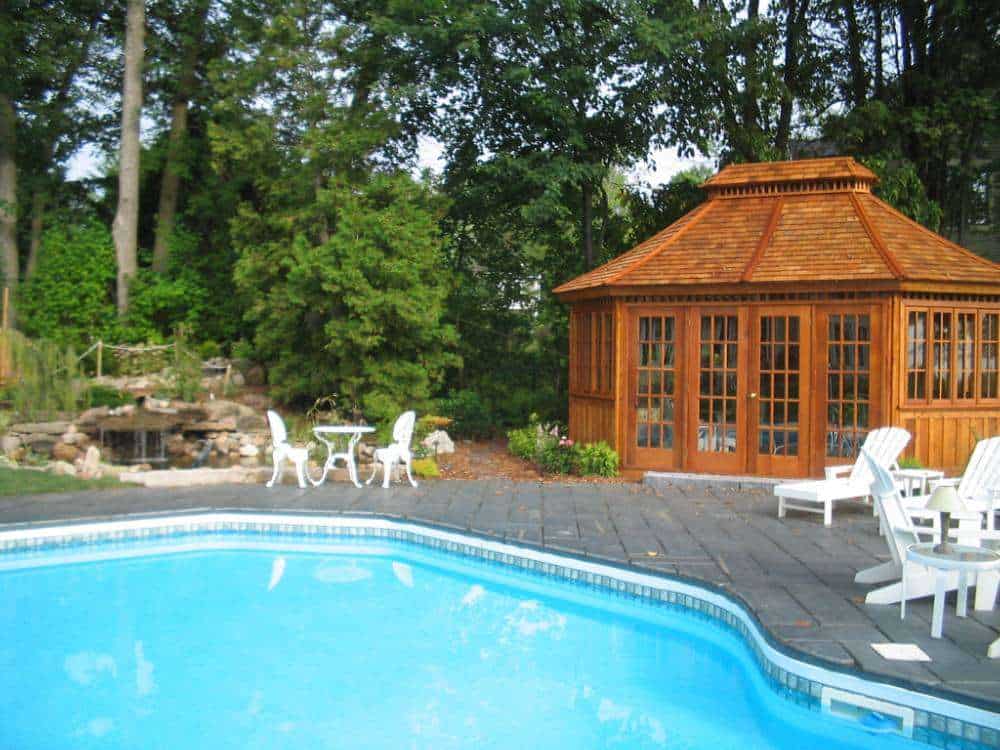 There are several things to consider when planning to build a pool house cabana, but with an eye for detail and careful planning, you can have everything you dreamed of and more. The first question to consider is "what do I intend to use my pool cabana for"? To some extent the answer to this question will impact all others. We suggest you make a list of all the functions you would like your Pool House to serve, as part of the planning process. If you are installing a new pool, be sure to involve your pool company in the decision making process; they will have some good suggestions and certainly the experience to know what's important for your structure.
Also thinking about a storage shed for your other backyard needs? See our detailed guide on how to choose one first.
Pool Cabana Sites
Location
There aren't too many choices here; generally you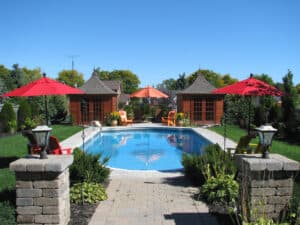 will locate your pool house cabana within striking distance of your pool. There are some things to consider though: how to maximize sunlight; do I want the cabana to be front and center or blend into the landscape a little; do I need to run electricity and, do I need to plumb it for a bar sink, toilet, or outdoor shower. Evaluate the pros and cons of your preferred site in all four seasons. The surrounding foliage (and weather) can be very different from one season to the next. All of these considerations may have some impact on where you decide to build your pool house.
Once you have decided on a site, choose a cabana size that'll suit your needs (see 'choosing a size' below). It's a good idea to stake out your pool house to ensure that the fit is comfortable for your needs and that the location is harmonious with your landscape.
Zoning
Decisions made on the size, location, and style of your pool house cabana are not entirely in your hands.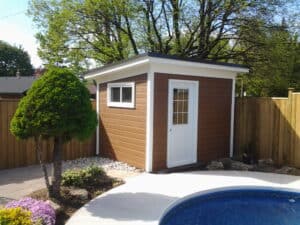 Be sure to check with your municipality to ensure that you are meeting the local zoning and permit requirements. If you are under 100 sq. ft. you will not likely require a permit; however, there are usually some restrictions such as a two or three foot set back from a property line to contend with (please see zoning and permits for more information). In some regions there may even be specific regulations pertaining to the construction of structures near a pool. Always check first with your local municipality before building!
Grade
Typically, pool houses are built on concrete pad foundations.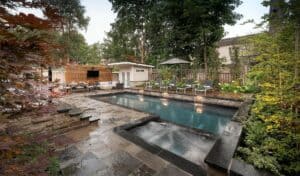 Often customers are pouring concrete for their pool, so it's very economical to pour an additional pad at the same time. It's not usually necessary to pour a pad though; patio stones or a crushed stone base work just fine. Regardless of your choice, be sure that the grade is level and that it has good drainage.
Pool Cabana Designs – Interior Design & Exterior Style
Our range of poo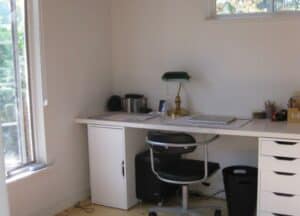 l house styles, sizes, and options will allow you to design your cabana for functionality without having to compromise on style. Be sure to spend sufficient time browsing in our pool cabana photo gallery and benefit from all the designs that others have come up over the years. Choose a pool house style that reflects your personal taste and fits in to the landscape. Don't worry about matching your cabana to your house, not every thing needs to match…and why not be a little eclectic! You can customize your pool house to your heart's content, implementing your personal flair along the way. Most of our styles are differentiated primarily by roof lines (i.e. gable, hip, salt box) so this is an important consideration.
It's also important from the beginning to think about the interior design of your pool house. Partitions often work well to divide space for the various different uses (although the 'open' concept has its appeal as well). Benches, shelving, and hooks are very handy and if you are considering one of our beautiful bifold bar windows, extra overhang and height are necessary to ensure that the design balance is correct and that water doesn't drip off your roof onto the serving bar. Whatever your requirements, we have oodles of options to choose from so you shouldn't have much trouble achieving a good fit to your tastes and needs. Please don't hesitate to contact one of our design experts who will be more than happy to help guide you through the process.
If you are ready to get started, begin with the main pool house styles. Then if you can't find it there, visit our photo gallery or head over to our Custom Design Center.We also have a team of design experts that can come up with a virtual drawing of your ideas. Give us a call and we'll get it to you in no time!
Pool Houses – Exterior Finishing Touches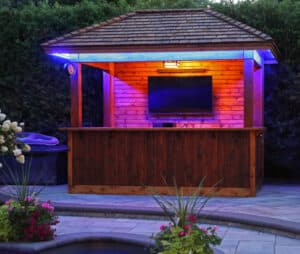 It's smart to think about how you may want to cultivate the landscape in the immediate surroundings. Shrubs, flowers, and trellises draped with vines can complement your Pool Cabana design and will help to define the space. If you have pool equipment, it's also a nice way to make it less conspicuous.
Many people also choose to lay flagstone or other pavers to create a pathway to the door.
A little decor always provides a nice touch. Strategically placed, things like trellises, life preservers, cupolas, lights, wind chimes, weather vanes, birdhouses – and even your favorite piece of weathered furniture can go along way to creating the style you are after.
Selecting a size for your Pool House
This is always a bit of a tough one, but there is no wrong choice, so don't fret. The average size for a pool cabana is somewhere between 8′ x 12′ and 10′ x 14′ (or the 10′ or 11′ five sided design) but, there are no rules. Clearly the key is to ensure that your space is large enough for its intended purposes, while remaining proportional to the setting. A changing area, pool equipment and accessory storage, mini kitchen, bar serving area, shower and/or toilet – think of the activities that you have in mind to take place in your pool cabana, and plan the space out accordingly.
If you intend to share your space with items currently residing in your yard, make sure to allow for enough room for both your pool needs and your stored items (mind you if it's only 'off season' storage you need not worry). Dual-purpose pool cabanas don't have to be big, providing you assign different uses to different spaces and incorporate some thoughtful and inventive design. Once you've decided on a size for your pool house, place some stakes in the ground and outline the sides of your proposed cabana with a string or garden hose. Adjust the stakes until you're happy with the size and record the dimensions. Note that if you have chosen an inward opening 'D' series door, you will need to have four feet of clearance inside your pool cabana.
Again, please feel free to contact us at any point in the planning process and we will provide you with as much help as you need.
Pool Cabana Construction Materials
Most of our products are constructed from a premium grade of western red cedar or Canexel maintenance free wood fiber siding (available in many vibrant colors). We only use the finest materials on the market, so be assured that what you get is truly top of the line – we don't mess around. Different materials create different looks so you may want to consider that if you want your design to extend or complement the architectural style of your house and other structures on your property. Click for detailed information on our materials and siding.
Pool House Roofing Options
There are a variety of options when it comes to roofing materials and here you will have to make an important decision.
Obviously asphalt shingles are the most economical and are readily available in a variety of colors at your local building supply store.
Although asphalt shingles are not packaged with our structures, cedar shingles are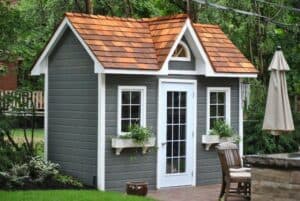 available as an option. They are truly beautiful and will last a lifetime. Corrugated metal roofing is another possibility. Available in many colors, this is an attractive option and is very adept at keeping the snow off your roof (if you live in colder climates). Another popular choice is clay roofing tiles. Many homes use this tile and it's nice to have the two structures share this similarity. Just be sure to mention this to our design team, as clay tiles add extra weight and the structure needs to be beefed up a little to accommodate these tiles.
Choosing a Pool House Style
When it comes down to which style suits you best, it's all about your own personal tastes and the application requirements for your pool house. Remember, all of our buildings can be customized to your own personal requirements. Since they're made to order, we have just the right style to suit you.
Summerwood Pool Cabana Styles:
Palmerston Pool Cabanas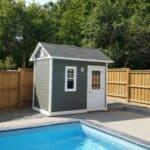 – The lines of our Palmerston style pool cabana make it at home in almost any poolside setting. The look is clean and the space is functional, ideal for equipment storage and changing space. Dress it up with a dormer, an assortment of windows, and one of our deluxe series of doors.
Surfside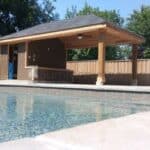 Pool Cabanas – Take entertaining poolside to a new level with our outstanding Surfside pool cabana design. Outfitted with a built in bar, this pool cabana is sure to be the center of all the action this summer! Install plumbing for a kitchenette and run electrical to keep the party going after dark. For summertime fun just add ice!
Barside Pool Cabanas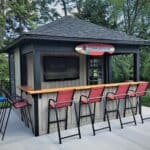 – Summerwood has another option for those who live entertain. The built-in bar is located on the long wall which provides so much more space for summer fun with friends and family! You can create your own design in our Custom Design Centre.
Dune Pool Cabanas
 – Our Dune style cabana is a favorite of our professional pool and landscape clientele. The charm and splendor of its design provides a striking and contemporary poolside look. Your guests and neighbors will be asking a lot of interesting questions.
Urban Studio Pool Cabanas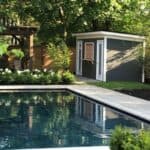 – Style that is sleek and simple at the same time. With its flat roof and lots of add-on options, Urban Studio makes for a perfect storage house, changing room or a cooling-off area.
Catalina
 Pool Cabanas – Our Catalina five-sided design is a Summerwood original and a very popular choice for a pool cabana. The style nestles beautifully into any corner and makes efficient use of otherwise wasted space. Clear cedar French doors, a dormer and Sojo styled architectural windows make wonderful appointments.
Sonoma  Pool Cabanas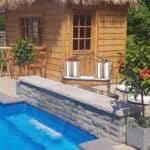 – Our Sonoma style is a favorite for those of you who are looking for a multi-functional pool house. Change room, bar, storage area, it can accommodate all that and more. Dressed up with architectural windows and beautiful clear cedar doors, the Sonoma is a lovely enhancement to your poolside oasis.
Verana  Pool Cabanas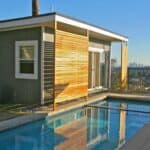 – Our Telluride is defined by its steep roof pitch and rugged natural good looks. The design is spacious and roomy. Can come all dressed up with large doors, beautiful windows and may be dressed up with some very stylish cedar wall lattice. A bold look if the space calls for it.
San Cristobal Pool House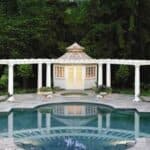 – is a classic beauty that is truly gorgeous poolside. This exquisite structure is fully enclosed and comes with French doors and beautiful opening windows (complete with screens). If natural light is a priority, the San Cristobal is a wise choice.
Windsor  Pool Cabanas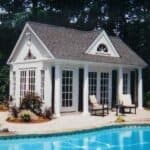 – The Windsor is perhaps the most striking pool cabana we offer. Its' regal look makes it a favorite for those who want to entertain in style. It's best suited with large windows and French doors to let the sun shine in.
Santa Cruz  Pool Cabanas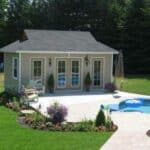 – California inspired, this pool cabana is luxurious and functional. The Dutch Hip Roof offers a ton of head room and the large windows, plenty of natural light. It's perfect for use as a pool house and it doubles as an entertainment facility. There's no need to run back and forth from the house.
Copper Creek  Pool Cabanas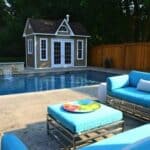 – This cabana has a steep roof pitch, providing just the right amount of drama to this poolside beauty. It's elegant design performs well by the pool, it allows for the storage of pool related items in the roof and gives you enough room inside to change and house all the equipment.
More Posts You May Find Interesting