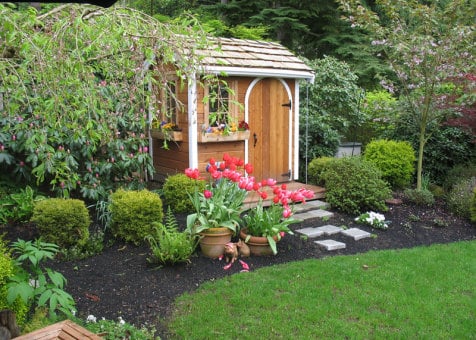 Here at Summerwood, we've compiled some of the most common planning concerns in an effort to help guide you to the perfect shed. From gardening and equipment storage to poolside storage, to whatever you'll be using your shed for, we're sure you'll find these tips and ideas helpful. And don't forget we're here to help with any specific questions you're sure to have along the way.
Choosing a location for your shed
From a practical standpoint, it's a smart choice to build one of our storage sheds close to where they'll be needed most. For example, kids are much more likely to put bicycles and toys away if the access to the shed is convenient. On the other hand, if you are looking at garden sheds, you may want to locate it next to your garden, in a spot that receives lots of natural light. Aesthetics are always important; you may choose to highlight your structure by making it the center of attention, or blend it into your landscape and make it a secret hideaway. You should also be mindful of the sheds relation to other structures that you may have on your property. Achieving a balance is very important in the overall aesthetic of your shed.
Other things to think of when choosing your sheds location may be it's proximity to water (do I need a hose, do I want to plumb it), natural light, ventilation (although vents are available), and electricity (artificial lighting and electrical for gardening and other tools may be desired). Consider the way the shed will look year round. Surrounding foliage (and weather) can be very different from one season to the next. All of these considerations may have some impact on where you decide to place your shed.
Once you have decided on a size for your shed and the location of the shed (see 'shed sizes' below), it's a good idea to physically stake it out on your property to ensure that the fit is comfortable for you and is harmonious with your surroundings.
Grade – Ideally your site should be level, with a slight pitch towards the rear. This will allow drainage of water without having to excavate around your shed. A shed may be located where the ground slopes more steeply (i.e. greater than 12″ from one side to the other) however, if this is the case, more thought should be put into the foundation you are going to build. Try to avoid positioning a shed at the bottom of a hill but, if you must, ensure that you beef up the drainage with a 6″ gravel bed around your shed or some other appropriate foundation. If you are planning to store wheel barrels and lawn mowers, and there is a slope, be sure to consider adding a ramp to your shed.
How to choose the perfect design for your shed
Our range of shed styles, sizes, and options will allow you to design and build your shed for functionality without having to compromise on style. Be sure to take your time browsing through our shed photo galleries and you will benefit from all the designs that others have come up with before you.
Choose a shed style that reflects your personal taste and fits in to the landscape. Don't worry about your shed matching your house; not every thing needs to match…and why not be a little eclectic! You can customize your shed to your heart's content, implementing your personal flair along the way. Most of our shed styles are differentiated primarily by roof lines (i.e. gable, hip, lean to, salt box), so this is an important consideration.
It's important from the beginning of your decision making process to think about the interior design of your shed. If you are storing large items like a lawn mower, you don't want to constantly be moving it in order to get to smaller items like shovels and rakes. Double doors on your shed make for easy storage of and access to large and small items alike.
Partition walls often work well to divide space within your
shed and help separate bikes from strollers, from gardening supplies. If you're going to be using your shed for storage, consider the placement of doors and windows. Keep in mind that storage space is lost where windows are placed. Placement of doors is also important to ensure convenient access to all the stuff inside. Obviously hooks, shelving, benches, bins and other creative ideas are useful in helping to keep things organized. Whatever your requirements are, we have oodles of shed options to choose from, so you shouldn't have much trouble achieving a good fit to your tastes and needs.
Backdrops & landscaping for your shed
It's smart to think about how you may want to cultivate the landscape in your shed's immediate surroundings. Shrubs, flowers, and vines on trellises can be a nice complement to a shed and will help to define the space. Many people will also choose to lay flagstone or other pavers to create a pathway to their shed.
A little garden decor will also help to create a tranquil space. Strategically placed accents like trellises, pergolas, cupolas, lights, wind chimes, wheelbarrows, birdhouses – and even your favorite piece of weathered furniture can go a long way in creating that outdoor sanctuary you desire.
Choosing the perfectly sized shed
There is often much deliberation over what the perfect size is for a shed. There is no wrong choice, and to make it easier, we offer a wide range of sizes (custom as well), so rest assured we'll have the right size for you. Clearly, the key is to ensure that your shed is large enough for its intended purposes. Think of what you'll be using the shed for and what is going to go inside. An easy way to do this is to physically map it out in your yard. Get some stakes and string and physically stake out the size – 10 x 12, 12 x 14, etc… Then, if you're feeling energetic, gather all of the items that you might be storing in your shed (bearing in mind that many items may be stored on shelves), and see how they fit within this staked out area.
If you're going to be using the shed as a potting shed, storage shed, pool shed, etc.. be sure to measure bench depth, shelving heights and pool equipment such as pumps & filters, to ensure you'll have enough room.
A partition wall may be worth considering if you want to separate contents or activities. If you intend to combine your storage needs with work space, make sure to allow for enough space for both you and your stored items. A dual purpose shed doesn't have to be massive, providing you assign different uses to different spaces and incorporate some thoughtful and inventive design into your plan.
Decisions made on the size, location, and style of your shed are not entirely in your hands. Check with your local municipality to ensure that you are meeting all zoning and permit requirements. Generally, if your structure is under 100 sq. ft. you will not require a permit however, there can be restrictions such as a two or three foot set back from a property line. See permits and zoning for more information, and be sure to check with your zoning office, better safe than sorry!
Please feel free to contact us at any point in the planning process and we will provide you with as much help as you need.
Shed building materials
All our shed building materials are hand selected and thoroughly inspected before we use them to build your shed. The following details provide some basic information on the materials and construction methods you can expect with your Summerwood shed kit.
Sheathing: We use square edge 4 x 8 sheets of 3/4″ T & G. You may want to upgrade to fir plywood, or consider a T & G pine for a different look.
Shed Joists: We use 2 x 4 spruce (with perpendicular 2 x 6 (or greater) P.T. runners underneath). Although not necessary, some people prefer to go with P.T. for the floor joists as well.
Shed Shingles: We offer cedar shingles that can be purchased for your structure at the time of sale, but there are other choices that may be purchased from your local hardware store (asphalt shingles, for example). Whatever you choose, be sure to follow the installation instructions closely. Please refer to the roofing section on our website for more information.
Garden Shed Siding: We generally use four types of siding in the production of our products: cedar channel siding, cedar log siding, cedar shingle siding and Canexel wood fiber siding.
Canexel wood fiber siding: 1″ x 12″ and it covers approximately 11 feet per row. It has a 15-year manufacturers warranty and comes in a compelling range of colors with virtually no required maintenance.
Cedar siding: 8″ wide western red cedar channel siding with either the rough or smooth side out. It covers 6 3/8″ per row and is a lovely material that looks beautiful on every shed style.
Cedar log siding: 2 x 8″ and gives a truly rustic effect
Cedar shingles: 18″ in length and 7/16″ thick, they give a truly distinct look to the building that they're put on.
Studs: We use at least 2 x 4 spruce studs every 16″ OC. If you love cedar, consider upgrading to our cedar package.
Construction & contractors
You'll need to decide whether you're going to take on the project of building your shed yourself or if you're going to hire someone to do it for you. Most of our customers tackle the project themselves and quite enjoy it; a form of therapy or family bonding if you will. Many will get their friends and neighbors involved, basically anyone who's going to be spending time your backyard is fair game.  If you are an accomplished 'do-it yourselfer', or are ready to make your debut, make sure that you have both the time and the energy required for the task at hand.
For detailed information on assembly and the tools required for the assembly of your shed, please read our shed assembly.
If you'd rather have a professional build your shed for you, be sure to have a look at our how to hire a contractor package. It will provide you with all the information you'll need to know to get someone else involved. We have a database full of trustworthy and reliable contractors located all over Canada and the US, so we'll be able to connect you with one, almost anywhere.  We can also help you find reliable contractors for related issues such as landscaping, gardening, architecture, pools, spas and more.
Choosing a shed style
We know style is a personal issue. That's why at Summerwood we offer choices. Remember all our sheds can be customized to your personal requirements. They range in size from as small as you want to as big as you want.  From basic storage and garden sheds, to elaborate dual purpose sheds – we've got you covered.
Garden Sheds & Storage Sheds – Our Styles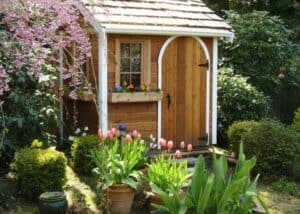 Palmerston Sheds – The Palmerston gable roof design is our most basic and most popular style. The look is clean and the space functional; roof trusses double as storage space for sports equipment and other items that need to be tucked away. A dormer adds a nice touch to this style.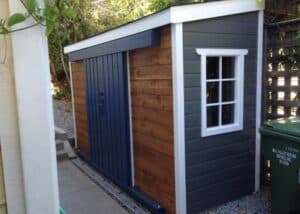 Sarawak Storage Sheds – If space is tight, our Sarawak lean-to shed is designed to offer you the optimal storage solution. It works well partitioned into a multi functional space or with a large set of double doors for easy access.
Bar Harbor Sheds – An ideal shed for the avid gardener as a potting or storage shed for your garden tools. The saltbox style roof features exposed cedar rafters and 1 x 6 cedar roof boards.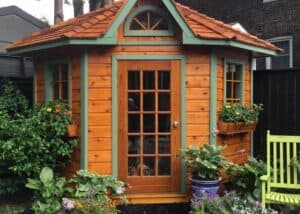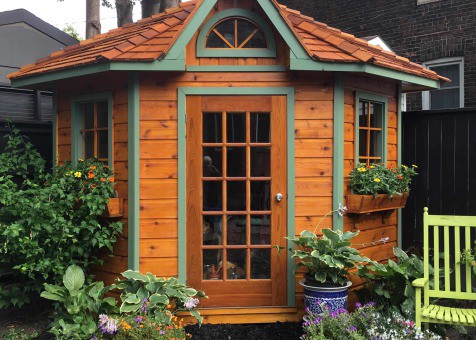 Catalina Corner Sheds – The five sided roof design of this shed certainly adds an interesting dimension to your landscape. A great choice nestled into a corner facing your yard.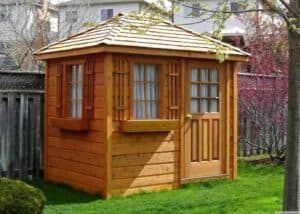 Sonoma Sheds – The Hip Roof design of this shed offers a little more flair and versatility. The use of rafters instead of trusses also creates more of an open feeling. This style is easily dressed up with numerous door and window options.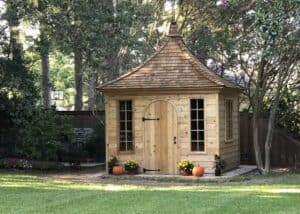 Melbourne Sheds – This unique shed design offers an understated elegance that is not usually associated with garden sheds. The Melbourne is a big hit with our landscape architect clientele.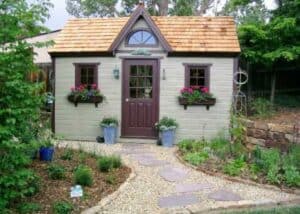 Telluride Sheds – Our Telluride is defined by its steep roof pitch and rugged natural good looks. This spacious design is ideal for both storing and working with tools. It comes all dressed up with large double doors, antique hardware, vertical cedar siding, country quaint windows, and may be dressed up with some very stylish cedar wall lattice.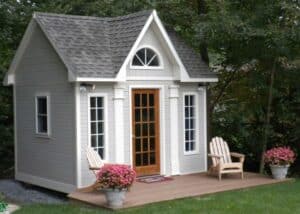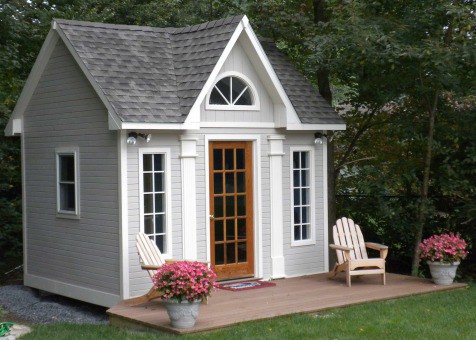 Copper Creek Sheds – This shed features a steep roof pitch, providing just the right amount of drama. Bring in a steep peak over the door and you have an irresistible structure that's just waiting to be personalized. This style is an idea potting shed, providing the space that's required and the storage in the trusses that we can't live without.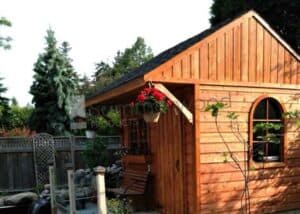 Glen Echo Sheds – A great utility shed, this building offers a bright and spacious addition to any setting. An extra foot of wall height and windows make it versatile and the extension of the gable roof is very unique. The 2 or 3ft. overhang (your choice) provides more loft storage space and it doubles as a porch. A great place to sit and relax.
More Posts You May Find Interesting