Whether you're looking for your next cabin retreat destination, or for inspiration for your own home cabin build, you've come to the right place. We have gathered together some of the most picturesque cabins from around the world to show you the versatile and stunning nature of the cabin structure.
From Tiny cedar cabins to alpine structures, check out these ten small rustic cabins and modern structures below.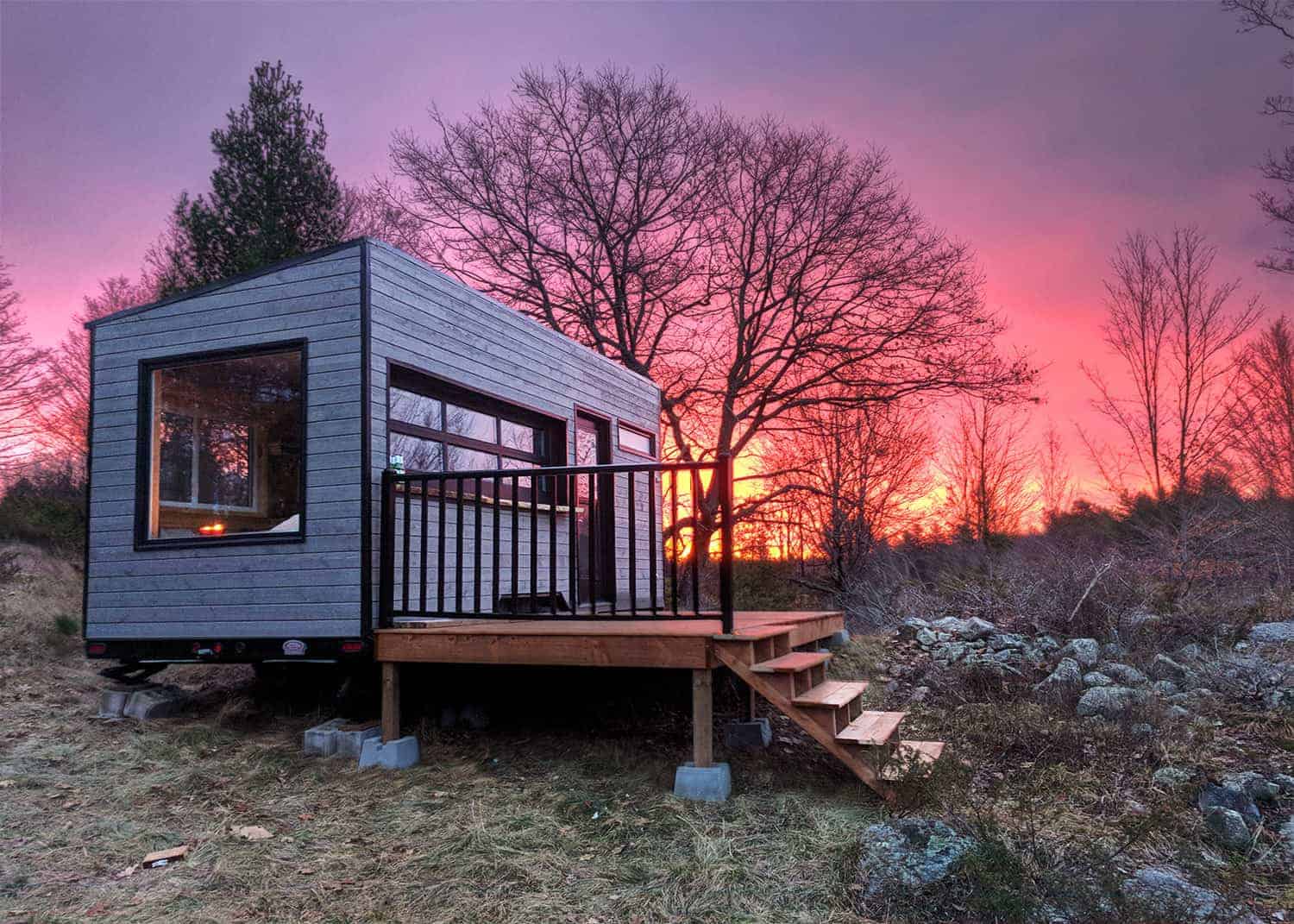 1. Hike-In Mason Cabin  (Canada)
Mason cabin sits nestled on the outskirts of Algonquin Provincial park in Ontario, Canada. This small wood cabin offers a retreat from the hustle and bustle of life, as this is a hike-in location, meaning you must trek by foot to the location, carrying your supplies for your stay. With trees all around, and a small lake stretching alongside this secluded cabin, you have this swath of countryside all to yourself.
Open all year round, you can experience the summer and winter months of Canada in this off-grid, yet modern cabin. The owners provide snowshoes and a canoe so you can take advantage of the outdoor activities while enjoying your stay. Remote, peaceful, and gorgeous, this cabin offers individuals the perfect opportunity to soak in some Canadian wilderness.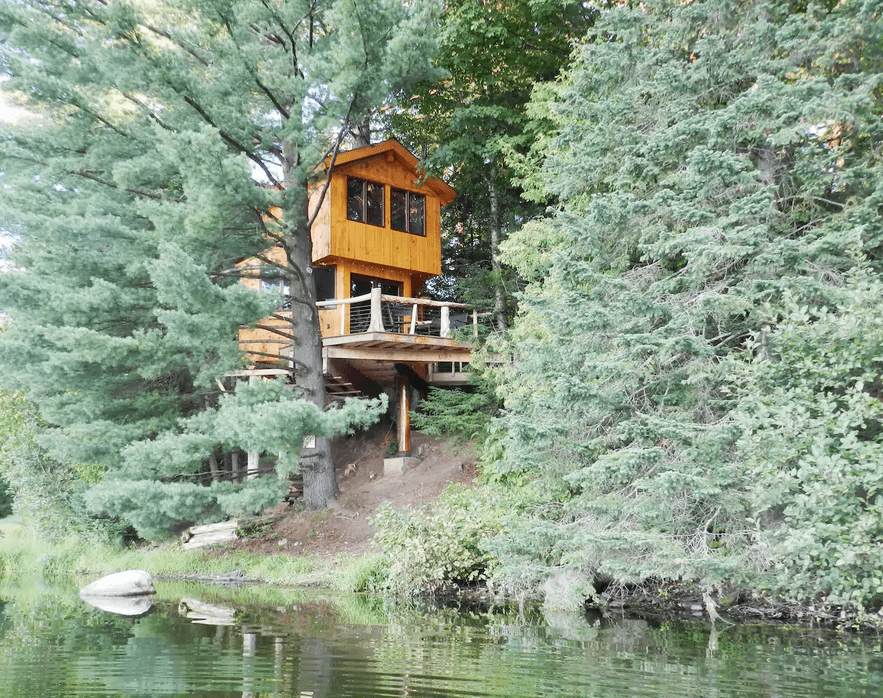 2. Vermont Tree Cabin (USA)
You can see why tiny cedar cabins are all the rage when you take a look at the Vermont tree cabin located just outside of Newport in Coventry, Vermont. This stunning wood structure sits atop wooden stilts, between two great White Pines, overlooking Walker Pond. Available for nightly rentals on AirBnB, this small cabin design has big things to offer guests.
This rustic treehouse is surrounded by 40 acres of forest and wetlands. Go for nature walks, canoe rides, or enjoy the custom-built cedar hot tub on the deck as you survey the beautiful views, full of wildlife, all around you. The stairway winding up the interior of the structure is made out of tree branches sprouting out of the ground, adding to the overall aesthetic of the place. If you like trees, treehouses, and the wilderness, then this small cabin is the place to visit.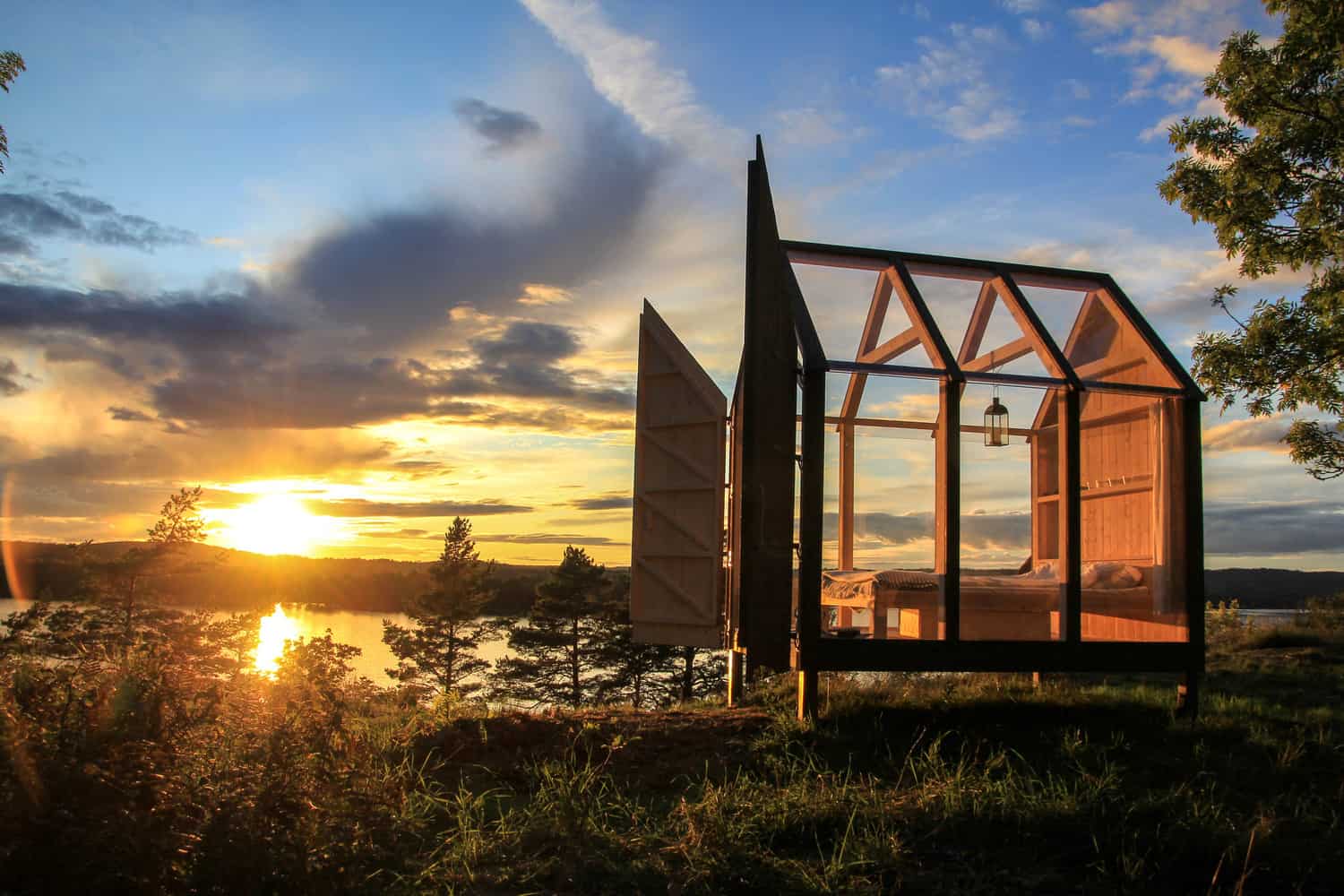 3. Glass Cabin (Sweden)
This small wood cabin frame, complete with glass paneling makes it look like this structure was pulled straight out of a fairy tale. This Swedish design brings you closer to nature as the glass siding is the only thing separating you from the great outdoors and the wilderness all around the Arvika area.
There are a number of these small rustic cabins populating a secluded and private island, so individuals can have their own space. Called 72h Cabin, these cabins were named after a study they were used in. Karolinska Institutet completed a study where five people stayed in these cabins for 72 hours while their stress levels were monitored throughout. All participants significantly reduced their stress levels by the end of the timeframe- and we can see why!
Each structure was built using the local trees grown on the island- Norway Spruce. All cabins are off-grid and are raised off of the ground to minimize each building's footprint. Simple yet elegant, these structures make for the most picturesque experience.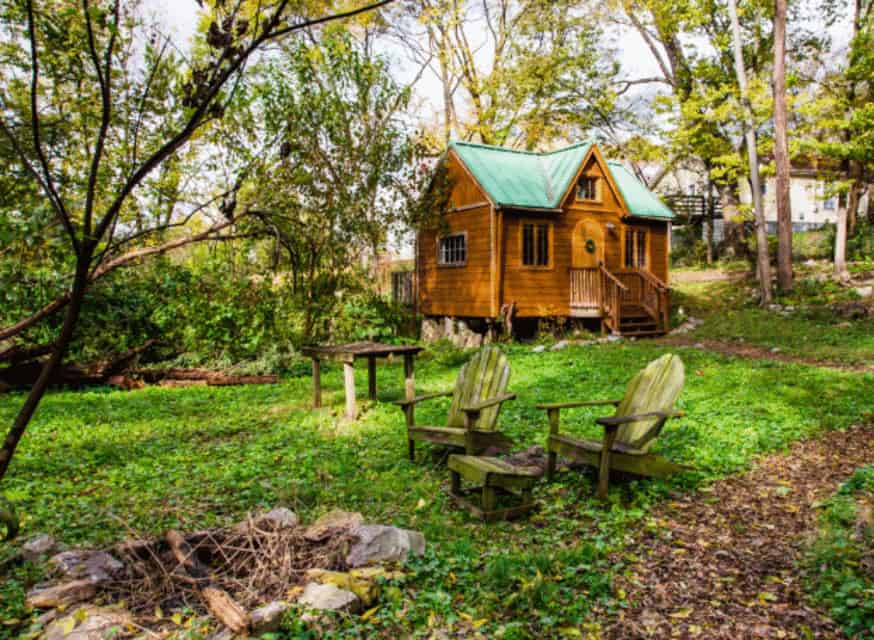 4. AirBnB Nashville, Tennessee (USA)
This Nashville cabin was built using cabin home kits based on alpine structures to create a unique design. The small wood cabin lays claim to a cosy interior possessing a kitchenette outfitted with modern appliances, a lofted queen bed for cosy nights, and a garden complete with friendly chickens just waiting to say good morning.
Nashville, Tennessee is one of the top vacation destinations in the United States, making this AirBnb the perfect place to unwind, relax, and explore the area. Located on a country estate, the property is only ten minutes from the bustling music-filled city of Nashville, so you get the best of both worlds. This cabin makes a nice change of pace from other nature oriented locations, as you get both the city and country feel together.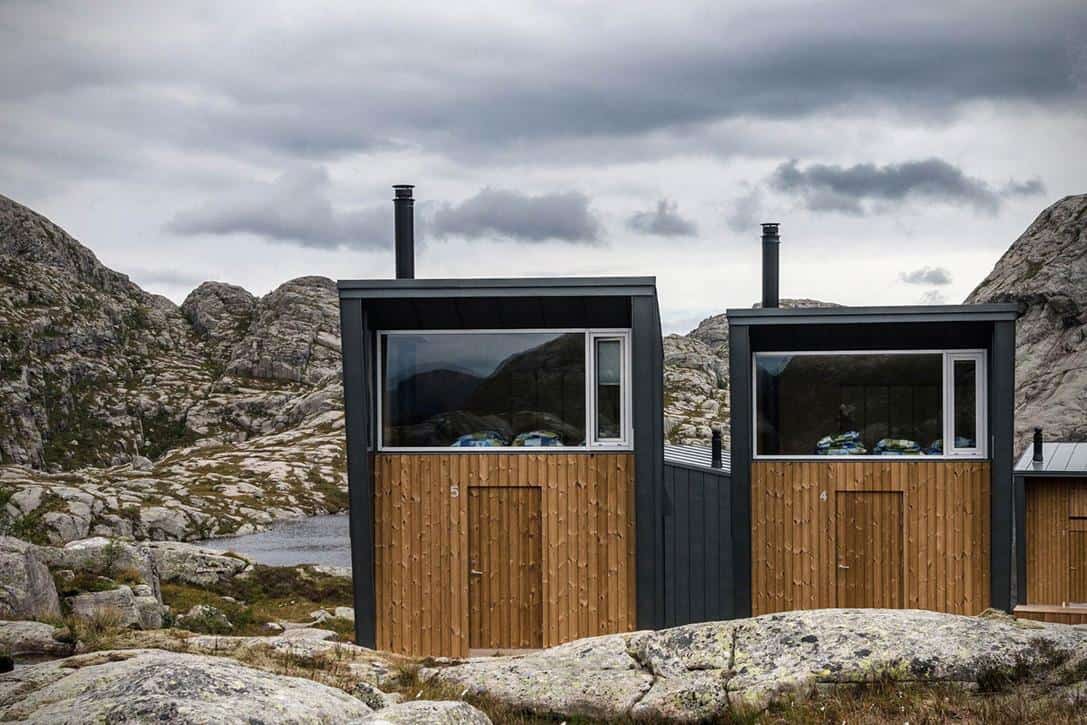 5. Skapet Mountain Lodges (Norway)
The Skapet Mountain Lodges stand atop a mountain plateau in Oanes, Norway, overlooking the Soddatjørn Mountain Lake. There are six cabin structures and one main lodge sprinkled throughout the rocky outcrop, all of which run on solar power. This cabin retreat is not for the faint of heart, as you must hike at least an hour from your car to the cabins.
In the summertime, take advantage of the stunning outdoor showers attached to the small cabin design. The zinc-covered structures protect residents from the icy winds in winter but huge glas windows provide the perfect panoramic view of your surroundings.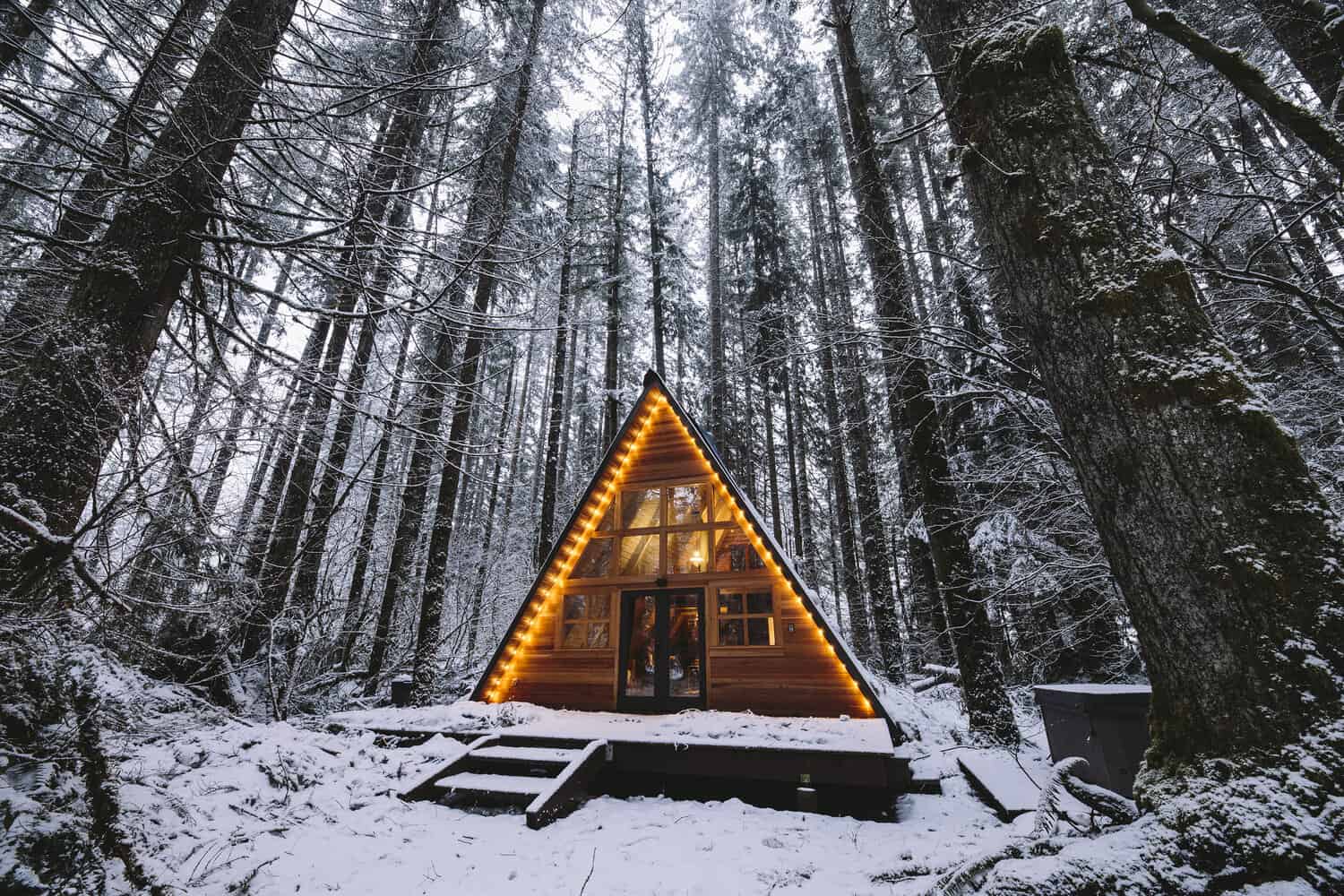 6. Tye River Cabin (USA)
There is something magical about the look of an A-frame structure poking its bright wooden body out of the white, winter ground. Tye house, named after its wet neighbor, the Tye River, calls the private cabin community of Timber Lane Village located in the heart of Mt. Baker-Snoqualmie National Forest, home. This small cabin design looks warm and inviting from the outside while spacious and rustic on the inside.
Cross-country ski or snowshoe around the national park in wintertime, or opt for a summer getaway and explore the hundreds of hiking trails just outside your door. Book a few nights at this cabin retreat and bring your furry friends to explore the outdoors, as this cabin is pet friendly.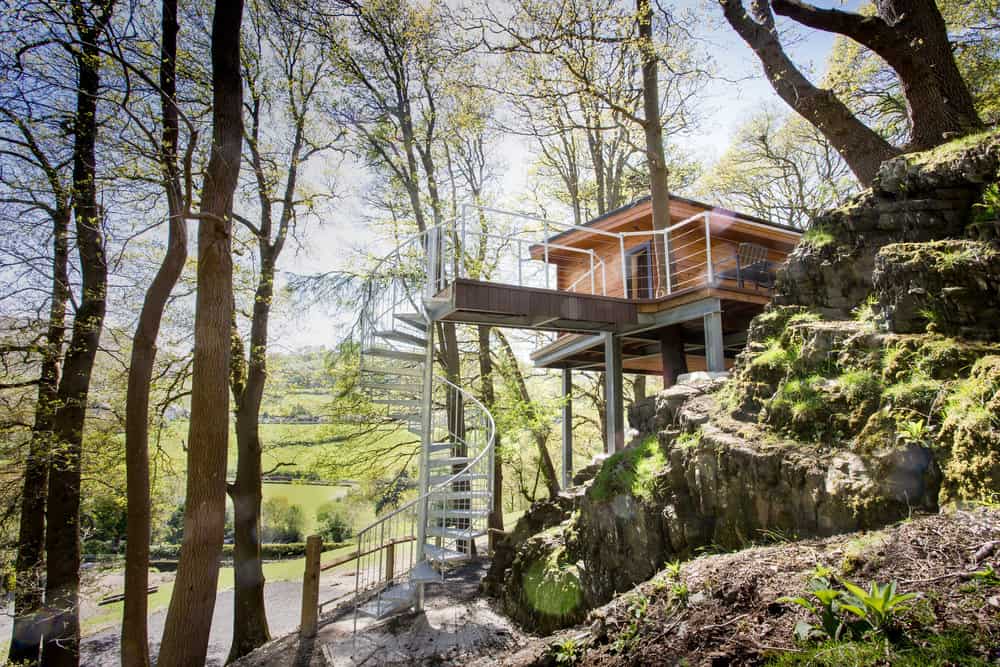 7. Forest Lodge, Coed-y-glyn (UK)
The Forest Lodge roosts alongside a rock face overlooking the woodland area of Glyndyfrdwy and the River Dee. Located in the North of Wales, visitors to this treehouse cabin can also visit the Snowdonia National Park, and Llangollen Railway nearby, as well as the ruins of the 13-century Valle Crucis Abbey.
The Forest Lodge makes a perfect getaway for two guests, but this property also possesses three other alpine structures that can fit larger parties. Each cabin has its own private hot tub, so you can soak your bones after a long day of sightseeing ruins and hiking across beautiful Welsh terrain.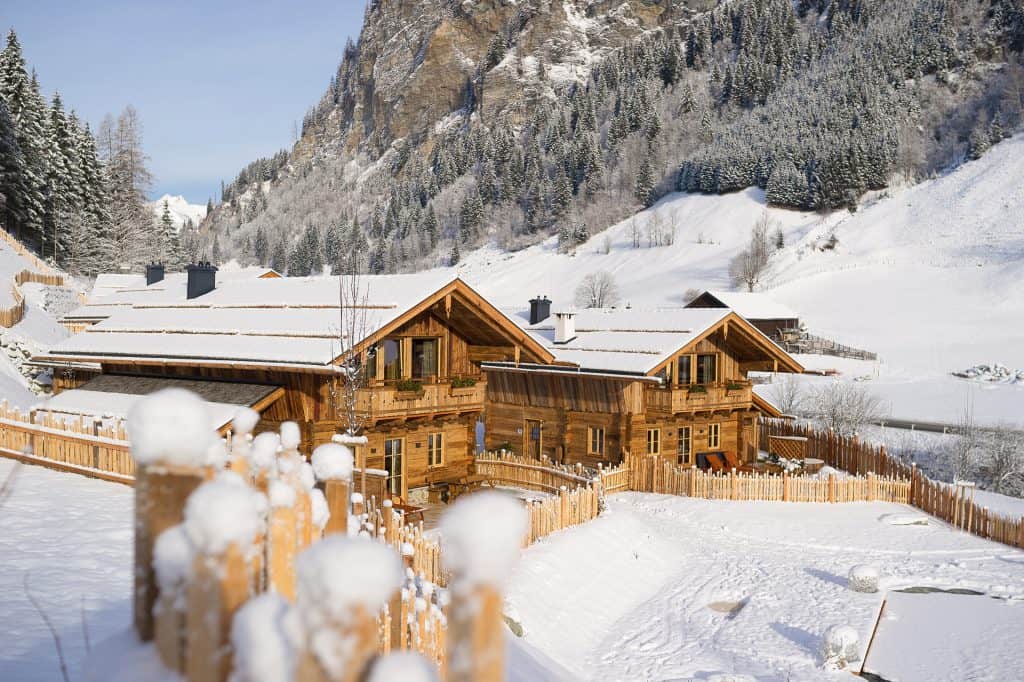 8. Auszeit Chalet (Austria)
A bit on the grander side of a small wood cabin, the Auszeit Chalet resides in the quiet mountaineer village in the Austrian mountainside. Visiting this chalet will feel like you have been transported to another world as you are dropped in the middle of the untouched nature of the Hohe Tauern Nature Park.
Whether your goal is to enjoy the outdoors or appreciate some pampering at their spa, this remote chalet village offers something for everyone. The rocky mountains loom over your cabin but creates a feeling of protection and safety as the outdoors rises up to meet you each and every morning you awake in this majestic place.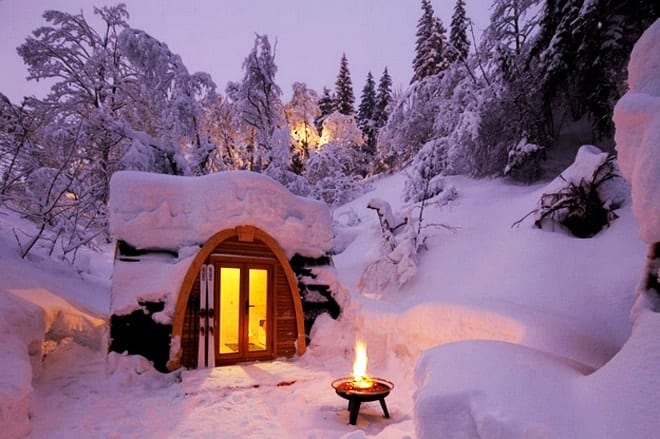 9. Eco Cabin Pods (Switzerland)
In the small valley of Flims in the Swiss outdoors you will find a unique collection of wooden cabins known collectively as the POD Hotel. These pods are individually rented out to travellers, offering a sustainable alternative to outdoor tourism.
These pods are made from local wood and are assembled throughout the wilderness of the Laax Falera area. Disconnect from technology for a few days and appreciate the secluded, quiet countryside- especially in winter. Two travellers can fit together in these small rustic cabins making them the perfect location for a couples retreat.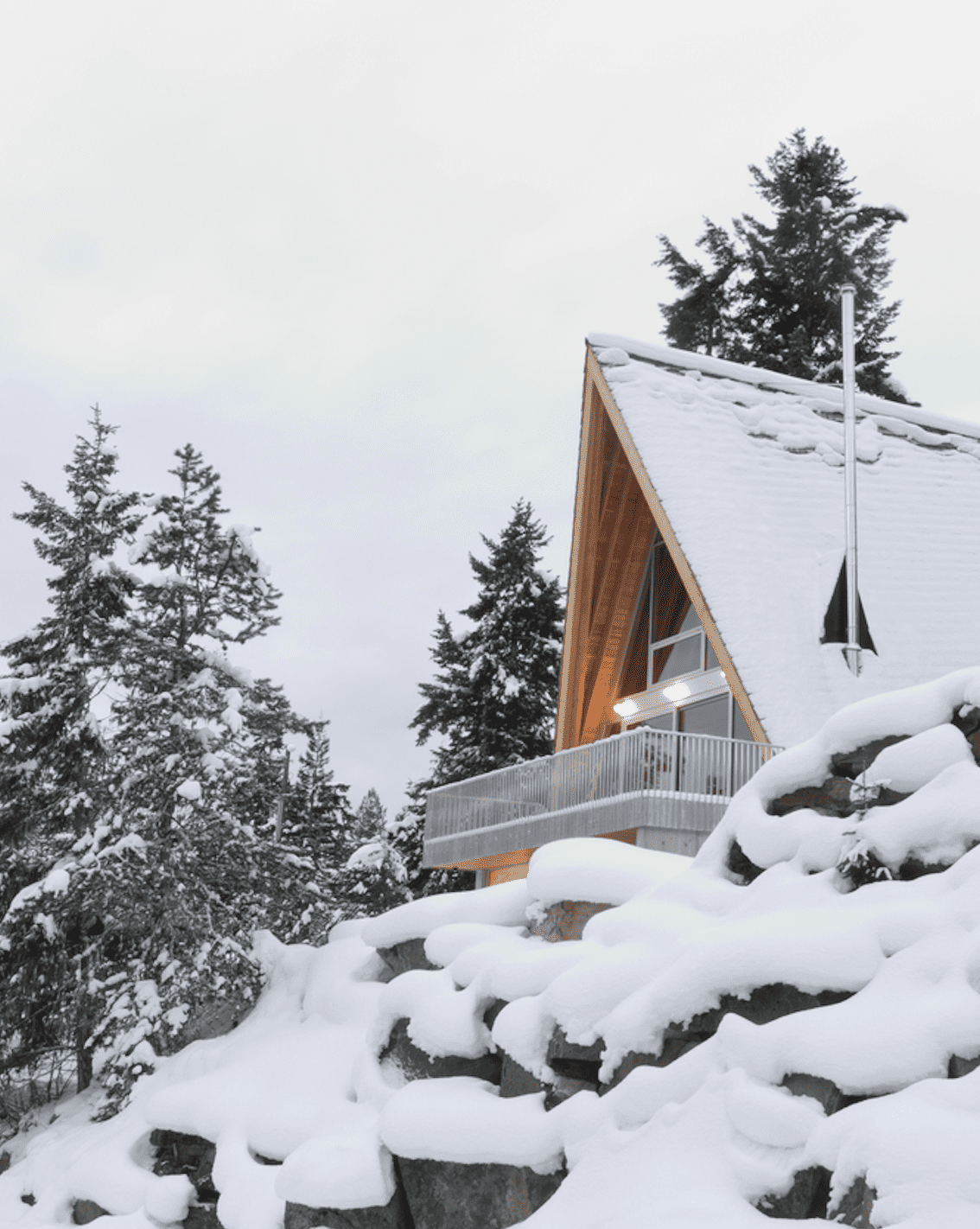 10. Whistler Cabin (Canada)
This small wood cabin, modern and sleek in design, perches atop a rocky bluff just outside of a quiet residential village in Whistler. This A-frame structure boasts a gorgeous and expansive view of the mountains jutting out across the valley over Green Lake. Inside the cabin, the open layout displays an exposed frame made out of local douglas fir lumber, with sleek kitchen surfaces, a minimalist design, complete with a private terrace.
Built as a weekend retreat for a family of snowboarders, the structure possesses a summer and winter equipment storage room making this mountain retreat the perfect getaway in all seasons.
Your Next Cabin Retreat
These tiny cedar cabins and secluded structure offer the perfect escape for travellers across the world. We know that it might be hard to get to some of these locations, so if you are looking for that next cabin retreat, why not bring the cabin to you?
Don't wait for your next holiday to enjoy the rustic feel of a beautiful cedar cabin. With cabin home kits and custom design structures, we at Summerwood would love to help you build your dream cabin. Consider working with Summerwood to find a cabin design you'll fall in love with day after day.
More Posts You May Find Interesting