Alright you got us, we admit it. This Verana is one of our favourites!
We know we're not supposed to play favourites, but once in a while a design like this one really steals the show. It's a definite conversation starter and a completely unique building. We're often asked about this particular pool cabana since it's both gorgeous and multifunctional. We thought we'd give you a behind the scenes look at both the interior and exterior of the space, and tell you all about how together with the family we arrived at this spectacular final product.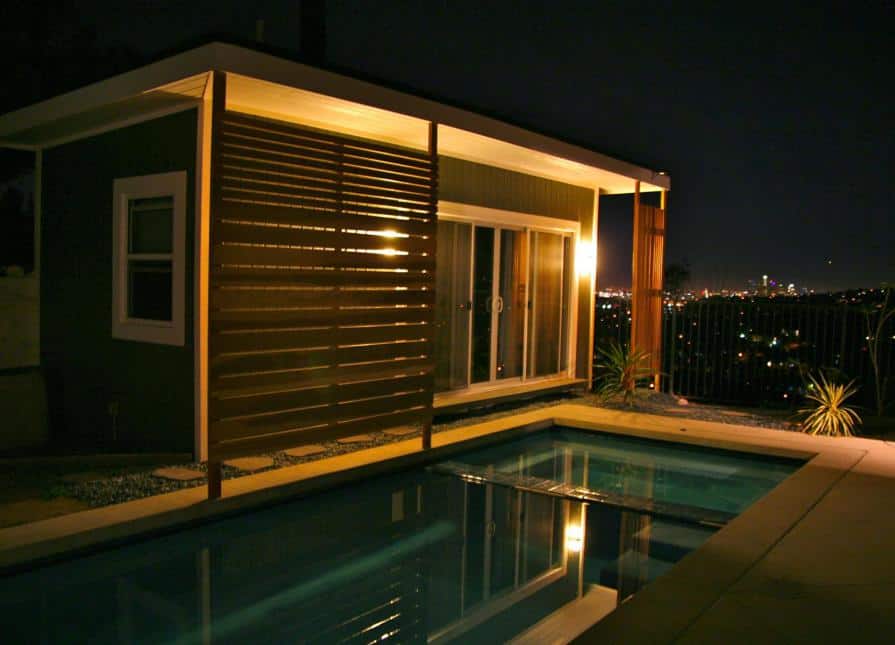 Residing in California, the owners of this fabulous Verana were faced with a somewhat common problem: a small and oddly shaped backyard. As we design and build custom structures, our customers often come to us with this issue (check out our post on Our 5-Sided Corner Building which often offers a quick and creative solution). In this case, the yard in question is very long, narrow and already includes a pool. The challenge here was to create something that could function as both a pool house and an office, didn't alter the layout of the existing yard and most importantly, took advantage of that view!
So, instead of having to redesign the already lovely backyard we worked together with the family to create this long and narrow construction that would meet their needs. The resulting 9×22 foot structure is breathtaking, practical and snug in its hilltop home.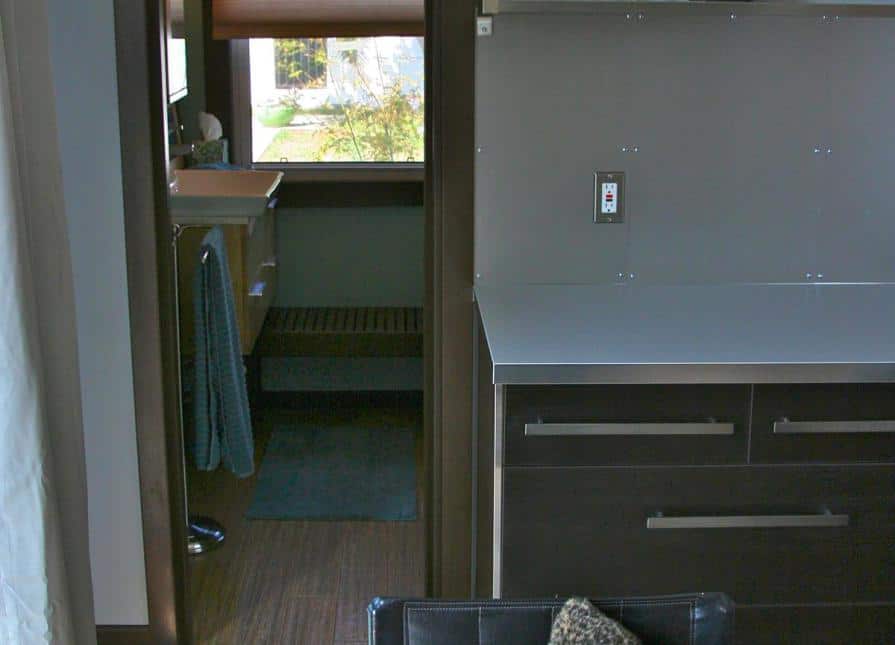 With limited space both inside and out, it's important to take purpose into account at the beginning of the design process. Our customers needed their pool house to do a little bit of everything: function as an office, include a wet-bar hang-out area, and a convenient washroom. They also wanted to ensure that their amazing view remained unobstructed, do you blame them?!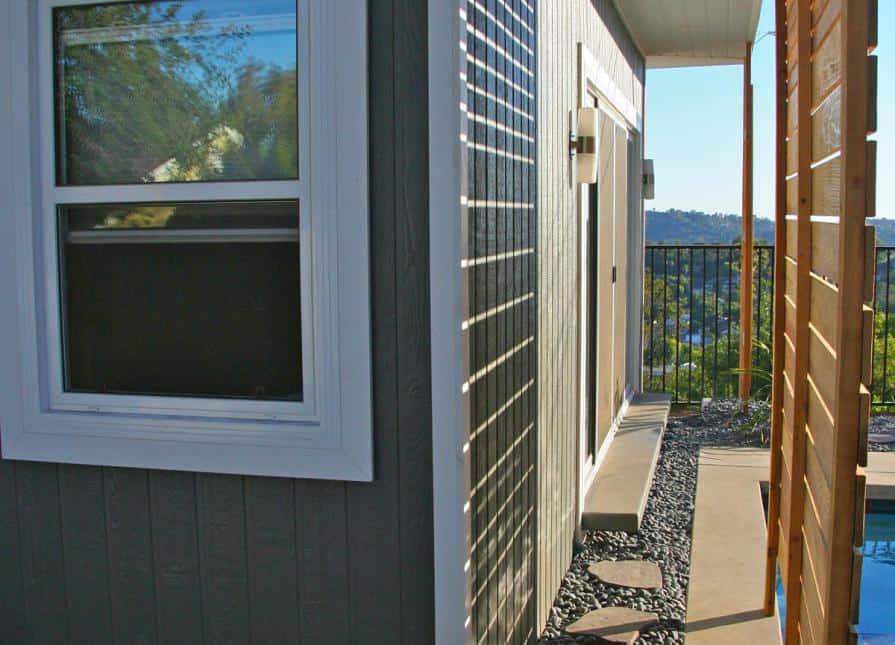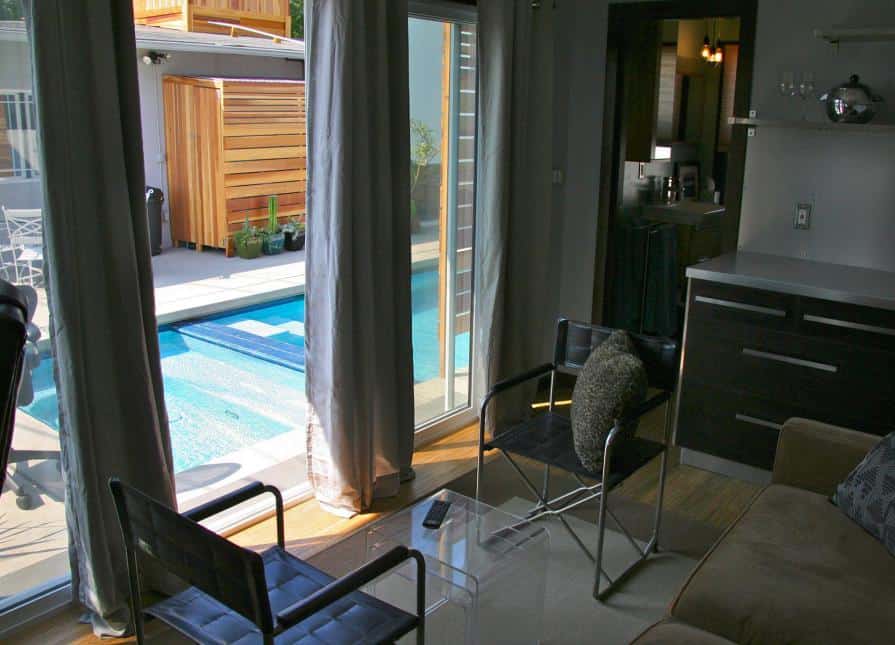 That view was of paramount importance throughout the design process. Once a layout was decided we focused on including features that would take advantage of both the view, and the California sunshine. Natural light opens up a space and makes it feel bright and airy, so large windows and doors were incorporated. We designed custom 4 panel double doors to allow for a "wall" of light. This also presents the ability to open up the space, allowing for instant indoor-outdoor living. We were so happy with how these exceptional doors turned out, we decided to include them in our accessories roster. Head here to view the full collection.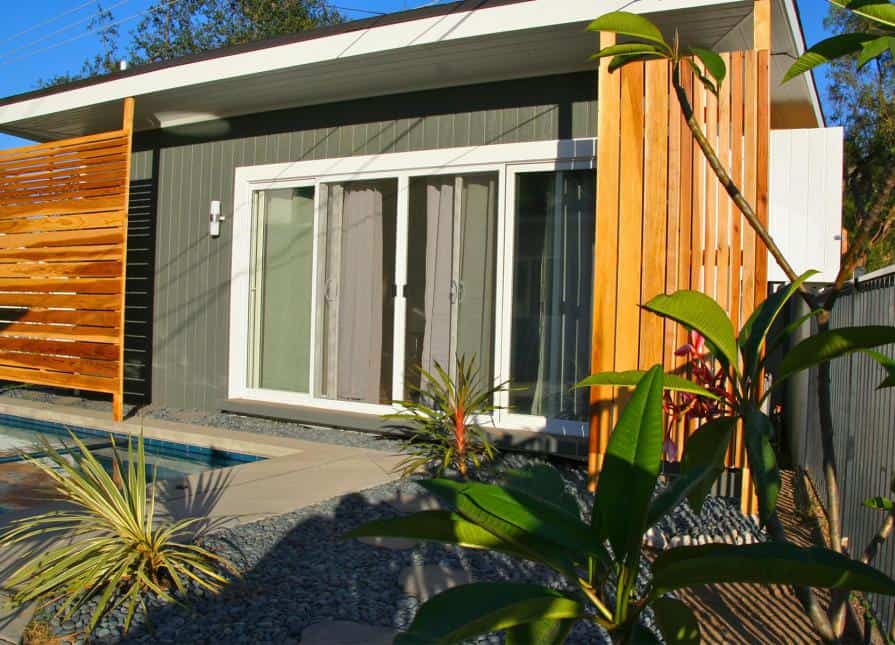 The interior design is just as sleek and modern as the exterior, featuring a contrast between airy white fabrics and bold leather. The additional wood details, both inside and out bring warmth and a natural look to the space that offsets what could otherwise be a harsh contemporary design. To continue the breezy theme, the building also includes clear furniture and accessories such as tables and lamps to truly allow light to travel through the area. When you're finished working, head straight through those extensive doors for a little dip and finish off with a hot shower, all right in your very own backyard.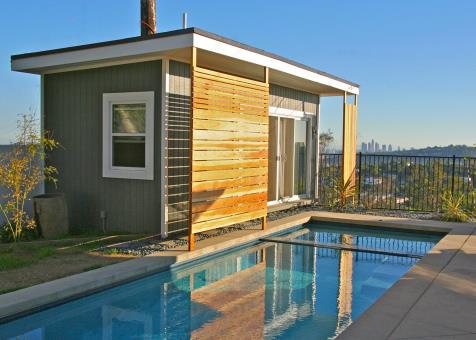 Make sure you check out our last blog post if you're interested in designing your own perfect pool house, we've got the steps to get your started. Our Custom Design Center will really get those creative juices flowing, and when you're ready for details be sure to Contact Us so we can help make your dream building a reality.
Enjoy the summer sunset!

More Posts You May Find Interesting