Dressing up your pool with a dedicated, customized cabana can really maximize the aesthetic and functional value of your property. A pool house also helps protect the value of your home by keeping waterside activities far from your abode. To enjoy the appearance and utility of your pool house for decades to come, you must design the perfect dwelling to fit your residence. Follow the guidelines below to design and construct the pool house of your dreams.
Select Your Location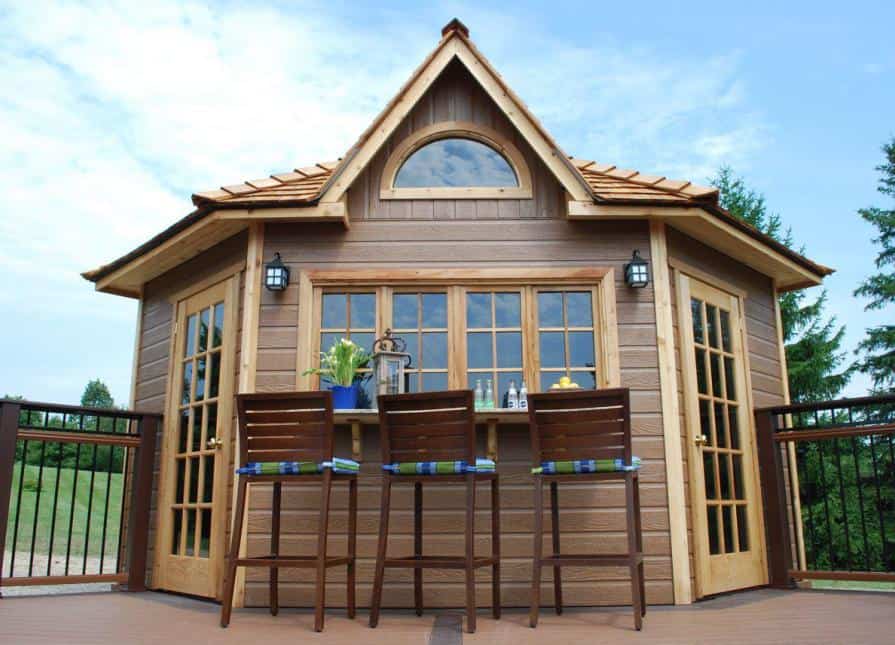 Start the design process by selecting the perfect location for your pool house. The location should provide a sense of privacy, yet remain in acceptable proximity to the main house. In other words, you should be able to keep an eye on the pool house and poolside activities without swimmers having the ability to waltz through your living space in wet suits. Furthermore, the location should abide by all of the local building codes to ensure your structure remains authorized well into the future.
Selecting a location will help you find the pool house structure that fits your needs the best. For cramped spaces, you may prefer the five-sided corner cabana or open-bar designs. Large properties can accommodate a full size cabana modeled after rustic cabins, iconic houses and modern studios.
Match Architectural Details
While browsing through the pool house layout options, reflect on the architectural cues used for your own home. By mimicking the design elements, you can create a cohesive design across your entire property. Dormer windows and support columns, for example, can provide an undeniable link between your residence and the new pool house. Look at the lines on your house to select a cabana with a similar roof slope, window placements and gutter styles. Confirm that the pool house size, with the planned foundation, will match your home in proportion as well.
Balance Interior And Exterior Spaces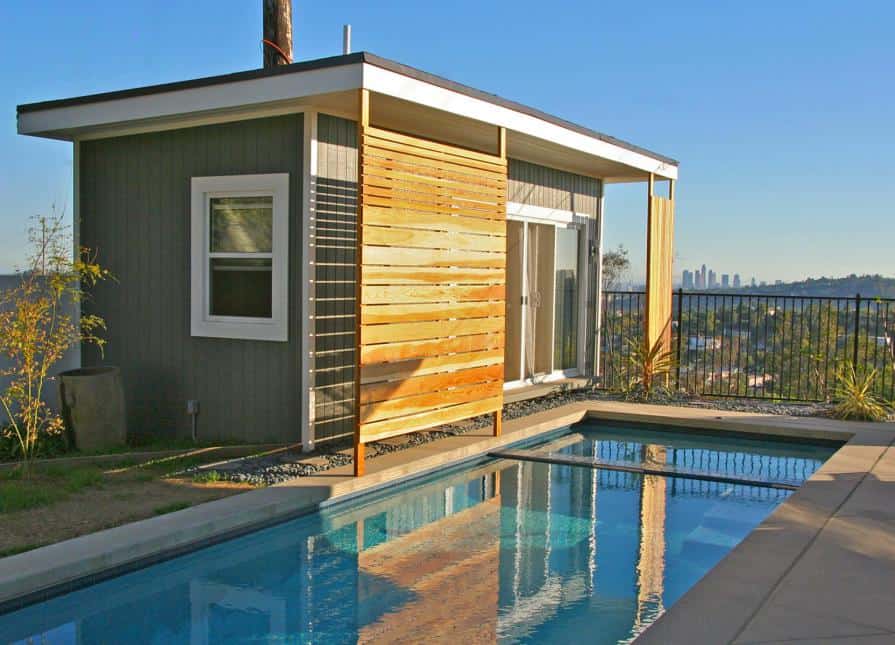 An effective pool house design features both indoor and outdoor relaxation points. You can balance these interior and exterior spaces by pairing your pool house with French doors that open up beneath a full coverage trellis. The ability to move freely between these spaces will maximize the square footage and keep the dwelling feeling open and airy. If you prefer a fully open structure, the poolside bar designs will likely fulfill your needs.
Integrate Storage Options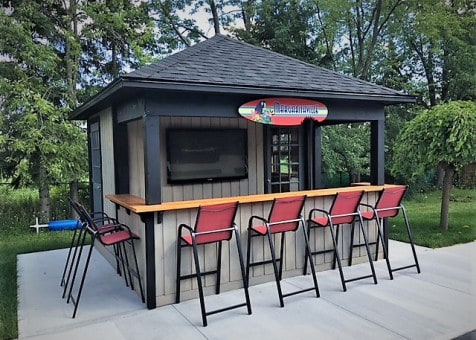 Your pool house should have room to store all of the supplies your swimmers could ever need to keep everyone from running through the house between dips in the pool. If you select a pool house with a steep roof slope, you may have ample room above the rafters for storage. Otherwise, you can integrate shelves and containers into the cabana design for storage of your towels, dishes, pool toys and other supplies. You should also make sure the pool house has a mini fridge for drinks and cupboard space for food to keep the structure well stocked all season long.
Add Interior Embellishments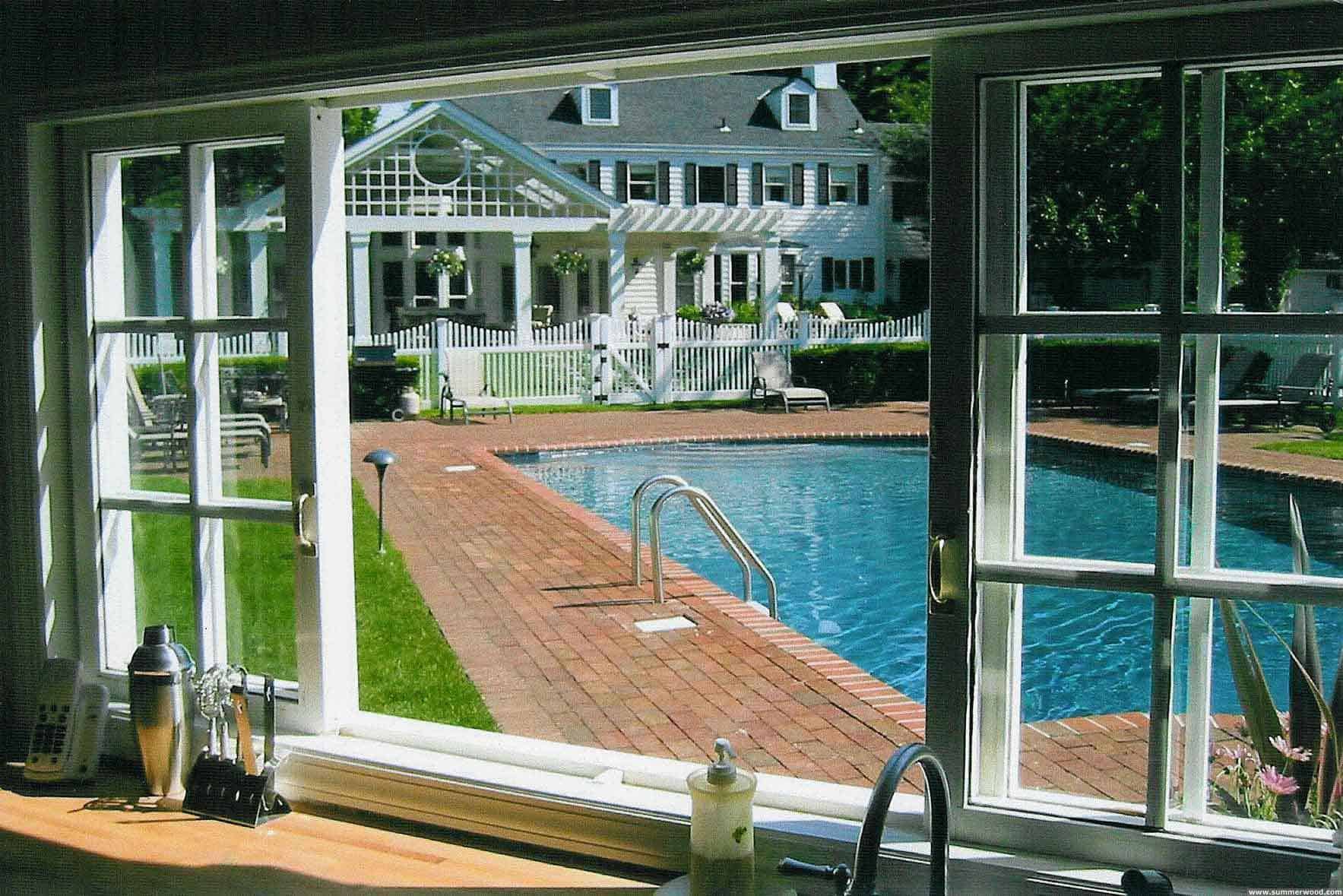 The interior space in your pool house is for you alone to design and customize. Once you build or place your structure, you can start furnishing it with comfortable chairs, gorgeous tables and decorative pieces to fit your liking. Focus on including plenty of lounge spaces outdoors for relaxing after a brisk swim. The outdoor lounge space can also provide you with space to entertain your guests on nice days. All surfaces should be made from waterproof fabric or other materials to ensure guests feel welcome moving around your pool house right after jumping out of the pool. This all assumes that you are running power to the pool house.
Summerwood creates all of the high quality, prefab structures you could ever want or require for your property improvements.  Summerwood even provides an online custom design center to help you see what your design can become, before you buy.  You can acquire custom sheds, garages, cabins, playhouses and more by calling 1-866-519-4634 or visiting our Contact Us page. Modern and traditional designs abound, so you are sure to find structures you love while browsing the current offerings.

More Posts You May Find Interesting