Outdoor care and maintenance of cedar
The surfaces of finished Western Red Cedar decks, siding and trim boards exposed outdoors inevitably become dirty and can also be discolored by mildew, algae and moss. These natural elements slowly erode the finishes and as a result, all finishes applied to cedar require regular cleaning and maintenance to perform.

Maintaining a cedar shed, cabin, or cottage should be a bi-annual activity, specifically during the spring and fall seasons. Regular maintenance of your cedar cabin can help to reduce the damage from UV, water, insects and air infiltration, keeping your cedar cabin looking as good as the day you first bought it.

While maintenance on your cedar cabin, shed, or other summerwood product is a necessary chore, it is also a great time to do some work on the exterior of your cabin before the cold weather hits. Although autumn can be one of the busiest seasons for repairs and maintenance, it is also the best time to take advantage of the moderate weather and repair any damages to the exterior before the snow hits. That is why we have come up with a checklist of fall maintenance activities to go over before the winter season hits.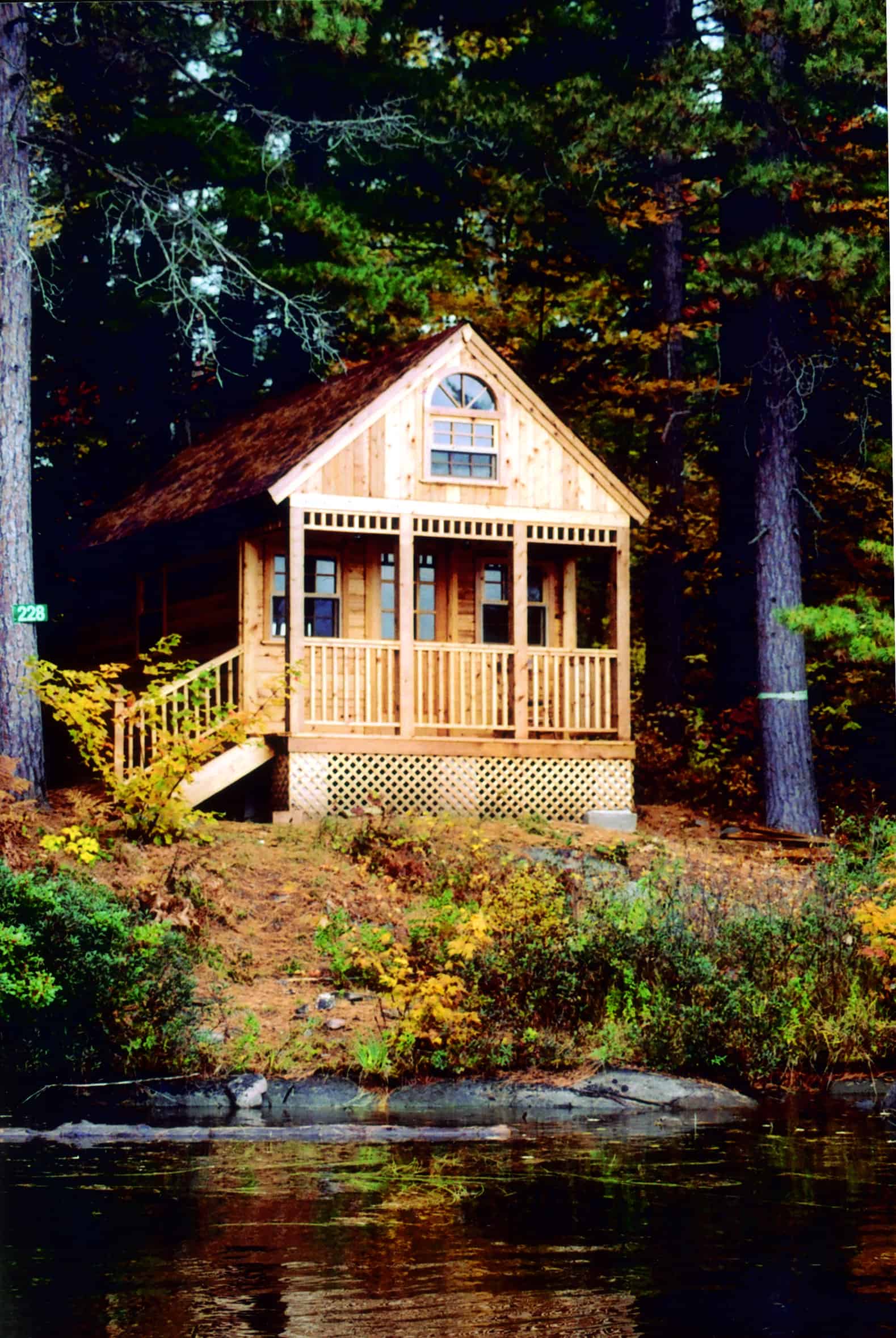 Roof inspection
The fall and spring are also a great time to do a roof inspection, especially while you are up on the roof cleaning the gutters. Make sure to keep your eye out for cracks, holes, and areas that may be susceptible to leaks and make sure they are sealed properly.
Clean the cedar siding & wash the exterior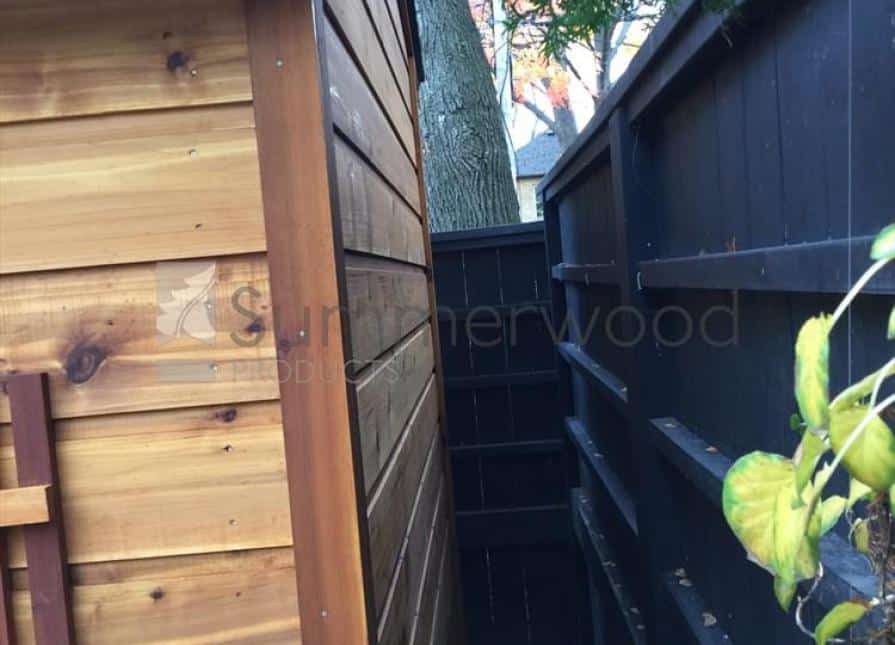 Usually dirt is the most common cause of discolouration. We suggest that you wash the exterior of your cedar cabin with a brush and mild water mixed with soap. We generally recommend not using a pressure washer, as this can strip the wood away if you are not careful. By thoroughly cleaning the exterior and letting it dry off, you will be able to conduct an inspection of the cedar. By looking at the condition of the stain on the cedar after they have dried off, you can see if any of the parts of the cedar cabin might need additional work or staining.
Watch for mold, mildew or rot
Because your cabin's exterior is exposed to moisture, it's important to get rid of mold or mildew build-up, which will likely appear in the form of a black or grayish-green film on the logs. Most preservatives have a mildewcide built in, but regular inspections will ensure they're doing their job.


Clear the landscaping around the cedar cabin, shed or cottage
When you are doing a quick walk around the exterior, have a look to make sure the dirt on the ground has not shifted. If the dirt has encroached towards your building such that it's touching the bottom of your siding, it can cause the siding to rot due to the absorption of the ground's moisture. Also be sure to check if there are any plants, bushes or weeds that are rubbing up against the exterior as it's best to keep an eye on these. A good rule of thumb when it comes to this is that you should be able to have a walk along the outside of your cedar cabin without touching the plants or the cedar cabin. If you do see that there are plants or any other things touching the wood, you can trim them back or consider replanting them somewhere else.
Pack up the patio and outdoor furniture


If you do have a patio at your cabin, it is best to pack it in for the fall. It costs you time and money to set your outdoor space up, so you should make sure that it is packed up safely in a garage or shed to help make sure that you will get another season out of it. 
Test your winter equipment
If you do plan on heading up to your cabin during the winter, it is best to test out your equipment for the winter before the winter. Checking it now will make your life a lot easier and will help make sure that come winter you don't run into any problems.


Clean the gutters
If you have gutters on your cabin, it's important to keep them clean as this will help keep water from down the logs. Cleaning the gutters will also help prevent damage to them and avoid having an unwanted mess when you return in the spring.

Stain your cedar
We have had great success in the past using this log and siding stain for staining cabins or sheds. Since these are high quality stains and seals, you will not need to reapply them annually. Remember to check out our other blog post about things you should do before staining your shed, for some other helpful tips. Extreme heat or constant sunlight can work against you when you are staining wood. By exposing the cedar wood to constant sunlight, this can cause the wood to dry too quickly and also leave water marks. If you do plan on staining during the fall, you should follow the recommended instructions on the stains to get the best use out of them.


The Fall Season Will Help Keep Your On Track For Maintenance


While the fall brings in crisp and nice weather, it is also a sign that colder weather is on the way. Stay on track with your regular fall maintenance activities by taking advantage of the 'in-between' seasons. While you are staining your shed, you can also stain your deck and try to get other maintenance done around the shed. By starting this in the fall, it will help to protect your shed from the weather and fluctuating temperatures that will follow, which can cause wood to crack and warp over time. 
Finishing Tips
For more info on the best type of staining and finishes to use on our kits, refer to our staining guidelines and some of our other helpful tips before starting to stain your shed.
Remember, if you do have any questions about staining your Summerwood shed, be sure to reach out to us. We are more than happy to help or assist in any questions you may have.
More Posts You May Find Interesting