With the right color scheme, you will not be able to help but grin whenever your shed enters your view. Just a glance at the perfect blend of colors can have an amazing effect on your mood, energy levels and sense of well-being. Your shed's color scheme will also help it meld with your exterior décor to create the landscape of your dreams. Knowing how to create an ideal color scheme requires inside information about the theories and tools utilized in the design realm. Luckily, you can read through this guide to learn all you need to know about the selection of an attractive color scheme for your shed.
Base Color Combinations
The primary, secondary and tertiary tones on a color wheel can act as your guide during the color selection process. To create a cohesive color scheme, you need to select two base tones using popular color rules, including analogous or complementary combos.
Analogous colors sit directly next to each other on the wheel. Their direct proximity gives the tones a matching quality that looks great when paired on a large structure. Complementary colors, on the other hand, are located directly across from each other on the color wheel. The direct contrast of these tones gives your color scheme a sense of balance. You may also utilize other color rules, such as triad, compound and monochromatic, to combine attractive shades.
Your main colors will work best on the largest surfaces of your shed. You can paint your shed in a high and low two-tone scheme or use one color for the siding and the other for the doors.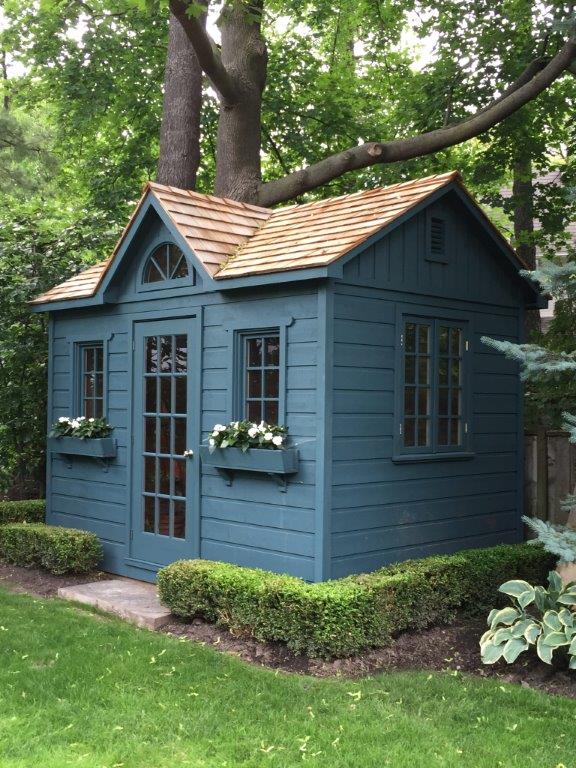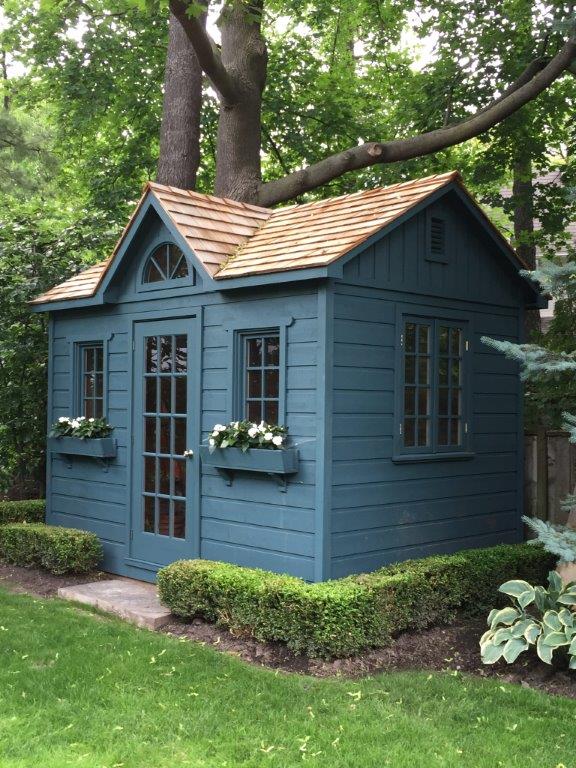 Contrasting Elements
Select a somewhat neutral contrasting color for the trim to make your base colors really pop. Think beyond white, black, gray and tan neutrals, however, to create a truly unique color scheme. When paired with vivid tones, for example, pastels in the same color family can act as a stunning neutral for your trim pieces.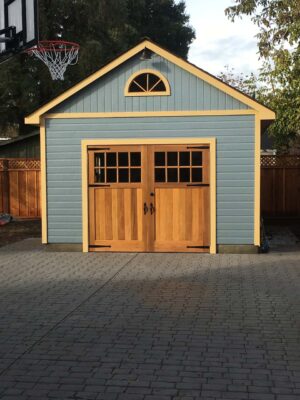 Selection Tools
Before you head out to buy paint, play with color combinations by utilizing smart software programs. The programs allow you to create color schemes using a wide variety of combination rules.
You can utilize the all-inclusive color tool, Kuler by Adobe, to explore innovative combinations using all of the popular color rules. You simply use your cursor to pull the tabs into the shade you prefer to see similar tones that follow the selected rule. The tool gives you the Hex and RGB codes for each tone, so you can identify the exact colors you want when it comes time to buy paint.
If you want to match your shed tones to your outdoor décor, consider utilizing the Colr page to identify your existing color elements. You will upload a picture of your landscape or outdoor décor to have the color elements analyzed in real time. Upon revealing the colors you prefer, you can click through the options to find a paint with those exact tones.
Achieving a Balanced Color Scheme
With your newfound knowledge and helpful tools, select at least three color schemes you feel would look great on your shed. Head to the hardware store or paint supply depot to pick up swatches that best match the colors in each design array. Bring the swatches home and view them next to your existing outdoor décor to view their impact on the surrounding environment. Make sure to pay close attention to how each one impacts you and narrow down your choices. The winning color scheme will likely feel just right as you view the tones against the backdrop of your shed and its surrounding decorative elements.
Style matters – shed quality matters, too
There's no question that style is absolutely important – that is why there is this whole blog post dedicated to it. However it is also important to make sure that your new shed will last. We feel that our structures will outperform the average hardware option. A Summerwood building can be used as a typical backyard storage building, or can become an extension of your home. The choice is yours! Functionality, practicality and gorgeous design can not only co-exist, they can make your life a lot easier with a few simple styling secrets.
We're dedicated to helping build your perfect shed, which You can customize the shed's size and layout using the Custom Design Center lets you personalize a building to fit your home, landscape, and lifestyle. Once you create your perfect build, simply order and construct the prefabricated building on your lot. With your shed in place, you will have the space you need to create the perfect shed for your needs.
Whether you need a little or a lot of help, contacting our experienced design specialist team here can help you get the ball rolling on the man cave of your dreams, and build the foundation for a great year ahead.
More Posts You May Find Interesting