It's January – a time for new beginnings, setting plans for the year ahead, and making improvements to your lifestyle.
If your new year resolutions include taking more time for yourself, to rediscover a hobby, or pursue a favourite pastime, then extra space may be what you need. Determined to make this year a great one, having a dedicated space to follow your passion will likely make all the difference. Adding an outdoor lifestyle building like a studio, exercise room or workshop may be the answer to achieve your goals in 2018!
However, before you begin to even think about personalizing the interior and selecting materials for your new space, there are some important practical considerations to consider.
As experts in designing and constructing lifestyle buildings, here are five of the first questions to help guide you.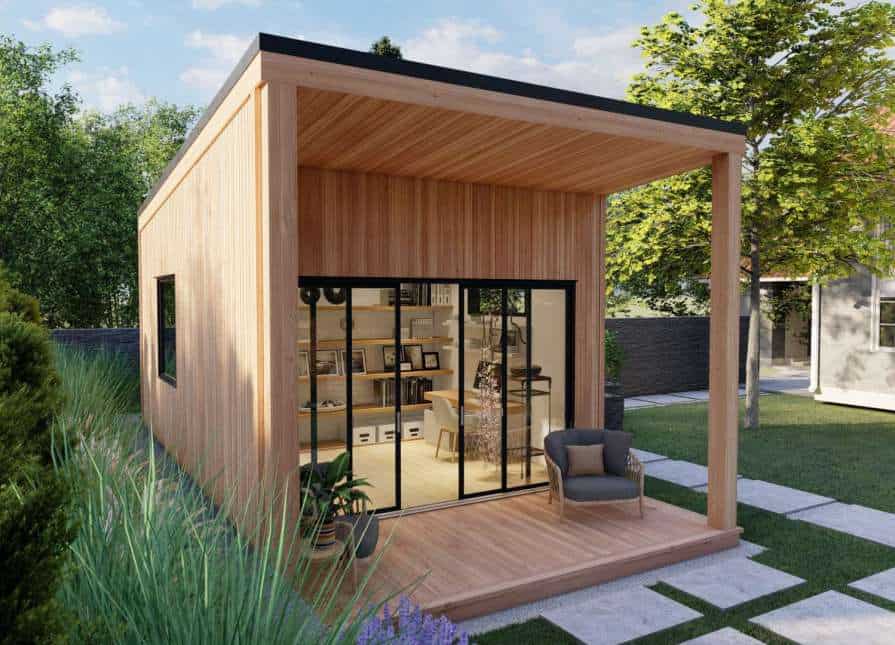 Build it yourself or not?
The decision on whether to take on the project yourself or hire someone to do it for you should be your first consideration. Deciding factors include your dedicated free time, your budget, and level of DIY experience and competency.
Even if you are an accomplished 'do-it yourselfer', consider the size of the building and the complexity of the design you have in mind. Do you have the time and the energy required for the task at hand?
Whether you're a DIY aficionado or plan to get all the help you can, our building kits are designed with ease of assembly in mind. Detailed easy-to-follow instructions, an assembly video, and all the essential parts you will need are included. As a reliable building partner, our Summerwood team is available online or by telephone to help guide you through it all.

Choose Pre-assembled or Pre-cut?
To help you decide if you are going to self-build or not, consider the two types of building kits we offer. There's either "pre-assembled" format (think parts) or a "pre-cut" format (think pieces).
If you have limited time or simply want to enjoy your Summerwood design as soon as possible, consider purchasing one of our pre-assembled kits. "Pre-assembled" means that major structural components such as walls, trusses and floors are built and framed for you allowing quick and convenient assembly.  Depending on the size and complexity of your design, pre-assembled kits can be built by two minimally skilled people in a day or two.
With the Pre-cut Format, we've designed the product to be purchased so the materials fit together perfectly, and can be easily handed over to you. Pre-cut buildings require about 50% more assembly time than pre-assembled structures, but are less expensive and will offer greater job satisfaction and sense of accomplishment to the do-it-yourselfer.

Installation and Contracting
If DIY projects aren't your thing, or you're short on time, then a Summerwood installation may be right for you. Summerwood offers the option to install your new studio, workshop, gazebo or whatever your new outdoor addition may be, if you live within a few hours of our Toronto HQ. Our team of experienced carpenters and craftsman know Summerwood products inside and out, making the build quick, easy, and always done right.
Even if you are outside of our installation area, we are here to offer advice on employing a contractor. It is important to enlist the services of a qualified contractor who understands your expectations for the project. Rates can vary significantly, and you should request a quote before any assembly work begins. We have a long list of experienced contractors from across the United States and Canada that we'd be happy to refer to you. See our guide of 'how to hire a contractor'.

Customize
Style is a personal issue, that comes down to which design best suits you, your life, and the space available. We have a wide and varied choice of cabana, shed, spa room and many more design options to select from. Take a colourful 3D video tour of our most popular designs, and search over 1,000 photos of customers finished projects to discover the building styles that appeal to you.
If you can't find your dream building on our site, our expert design staff will create it for you. All our buildings can be customized to your own personal requirements. Get creative in our Custom Design Center and make something unique for your space. We are here to help – simply pick up the phone or send us a sketch and we'll help nurture the budding architect inside, so your vision comes to life.

Permits
While letting your creative juices flow to create a perfect outdoor building, pause to consider how large or complex a design you want to proceed with is. Decisions on the size, location, and style of your outdoor building are not entirely up to you, as a permit may be required.  While most Summerwood buildings don't require a permit, buildings exceeding 100 square feet might. There also might be restrictions such as a two or three-foot setbacks from a property line to contend with. Before you build, be sure to check with your municipality to ensure you are meeting the local requirements. It's always better to be safe than sorry!
If you require a permit, rest assured we'll help make it as easy as possible to slice through all that red tape, as we can design our buildings to conform to the most rigid building codes. If you require permit drawings, our in-house designers can provide custom drawings to your exact specifications. Here is a list of municipal offices by state and other useful information on our permits and zoning page.

Here to help
There you have it – five of the first things you need to consider this new year before getting down to the fun stuff. We're here to guide you through each step, so contact us at any point in the planning process. Before you know it, you will be enjoying the freedom of extra space and achieving your lifestyle goals. 2018 will be a year to remember!
More Posts You May Find Interesting