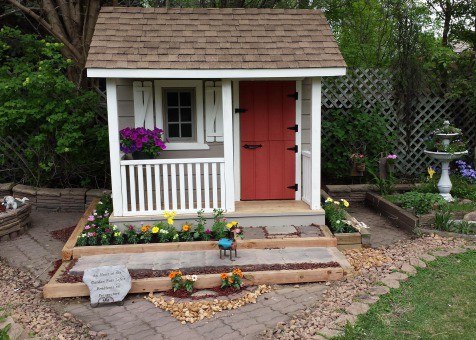 Kids today spend far less time than they used to playing outside and dreaming up imaginative scenarios to act out. In fact, a recent study revealed that less than 25% of kids play outside at least seven times a week, as their parents did during their own childhood years. Furthermore, a lack of pretend play opportunities can actually stunt cognitive, social and academic development. What kids often need is a little encouragement to head outside to play on their own. One of the best types of encouragement is their own playhouse structure, especially if they had a hand in choosing the theme. You can skip the cookie cutter playhouse designs in favor of a custom solution with one of the following imaginative themes.
Supermarket
Kids love to practice their commerce skills by arranging their toys for sale and collecting paper scraps as money. You can bring their imaginative storefront to life by creating the playhouse in a supermarket theme. Have your kids imagine up their ideal storefront with a cute name, shop colors and product lineup. Decorate the exterior with their chosen color scheme and sign. Line the interior walls with shelves and construct a front counter with a cash register, scale and scanner. For an open storefront, provide market stands your kids can use to display some of the w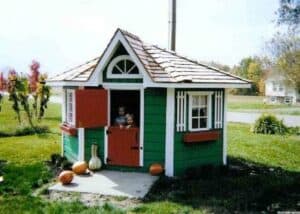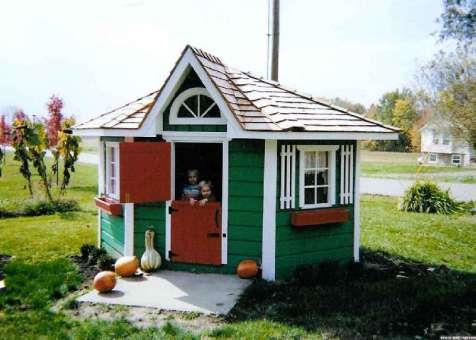 ares outside.
Ancient Castle
With just a couple extra tower structures, the Petite Pentagon playhouse will instantly transform into an ancient castle. Coat the exterior in a layer of light or dark gray paint, and then brush on thin black lines to create the illusion of individual stones. Encourage your kids to create their own flags and banners to adorn the top of the castle walls. If you want to go all out, you could even surround the castle with a shallow custom pond in the shape of a moat. Remember to create a strong wooden drawbridge that can keep dragons out of the keep and provide safe passage over the moat.
Farmhouse and Barn
The Peach Pickers Porch and Bear Club playhouse styles are perfect for a farmhouse and barn design, respectively. You can set up the Bear Club playhouse as a barn by using a traditional red and white paint scheme. Add a diagonal cross brace across the top and bottom sections of the Dutch door to authenticate the design. Give your kids free rein when selecting the stain or paint for the farmhouse exterior. The covered verandah and plantation shutters lend an air of authenticity to the theme.
Auto Shop
Add a miniature carport next to the Bear Club playhouse to create a believable auto shop replica. The exterior design should reflect the vision your kids have of the auto shop they would like to own when they grow up. In the carport, place a toolbox filled with all of the basic hand tools to give your kids the ability to repair their own bikes and wagons. Your kids can design the inside of the auto shop playhouse as a showroom or extra workshop space.
Spaceship
Petite Pentagon wooden playhouses are the perfect shape for a spaceship creation. Use metal shingles and white, gray and blue paint to recreate the iconic ship design. Add small black circles or ovals around the midpoint of the exterior walls to mimic the spacecraft windows. Inside, add a small kitchenette filled with astronaut food, flight seat rows and plenty of jumpsuits with helmets. Don't forget the control station your little astronauts will use to pilot their spaceship around the universe.
Bringing Your Custom Creation To Life
You can use the Custom Design Center at Summerwood to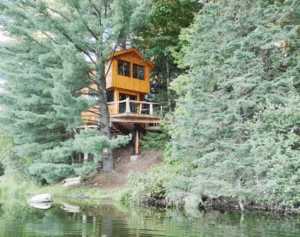 choose your wooden playhouses' style, size, siding, roofing and trim specifications. If you need assistance, our designers can help you select the best playhouse structure for your theme. We will also provide a quote, schedule a delivery and even help you find a contractor to construct the dwelling for you. Of course, you can always use the provided assembly video and instruction guide to build the pre-cut playhouse on your own or with family and friends. Make sure to include your kids in the building and decorating process for immediate personalization of their playhouse.
More Posts You May Find Interesting