As Monday morning and a new week approaches, you may find yourself wondering where the weekend went. Maybe you're not looking forward to a long commute, a stack of papers awaiting you on your desk, or responding to all of those emails. So, how do you make the work week a little bit better?
For those that freelance, or are entrepreneurs, it may be most cost-effective to work from home. But working and living in the same space can cause stress, anxiety and make some feel a little stir-crazy. It's important to separate work and play, and let your mind relax after a long work day. No one wants to see that stack of papers on their kitchen table! We're all more productive if we make room for a break, out of sight and out of mind after a long day. But if you're living in a small space, it can be difficult to achieve this. So what's the solution? Well, how about moving that space outdoors?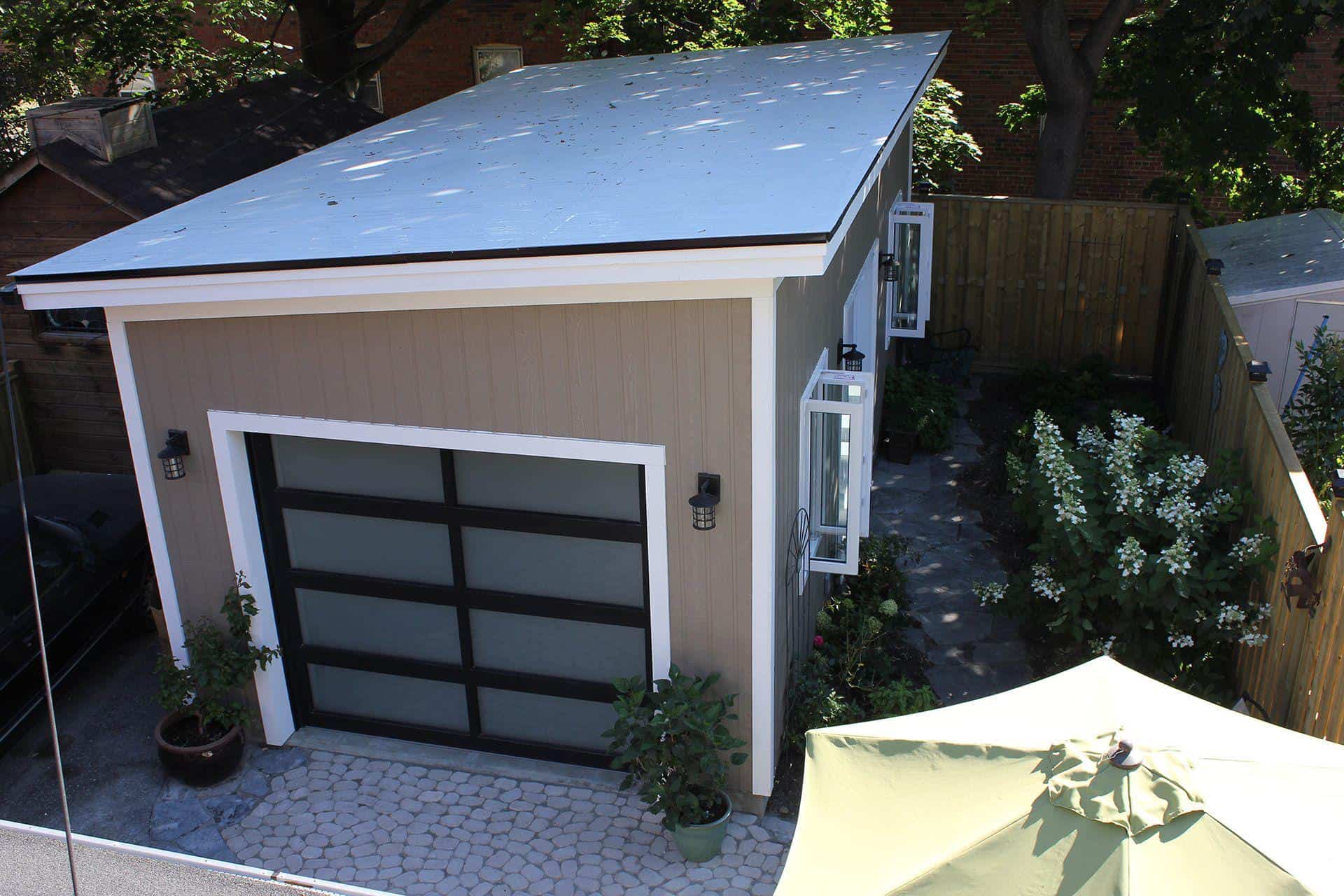 For those with a large enough backyard, a simple home office can completely revitalize the way that you work from home. A home office is a necessity for many, especially with many businesses operating right from their homes. However, for many families the office often becomes a catch-all space where papers and documents are dumped, computers are taken over by kids, and decor is an unfortunately, just an afterthought. So that got us thinking, what if we create an office away from the office, and the home?
Moving your office outside can provide you with privacy and a quiet place to work. We'll help you create a custom office and separate space in which you can create and explore, while enjoying the nature and solitude of your yard. Whether you work from home, or merely bring your work home with you (as many of us do), having a space that is conducive to getting things done without distraction is essential for many. If you're tired of interruptions and papers piling up in your office (or anywhere else in the home), a custom office might be just what you're looking for. Summerwood can help you create an office space and private work sanctuary for you, your family or your business, all for less than a home add-on or reno.
Not sure where to get started? Below we've got a few points to consider before you begin designing your personal custom home office.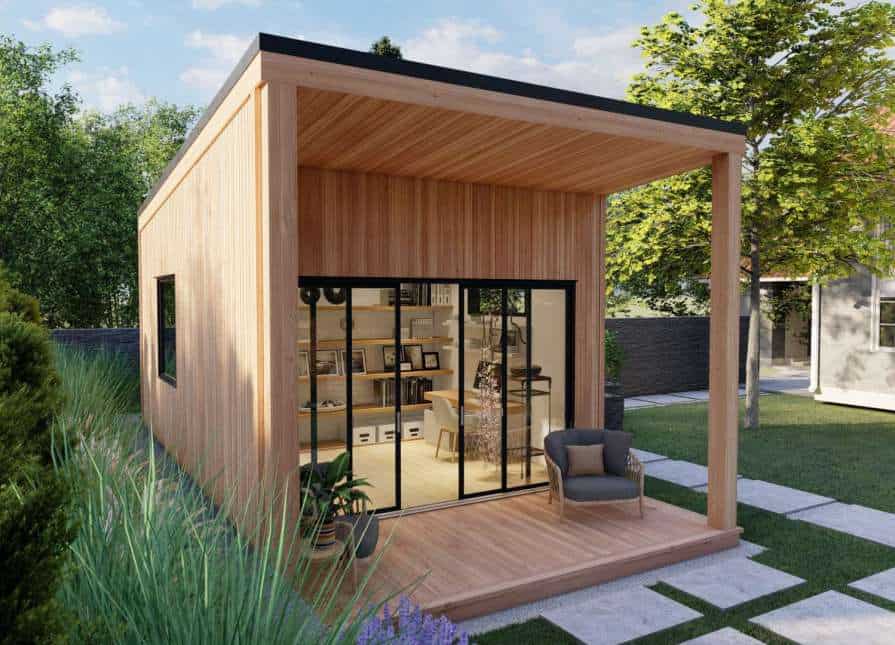 Sizing
When searching for the perfect backyard home office for you, you must first decide how large a space will fit your needs. You want to ensure that you have enough space to work comfortably, without feeling cramped, but also ensure that the constructed office does not overwhelm the entire backyard. That's why starting with a plan is ideal. You have the freedom to choose an exact size and truly customize your home office to fit the outdoor space you're placing it in. Just brainstroming? Visit our Design Center to start generating ideas for your new office studio.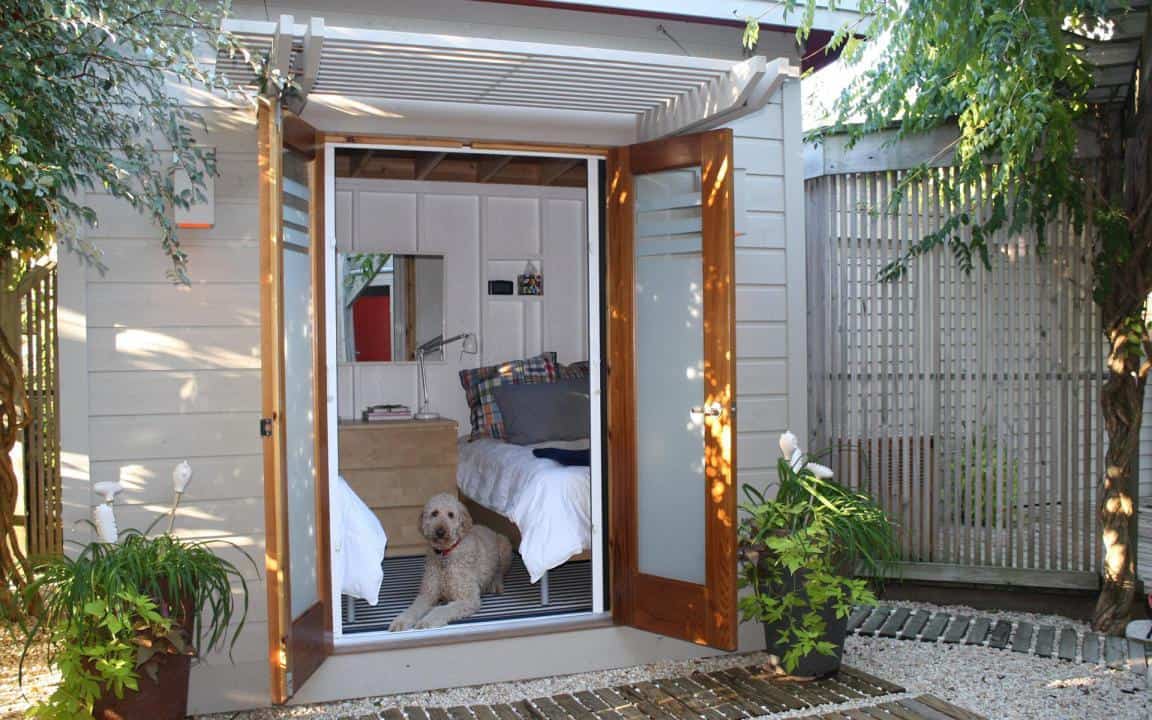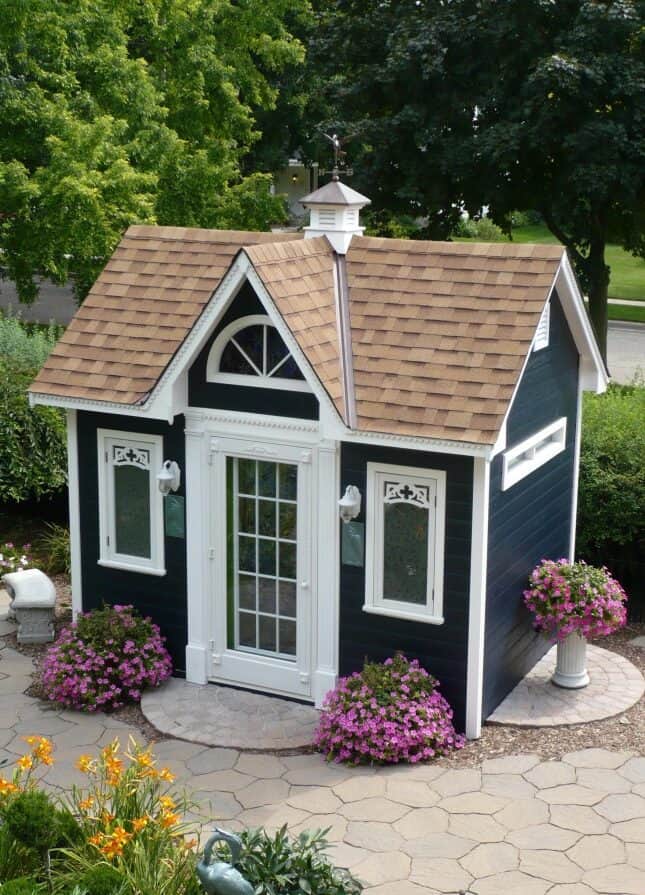 Copper Creek home office with painted cedar shingles
Permits
It is also important that you research the bylaws of your municipality to ensure that it is legal to begin building on your property. Generally, any structures larger than 100 sq. ft. require a permit in order to be built, but the rules differ street by street. While building permits are an easy thing to overlook, it is worth taking the time to find out the permit laws in your municipality are in order to avoid a much larger headache – or even a fine – in the future. Find out what you're allowed to build and we'll help you build exactly that! For a brief rundown, check out our blog post on the topic: "Building Permits: What You Need To Know".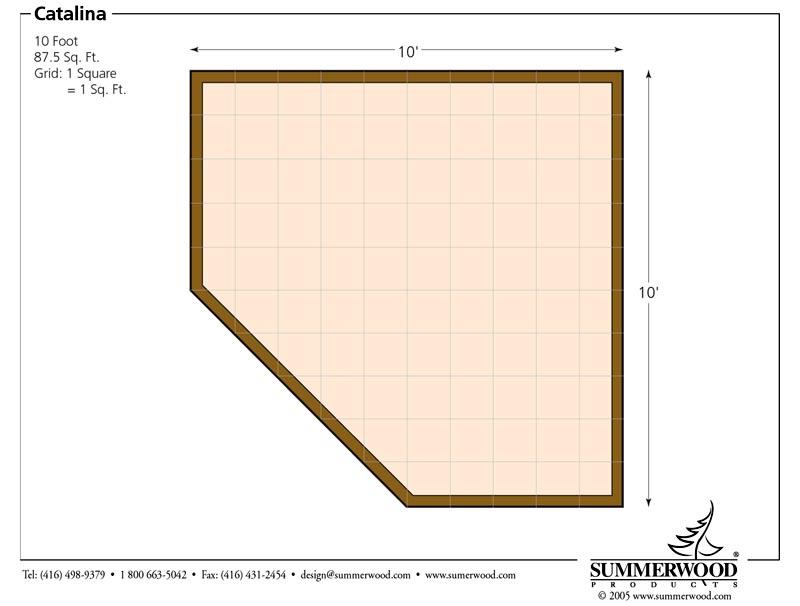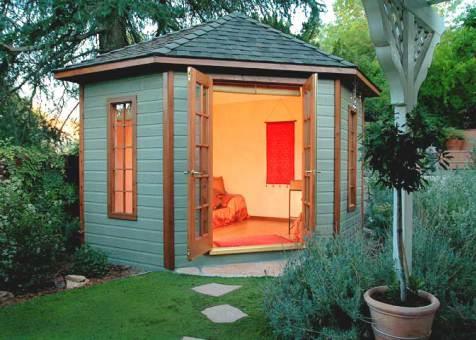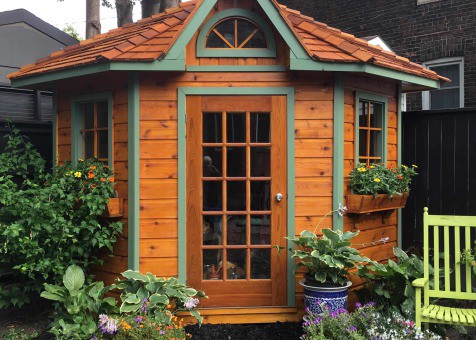 Our 5-sided Catalina style fits perfect in a tight corner!
Exterior Options
Customizing your home office exterior can be the perfect way to integrate it into your backyard, creating a fluidity of style that suits your aesthetic tastes and perhaps even matches your home. Have fun with the exterior and customize to your heart's content. We'll help you adjust your roof pitch, add a dormer or a cupola, increase wall height, choose siding and pick the perfect windows and doors. We have over 50 to choose from!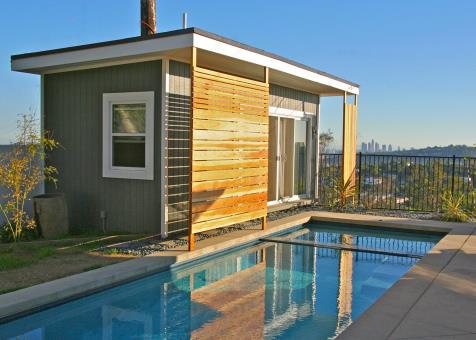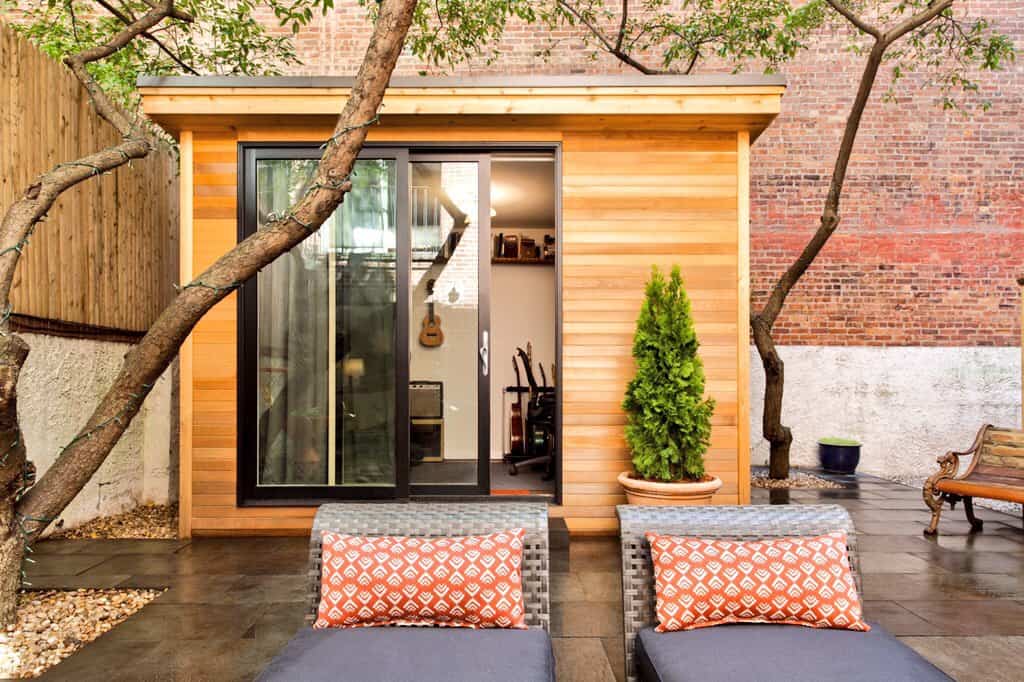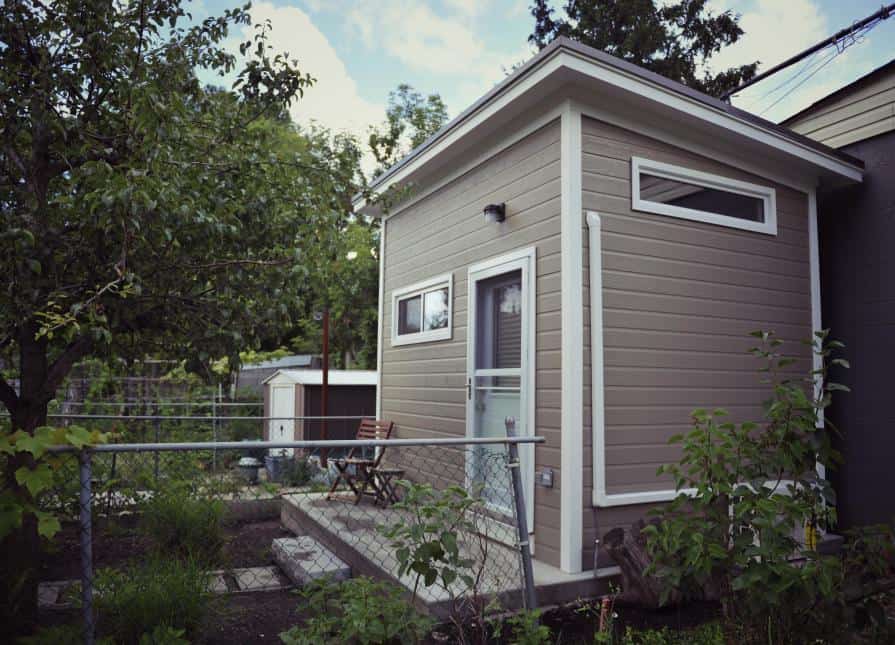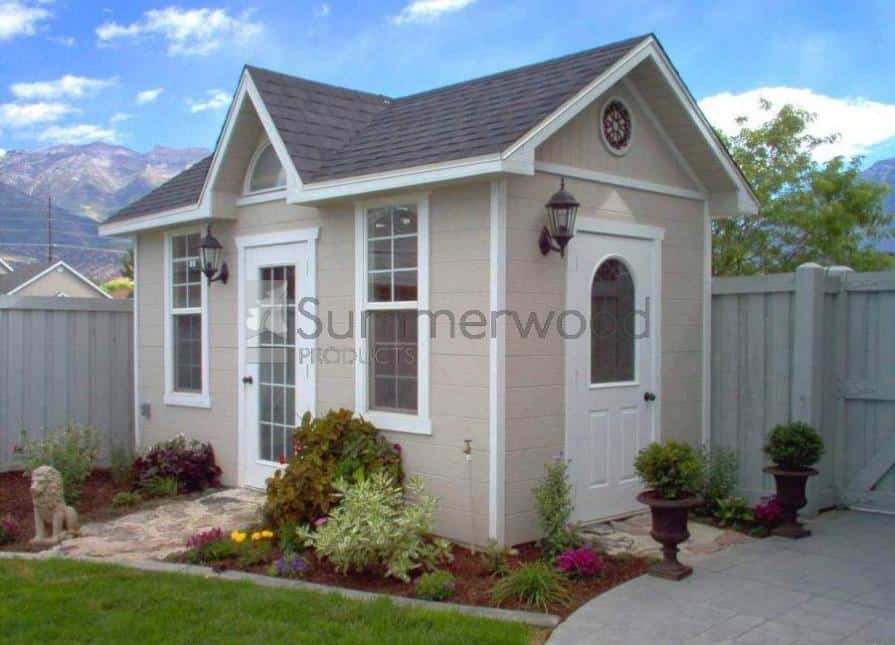 Our flat-roof styles are a great option for your modern backyard. See more interior shots of this beautiful space in: "The Modern Verana Pool House".
Whatever your idea of the perfect office space, an out-building office may be the perfect option for you! Let us help you design your custom office sanctuary.  Thoughts, comments and questions? Glad you're feeling inspired.
We can help, contact us today!
And if you're ready to drag and drop options, and do a little brainstorming by creating a virtual home office of your own, get started with our Design Center:


More Posts You May Find Interesting