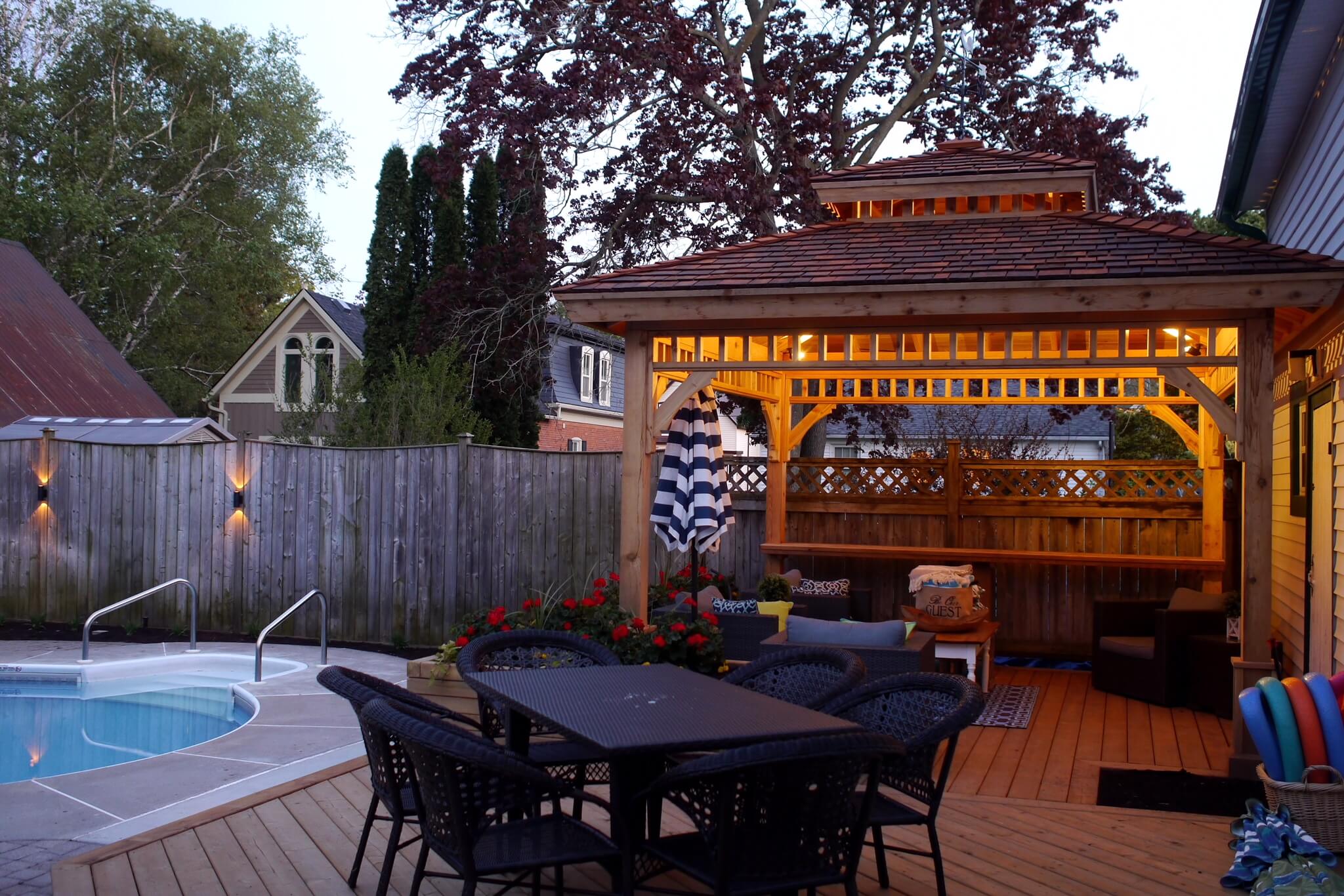 Gazebos are like a classic black dress that  can be dressed up or down for any occasion. Whether you're looking for a calming classic atmosphere, or a chic and modern uplifting environment, your backyard gazebo can be structured and decorated to fit your lifestyle needs. 
Once the gazebo is installed, you will find there are a multitude of benefits and uses that can be taken from it – making it the perfect extension to any home or cottage. 
Additionally, if you would like to read up on different tips and ideas for choosing which gazebo will fit in your home best.
1. Spa Day
Our normal day to day routines can become tiresome and stressful. We end up craving a much needed spa treatment but those usually require expensive bookings, wait times, long drives and a lack of privacy. So what better way to unwind and relax than in the comfort of your own home. 
Backyard gazebos offer the perfect sheltered outdoor environment so you can enjoy the fresh air while still being covered from the sun. This creates a space to rejuvenate after a long day, while avoiding all inconveniences of a conventional spa. 
Whether you want an intimate space for you and your partner, a guys/gals spa day, or just some alone time, a gazebo can turn your backyard into a spa oasis.
2. Outdoor Yoga
A gazebo will allow you practice yoga outside in a variety of weather conditions. Practicing yoga outdoors has a multitude of benefits, including: 
Increased energy levels and vitamin D from the sun 

Heightens your connection to nature, rather than trying to simulate it with audio recordings. 

Boost your meditation benefits 
Of course your backyard gazebo will protect you from getting too much sunlight and overheating while working on your body, but it can also protect you from the rain! Doing yoga in the rain can allow you to experience a natural, dewy aroma in addition to the soothing authentic sound of water droplets – this will diversify your yoga practice and connect you to nature even further. 
You can have your very own outdoor yoga studio with only the simple addition of a few matts. 
3. Scenic Viewing Spot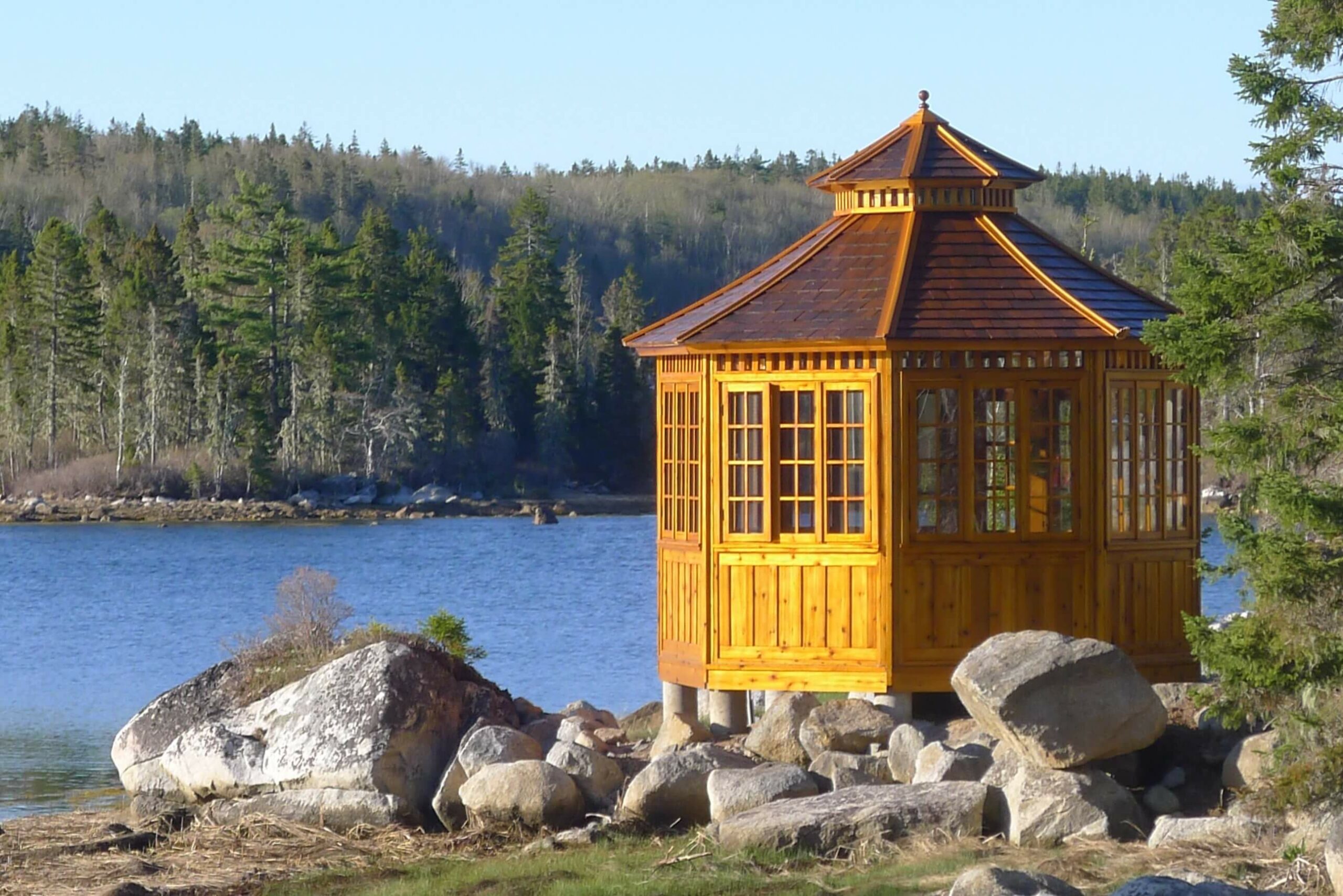 Nature is beautiful, but it can sometimes be challenging to enjoy when we aren't in a comfortable spot. Nothing compliments a beautiful landscape like a cozy viewing area. So what better way is there to enjoy a scenic view than from your personal gazebo. Whether you have a lakefront cottage, or a ravine lot, a gazebo will enhance your atmosphere by adding luxury and comfort to any outdoor space.
4. Hot Tub Gazebo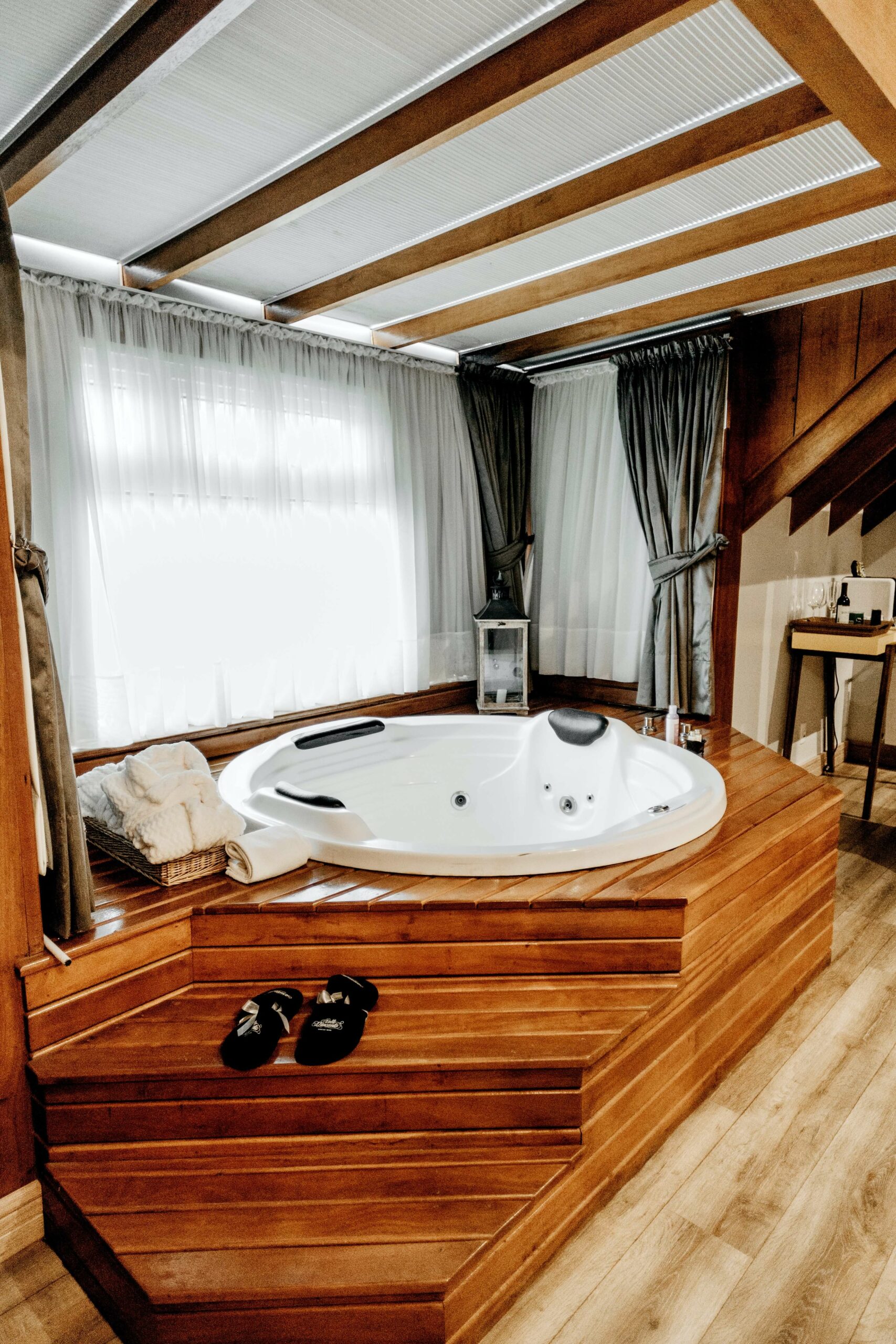 A hot tub gazebo is useful all year round. In the colder months you can use the hot tub to warm yourself up, while the gazebo will cover you in case of any snow fall. And in the summer, covering your hot tub with a gazebo will help protect you from unwanted mosquitos and any other bug bites. 
Adding a gazebo to your outdoor space will allow you to get most out of your hot tub throughout the entire year, without needing to deal with any of the drawbacks of being outside.
5. Outdoor Dining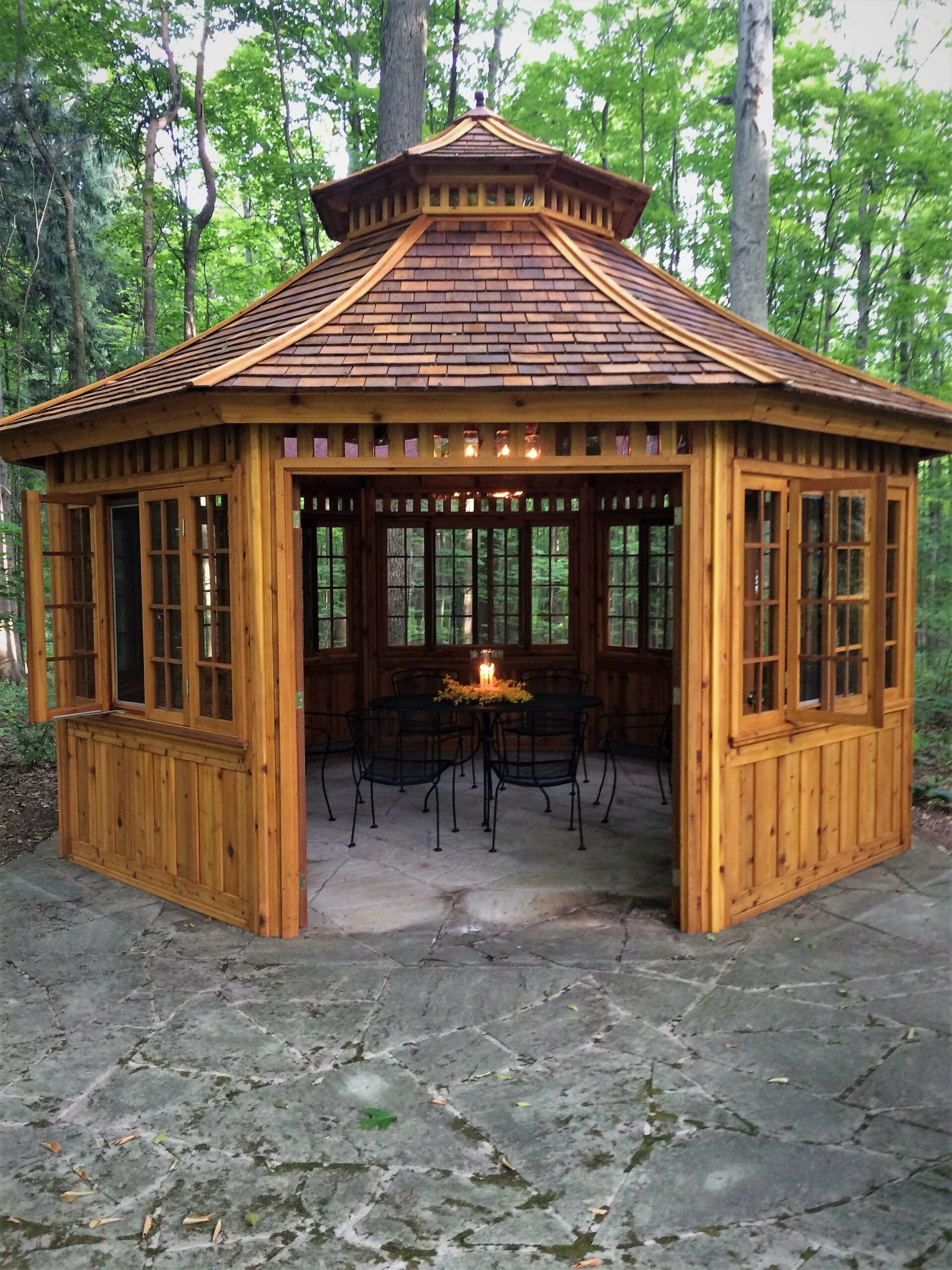 A gazebo will elevate any outdoor dining space, making it feel more welcoming and luxurious. Additionally, with this type of enclosure you don't need to give up on your outdoor dining experiences when colder weather hits. When temperatures start to drop, you can still enjoy a meal in your backyard because the structure will protect you from colder winds and rain.
In the summer months, you can easily open the windows and doors to let natural air flow through, while the roof keeps you in the shade from the sun.
6. Entertainment Lounge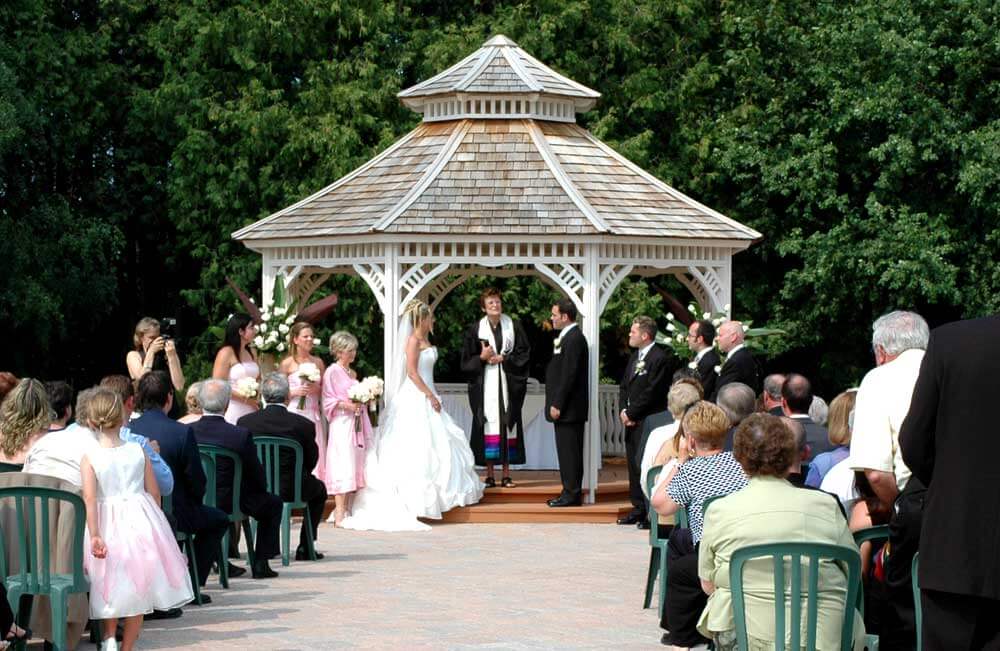 Whether you're hosting a wedding ceremony, birthday party or just a casual friends and family gathering your gazebo will become the focal point of your event. You can use it to set up a snack table, make a mini dance floor, or as a scenic photo shoot area. This simple addition will create so much versatility to your outdoor events, without ever needing to leave your backyard. 
If you're looking to bring some luxury and versatility to your outdoor space see Summerwood's collection of customizable gazebos. 
More Posts You May Find Interesting