If you are looking for a structure that is weather-resistant, and aesthetically pleasing then a cedar shed will be your best bet. It offers a warm feel and homey aroma that creates an ambience unmatched by vinyl and fiber cement.  A variety of siding styles and wood grains give you the opportunity to customize the look of your structure.
Additionally cedar takes to staining vey well. This is because staining reveals and enhances cedar's rich texture. Cedar wood also resists swelling, cupping and cracking better than pine and fir.
Keep reading to take note of some additional benefits of using a cedar shed.
Durability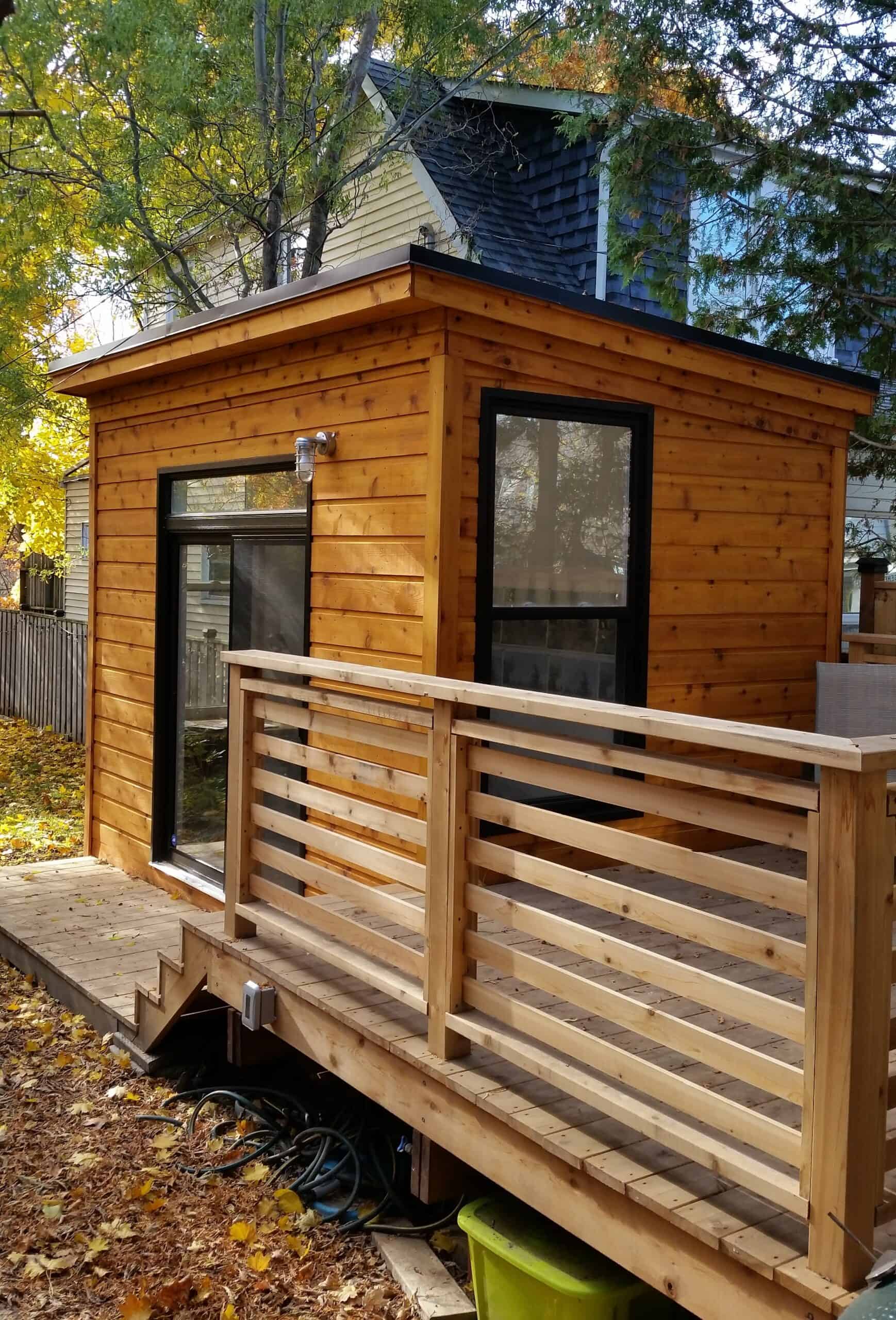 Durability, in terms of wood, is defined by the wood's ability to resist elemental and natural forces of decay. So when choosing a wood for your outdoor space it's important to consider how well it will stand outside. Cedar thrives in damp climates, which allows it to withstand harsh weather conditions. Cedar doesn't shrink, swell, warp, or decay even when there are drastic or severe changes in weather ( and living in Canada, we are all quite familiar with how drastically the weather changes) making it the ideal choice for the exterior siding of your shed. 
Cedar wood is defined as a durable (15-25 years) to highly durable (25+ years) product.
Maintenance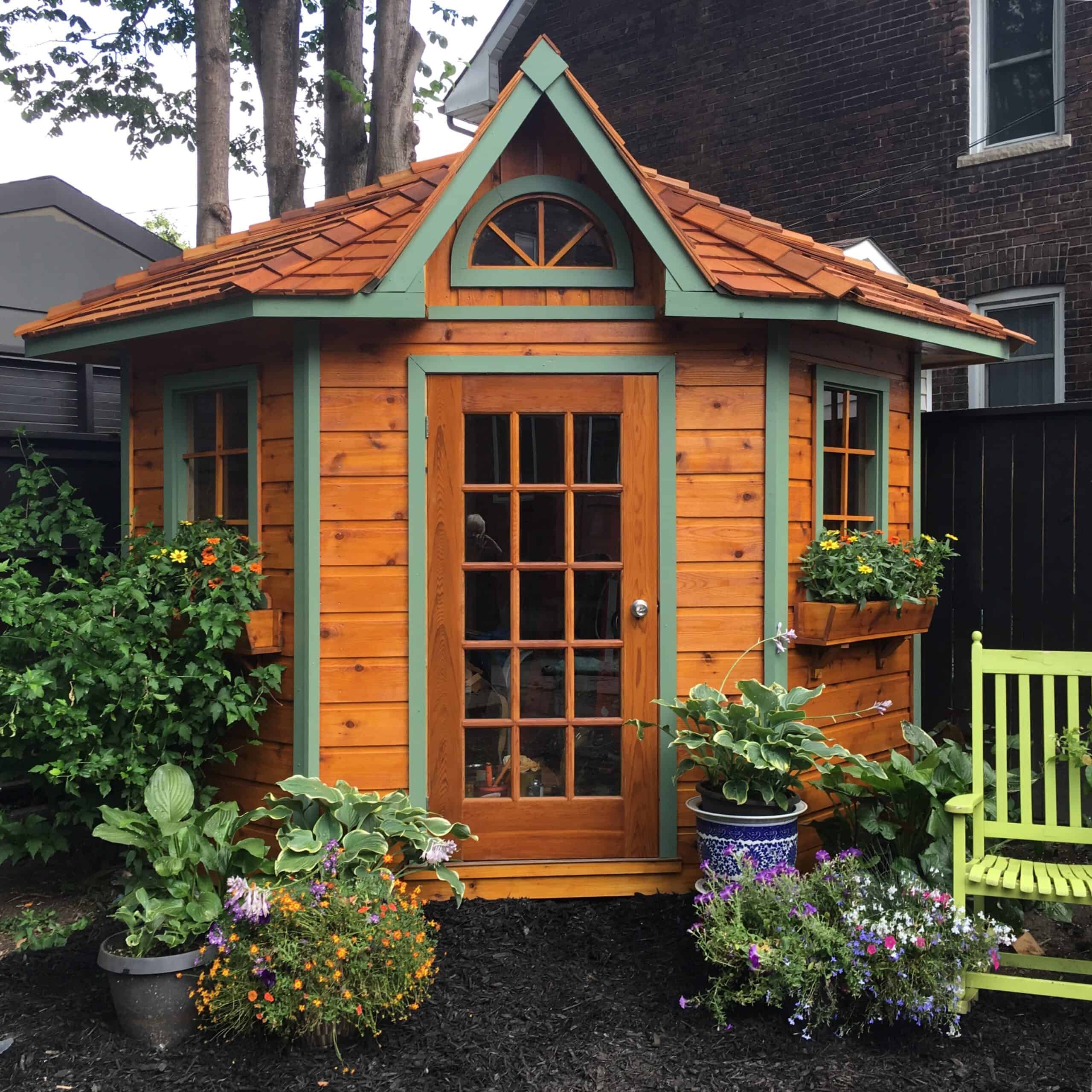 Maintaining cedar siding is inexpensive and is within the capabilities of the average homeowner. Untreated cedar siding will gradually weather over time without excessive warping and cracking, but it still requires some maintenance. Stained cedar siding requires a little more maintenance to keep it looking its best, but it will also last longer than untreated alternatives.
A thorough cleaning only once or twice a year will greatly extend the life of cedar. Prone to dust and dirt accumulation, cedar exterior siding should receive a good pressure wash on the lowest setting to keep it looking new. 
It is recommended to perform this wash during the summer so the siding is able to dry effectively following the pressure washing.
Sound Resistant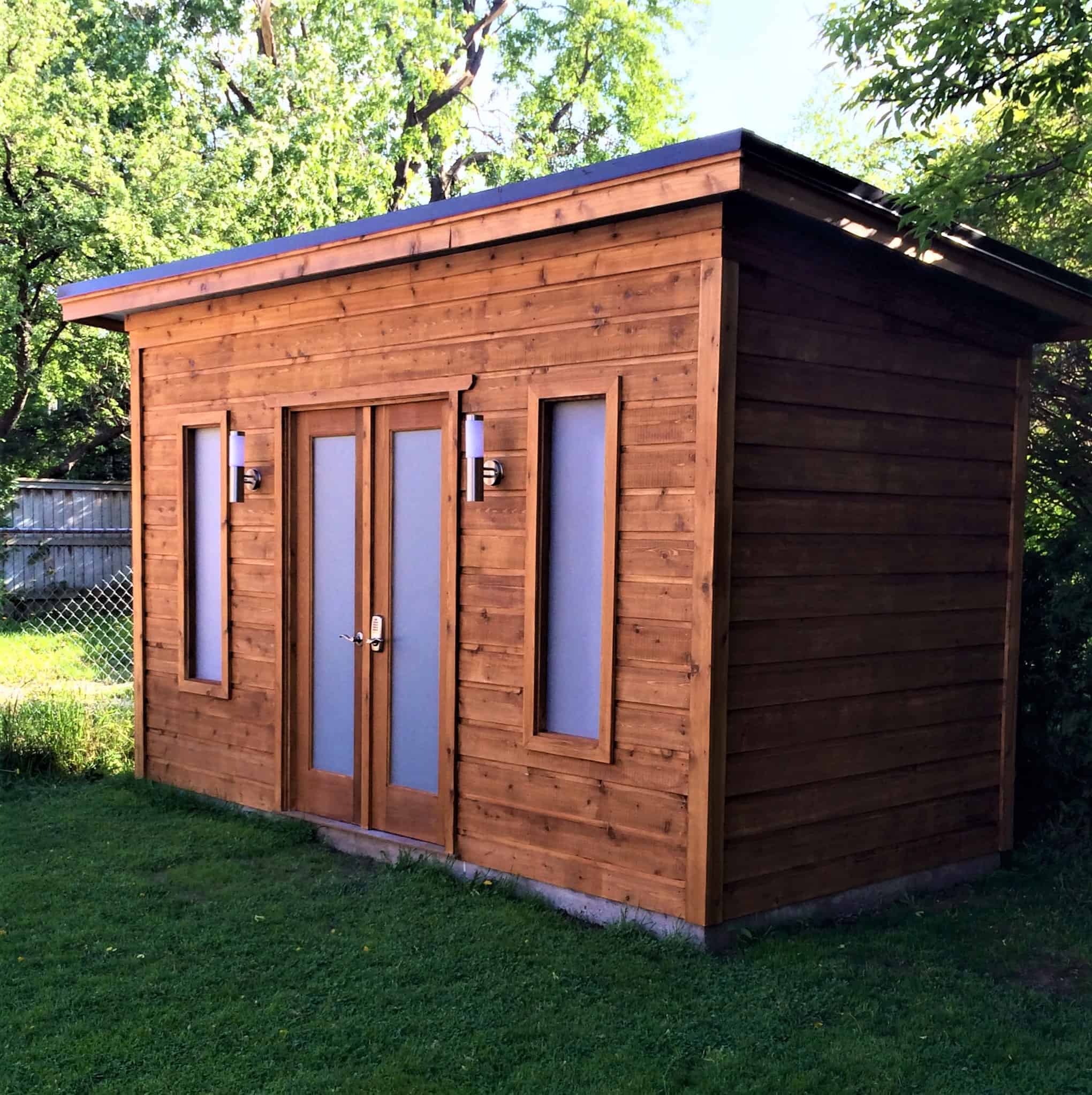 Cedar is a porous wood, which gives it the ability to absorb noise. This quality is one of the many reasons why it's commonly applied to the exterior and interior of homes and sheds. If you are using your shed as a yoga studio, or home office, it'll be important for you to keep outside noise distractions to a minimum. On the flip side, it will also keep the outside world from hearing what is going on inside – in case you want to play loud music while you use your cedar shed for a home gym.
Insect Repellant
Certain chemicals and oils contained in the fibers of cedar wood act as a preservative, making cedar more resistant to termites and other insects, compared to most other woods.
Additionally, cedar chips deter moths from munching on your sweaters and other wool items in summer storage – making it useful in deterring other pests both inside and outside.
Cedar's superpower to combat unwanted bugs, snakes and rodents lies in its distinctive and pleasant earthy smell. The wood is actually emitting aromatic hydrocarbons (phenols) and acids that act as natural pesticides.
Environmentally Friendly
Western Red Cedar is known to be one of the most sustainable resources. As one of the world's most thoroughly researched woods, Western Red Cedar produces fewer greenhouse gases, generates less water and air pollution, and requires less energy to produce than alternatives. 
Western Red Cedar is carbon neutral. In an extensive study that compared it to vinyl, fibre-cement and brick in accordance with international standards in the ISO14040/44 series, Western Red Cedar received top marks in five to seven impact criteria, including "global warming potential."
Beauty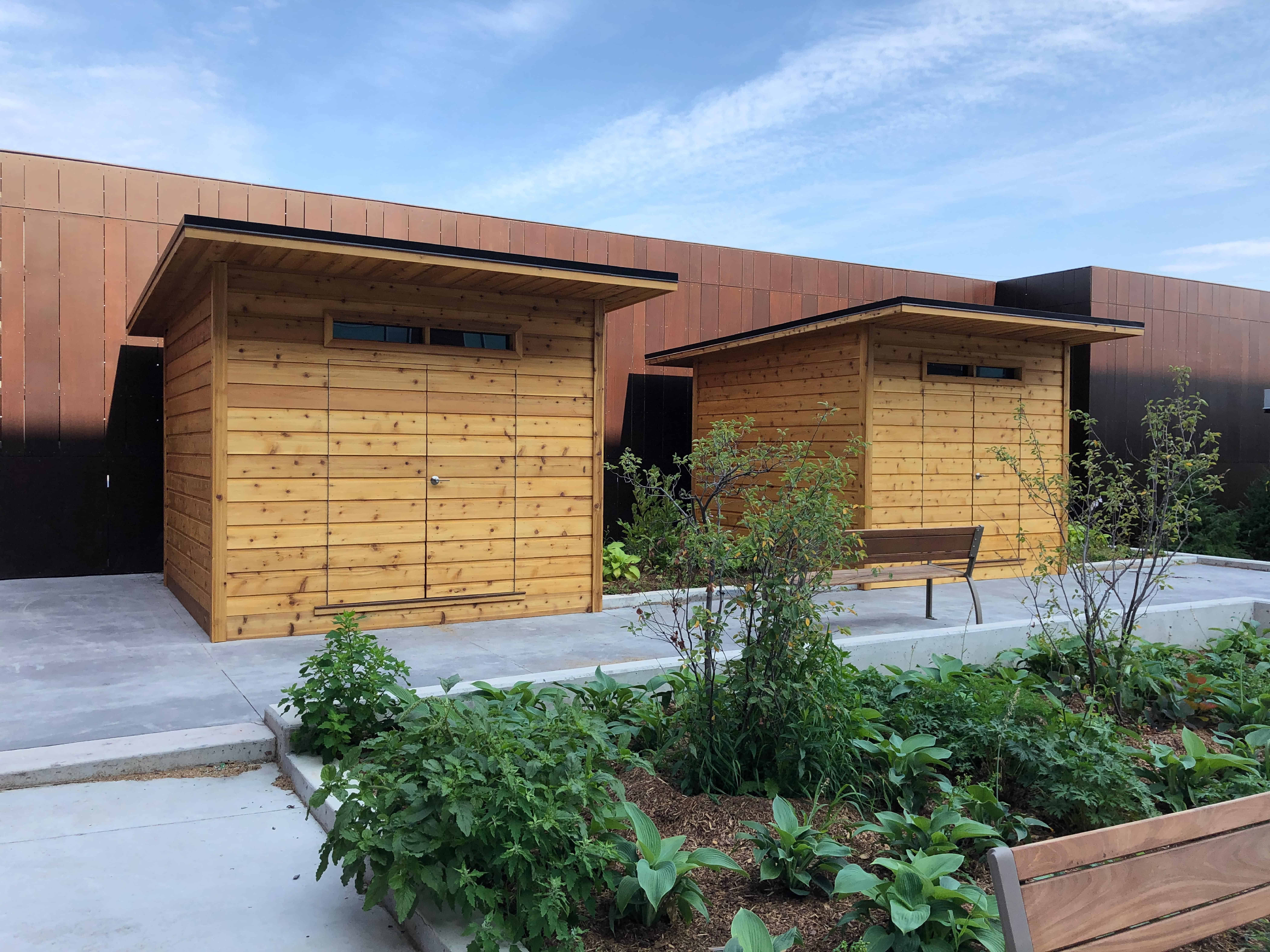 White and red cedar have natural red and pink tones, so you can just use a clear coat to magnify its natural colour. Finishing can enhance the durability of your cedar wood even more with the regular application of sealer to help it retain its colour and stability.
Cedar is also notorious for its beautiful knots and pale yellow streaks that will add a more rustic feel to your cedar shed. 
No matter what kind of cedar kit you are looking for, from sheds to pool cabanas Summerwood has many options to choose from. Get started on enhancing your outdoor space today. 
More Posts You May Find Interesting