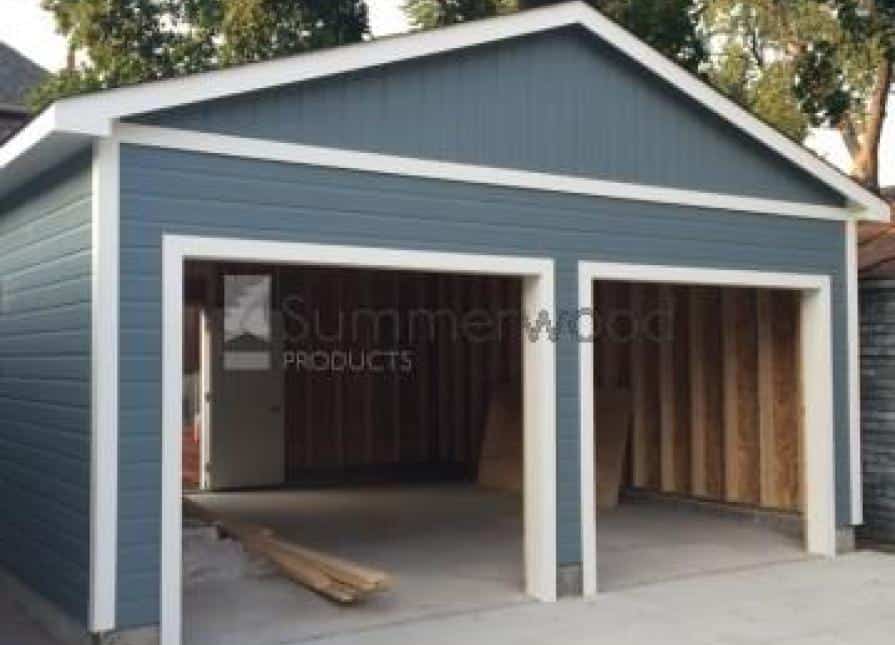 Building a new garage is a significant undertaking. Interestingly enough, most of the choices you make come from answers to basic questions you'll need to ask yourself before getting started. The first tip you'll find here is to get our designers involved early in the planning stage of your garage. But the first question? What will you be using your new garage for? Is your new garage strictly for parking the car? How many cars? Will it be a part-time workshop, tool shed, or do you want a loft with some office space? With so many possible uses, it's a good idea to list all the purposes your new garage will serve before beginning its design. The following tips and ideas are aimed at helping you think of all the little things in the beginning, when they are free, instead of discovering them during, or worse still, after construction.
Choosing the Best Garage Site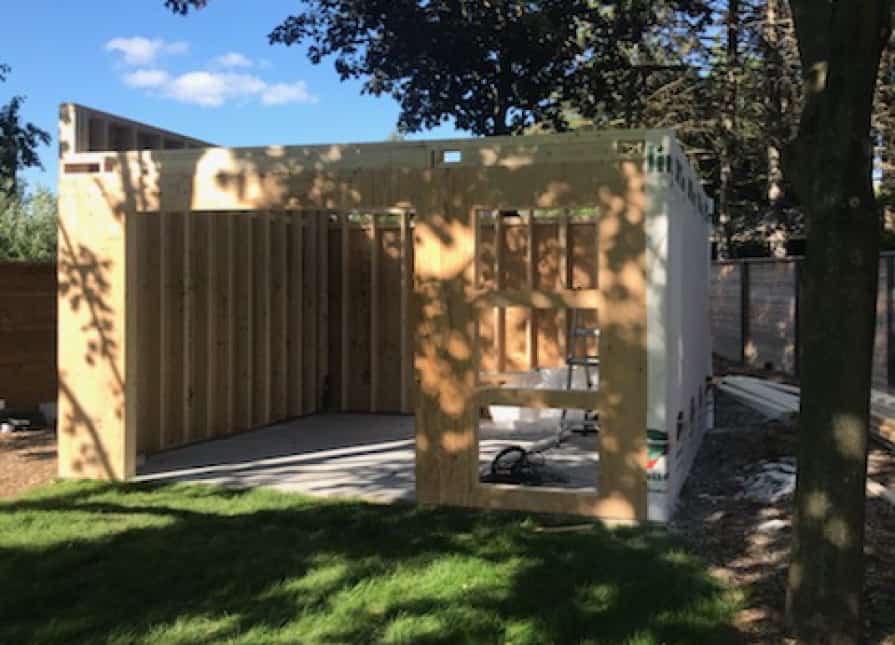 Both practical and aesthetic considerations play roles in your decisions. How far from the road, and your home, do you want your garage to be? If you live in a colder climate, do you want to be shovelling your way out to the road, or trudging your way through to the house? If you're building your garage to complement other buildings on your property, think about how it will look in winter, spring, summer and fall. Seasonal changing foliage affects visual impact.
What about running electricity, venting and plumbing to your garage? If you're planning on doing so, you'll need to account for these factors when choosing the location and plan to extend the infrastructure for them. If you live in a colder climate like us up here in Toronto, consider installing radiant floor heating in the building phase to keep your vehicle cozy and warm on frigid nights. We also offer thermal doors and windows to help keep your toys warm in the winter and cool in the summer.
Garage Design Decisions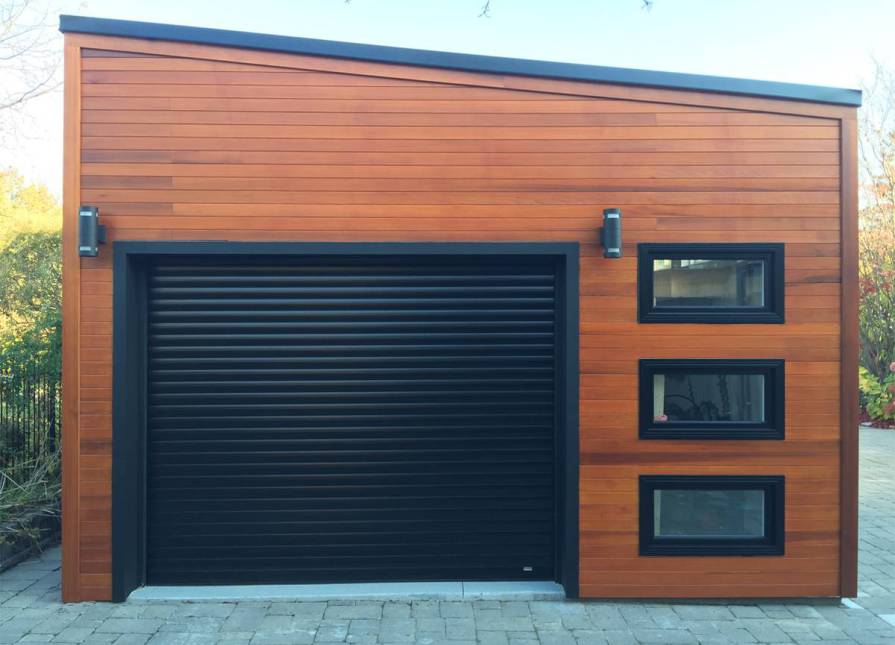 Summerwood offers a large selection of garage designs, each of which can be personalized to suit your particular needs and wants. Many of the design options Summerwood offers are only available here; its part of what makes dealing with Summerwood unique. We'd also suggest that you involve our design team in your decision making process; they've been doing this for decades, and you'll increase the odds of getting exactly what you want.
Outside – Most garages do adequate duty as a shelter for your car. But a Summerwood garage is an architectural statement and can greatly boost the overall value of your property. You can make that statement an original one by modifying any of the fine garage styles we offer. Build the garage of your dreams with attractive windows and doors, enhanced by shutters and flower boxes; give it charm with antique style hardware, dormers and more. You'll also have plenty of choices when it comes to the roofing style and material, as well as the siding. We offer maintenance free Canexel siding, as well as traditional and beautiful cedar siding.
Will you be creating a concrete driveway, or using crushed stone or other material? The look of the driveway should be part of the overall design decision.
What's happening on the inside? The list you're going to make of your garage uses will help you decide on many of the interior design options. If it's a multi-purpose structure, you may want to partition it for order. However, an open concept provides a feeling of space that may work well for your situation. Be sure to allow some extra space for storage, with shelving and cupboards, and if you're planning on doing some DIY home projects, you might want space for a work bench and tools.
Garage Doors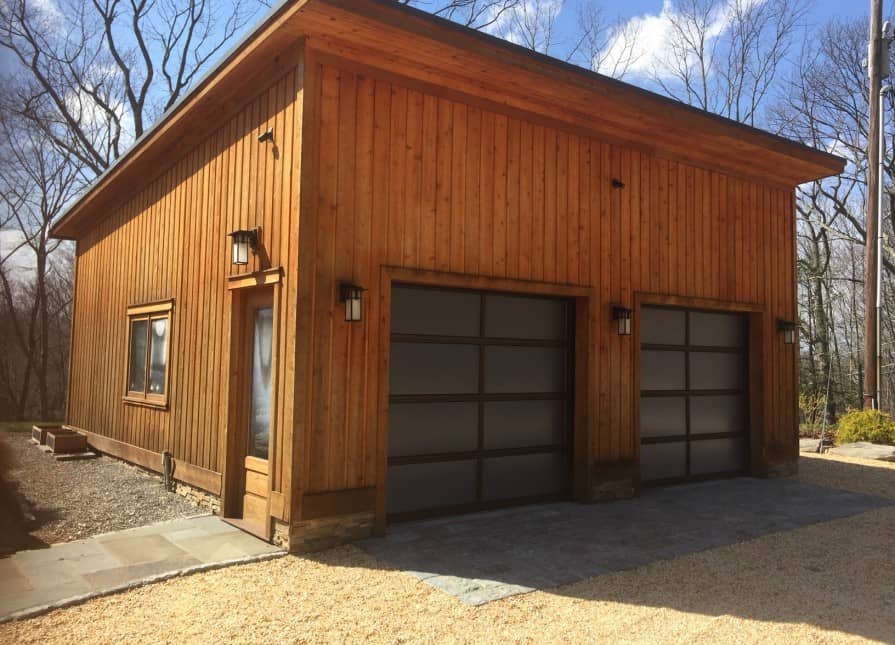 We have an impressive range of finely crafted garage doors that are sure to suit everyone's tastes and requirements. Looks that range from the old style country barn to a smart urban coach house. Our doors are available in either a rollup or carriage style, and are available in Mahogany, Cedar or Steel. All are available in thermal insulated as well. You can also upgrade and add windows and other extras to suit yourself and create just the look you had in mind.
Garage Construction Materials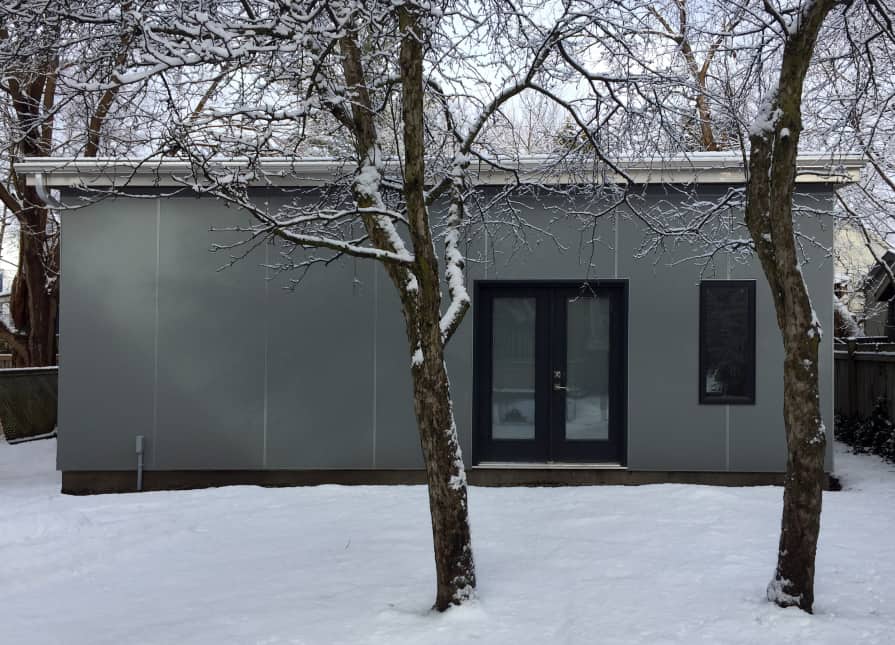 A garage is a major contributor to the value of your property and quality of your life. At the very least it protects your car, which, is among your most prided possessions. So you want it to be sturdy and last a lifetime. That's why we only use the finest construction materials in our garage building kits. We advise you to do the same when completing it with personal touches. The old adage, you get what you pay for is certainly true when it comes to construction.
Our garages are available with rich, long-lasting western red cedar, but you can also choose our Canexel siding. It's a maintenance-free wood fiber siding and comes in a variety of pleasing colors. The hardware is all absolute top quality to ensure longevity.
Learn more about our garage siding and other building materials.
Sizing your Garage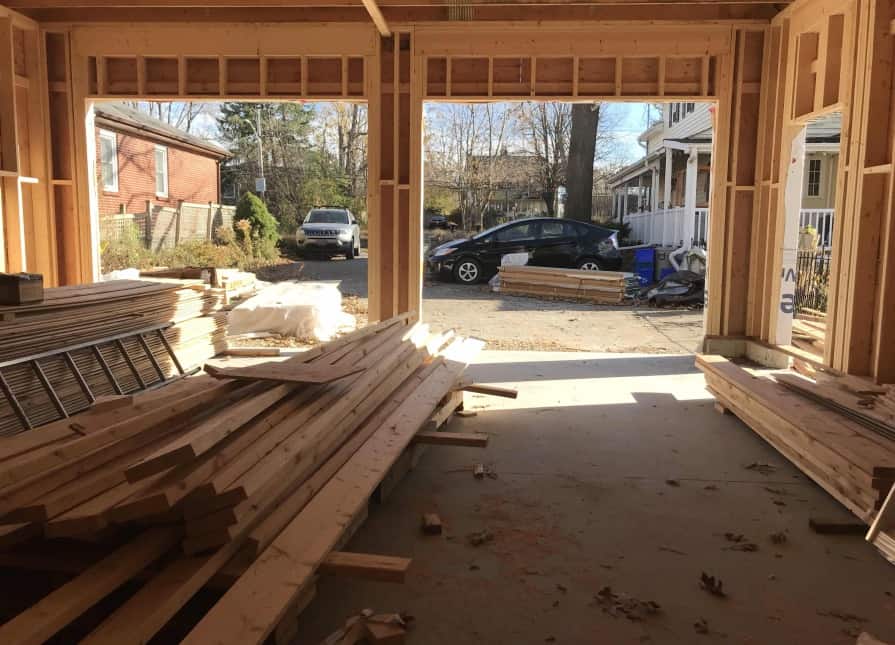 At this stage, that list of intended uses we keep talking about will come in handy. For instance, if you want to host jam sessions without moving the car outside, you'll need more space. Mind you, a dual-purpose garage doesn't have to be huge, if you plan well. You can store skis, garden tools, lumber and the like up in a loft. But will you need extra floor room for another car, bikes, maybe a workbench, hobbyhorse or workout space? The key is to anticipate your needs and give yourself a bit of extra room to move around once you've accommodated them. Be sure to view our sample floor plans and utilize our floor plan grids. They're a huge time-saver. Once you've decided on a size, physically test it. Set some stakes in the ground and tie string around them, creating the actual area you're intending to use. (You can do this even if you haven't quite decided where to put your garage.) Once your mock space is "built", can you fit everything you're dreaming of? The last thing you want is to find out after you've built your garage is that you don't have the space to accommodate all your stuff.
An important size related topic is building permits. Make sure you enquire with your local building permit office about the process for your location. Most jurisdictions and municipalities require building permits for structures over 100 sq feet, which your garage is most likely going to be, so plan on getting one long before your garage kit arrives. This library of US regional listings will include the government office you need to contact in your area. Contact us for more information. We can help.
Garage Roofing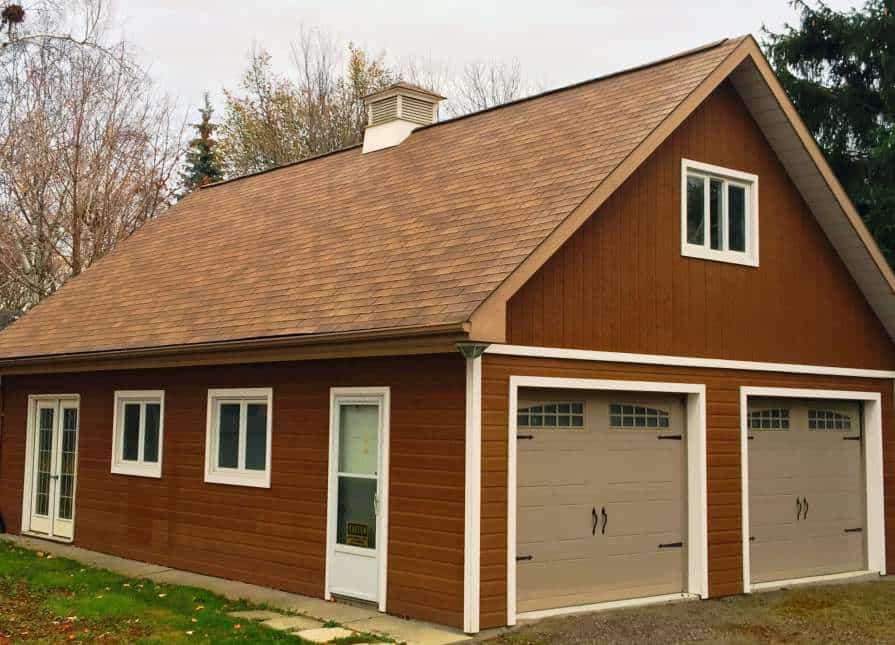 Unless you order our long-lasting and beautiful cedar shingles with your Summerwood garage kit, you'll need to supply your own roofing. The most economical and common choice is asphalt shingles. They come in assorted and attractive colors, are easy to find at your local building supply center, and are easy to install. Another attractive yet practical choice is corrugated metal instead of shingling. It also comes in many charming colors. And in winter, even the wettest, stickiest snow falls from it like water. Depending on your design goals, you may want to obtain the same roofing material that was used on your house; in this case we can ship your garage kit with no shingles. For more information on roofing options, check out our garage information section.
Another attractive yet practical choice is corrugated metal instead of shingling. It also comes in many charming colors. And in winter, even the wettest, stickiest snow falls from it like water.
For more on roofing options, check out our garage information section.
 Building it on Your Own
A garage is a relatively large project, but our prefabricated kits make it easy; plus you get loads of helpful and instructional tools, not to mention telephone and email support for those particularly tough questions. So yes, you can build it on your own. And it's actually a lot of fun! Over the years we've turned loads of Nervous Nestors and Nancies into Handy Harries and Hildas! Just be sure that you have the time, energy, tools and the skill level to complete the project; don't forget that a garage is a larger structure and requires a certain amount of carpentry skills. To give you a better idea of the time that it might take to build your garage kit, look for the installation time in the instruction paperwork. Here you'll find the number of labor hours it would take to assemble your kit. Depending on your level of handiness, you can plan your garage's construction better.
On the other hand, you may not have the time or desire to do it yourself. We can help with our how to hire a contractor information, as it offers a lot of valuable advice. The printable labor estimate sheet will give your contractor all he or she needs to provide you with a quote. Don't have a contractor? We can provide you with a reputable and trustworthy contact with experience building our structures. Contact us for details.
Selecting a Garage Design
Each of the below garage styles are available in an easy-to-build precut, or prefabricated kit package. They can be as large or small as you like. Choose a style, then customize it online in our Custom Design Center, or give us a call to have a designer help.
Summerwood Garage Styles:
Urban Garages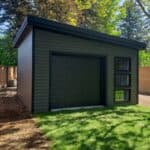 – The Urban garage provides all the storage space you'll ever need and does it in a style that's all it's own. With so much great space, you'll be sure to use your garage for more than just parking the family car!
Highlands garages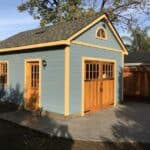 – The simple gable roof evokes the no-nonsense style of hearty northern Scots. Consider large sash windows to allow for plenty of sunlight, a Scottish rarity!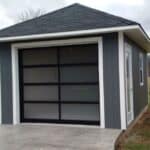 Archer garages – The hip roof style creates a soaring feeling of space and makes for a pleasant view from any angle. A flagstone walkway to the side door gives it that homey feel.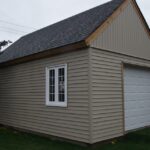 Montcrest garages – Its steep gable roof means extra storage potential and quicker tumbling snow in winter! Inside the effect is spacious – consider capping your Montcrest with our cedar shingles.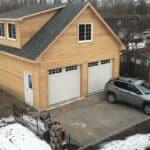 Alpine garages – Inspired by the roomy chalets of Austria and Switzerland, the double-car Alpine boasts a vast gable roof. Add a dormer window to make the most of the effect inside and out.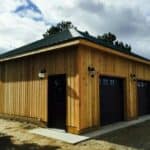 Bishop garages – The pyramid shaped hip roof of the double-car Bishop adds a classic style to any property, bespeaking harmony and order. Balance it with our cedar shingles for a handsome look.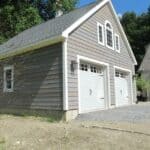 York garages – The plunging gable roof of the double car York garage seems to go on forever inside, but gives the impression of hugging the property outside. And there's plenty of storage potential inside the loft.
Can't make up your mind? Don't forget our designers are waiting for your call. We'll help you create something brand new, or we can help modify one of our existing designs to suit your situation; just
contact us
to get started. And did we mention we also make
sheds
and
pool cabanas
?
More Posts You May Find Interesting