We all want a garage that can not only fit our cars but also give us that extra space to organize tools, equipment, and other miscellaneous items. This article will help you decide on the ideal garage for you and all your practical needs that require extra space; a garage that's stylish and tasteful and one that will excite you to fire up the tools for your next big project.  In this article, we will go over 8 popular garage styles, their key features, and the practical advantages of each style. 
1. Annex – A functional and modern garage for any urban setting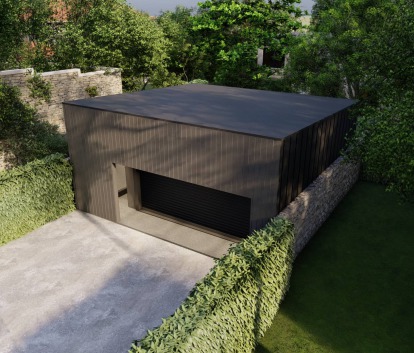 In one word, chic! The annex is a contemporary style that is much more than just a car garage. Offering a wide variety of modern floor plans, you can now choose to have your very own home office or workstation. Perfectly practical to meet all your fast-paced urban living needs. 
2.
Highlands – Inspired by the simplicity of the countryside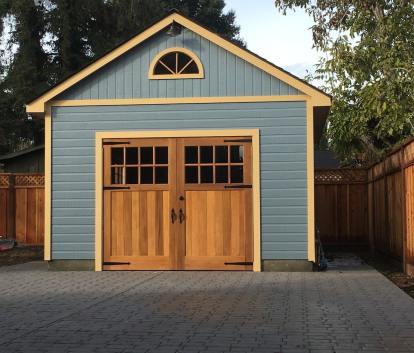 Simplicity and functionality are the key elements of this garage design which is inspired by Northern Scotland.  The Highlands is a detached garage option that will hug your landscape and give it a vibrant countryside look. Keeping the looks aside, the design also gives priority to functionality. You can either go for the single-car option that offers additional storage space or the two-car option, which can accommodate your cars, a boat, and all your other toys. 
3.
York – Majestic outside, roomy inside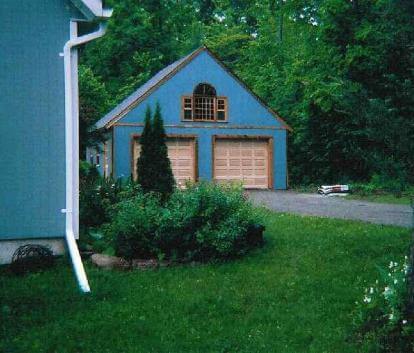 This design comes with a beautiful steep gable roof with fan arch and pane picture windows, flooding the large floor space with ample light. The flooring of the York design offering is large and a perfect place to work on various projects. The abundant space is ideal for storage or even a potential loft area.
4. Archer – Practical and bright for the modern city living

This is a simple and sporty single-car design that nonchalantly blends into your modern city home. If you're looking for nothing more than a simple garage for your house, the Archer can be the perfect option for you. Its wide design gives it a roomy feel and the large sash windows bring in an abundance of light and fresh air.
5. Alpine – Your home away from home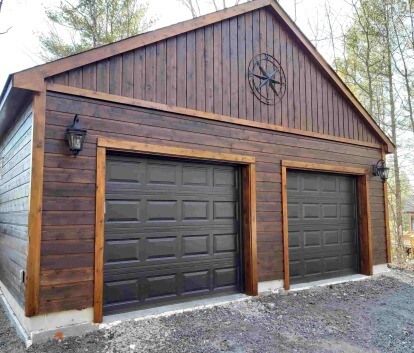 If you love spending time working away on your small home projects, this is the spot you'll find yourself most of the day. The Alpine is a large two-car design made to accommodate big households and families and all their needs. 
The garage's gabled roof gives it the look of a soaring alpine mountain. These garage buildings come with a myriad of space that can be customized with antique hardware, custom doors, and additional flower boxes or shutter that'll make the garage look like an alpine structure from Central Europe.
6.
Bishop – The perfect balance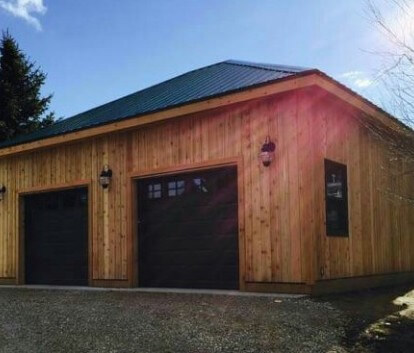 This design is a triumph of form and function. The Bishop is a 24×24 garage kit that is spacious enough for your cars and a boat, and you'll still be left with extra space for jamming with friends and for storage. 
The pyramid hip roof will crown your landscape like a finely hewn chess piece. These garage buildings are so big that you can customize the interior options and floor plans perfectly to your liking.
7.
Montcrest – The Country quaint garage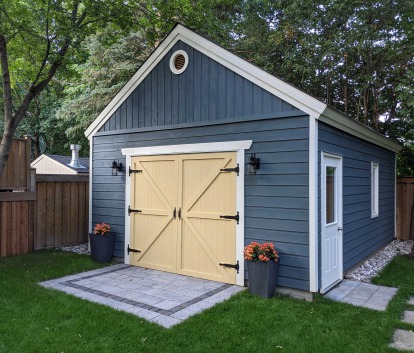 The Montcrest is a single-door garage with a spacious gable roof design.  The structure has eight-foot-tall walls that offer plenty of storage and headroom, giving the design indoor practicality while maintaining exterior style. 
The Montcrest will give your home a quaint country feel similar to a Hollywood western. You can customize the exterior to blend with your house. These garage building kits are completed with a maintenance-free Canexel siding and sash windows.
8.
Urban Garage – Turn your driveway into a destination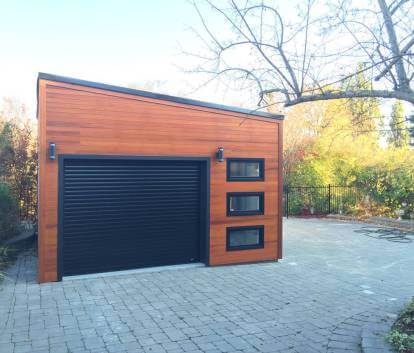 This garage offers a sleek and cutting-edge design with functional stylings. The Urban garage sports a flat roof style, an 8-foot ceiling, and is well-suited to complement any modern and urban house design. 
You also have the option to choose either a single or double garage design, depending on your space requirements. The 8 feet walls offer options for shelves and additional storage options.
Cost to Build a Garage
The cost of garage building kits can be influenced by many factors. Some of these costs that can could include the material used for the siding, foundation and finishes applied, electricity and heating, and the type of door selected. 
According to Forbes Advisor, the average cost to build a garage is $24,000.To give you more perspective, you can build a 12×24 garage for an average of $15,000. On the other hand, a two-car 24×24 garage kit can cost you an average of $30,000. Check out the pricing for each of our garage building kits based on the various specifications such as size, materials used, and additional features. 
Speaking of additional features, here are some tips you could consider while planning your next garage.
Garage planning tips:
Consider tall doors for different vehicle sizes and for times when you strap something on the roof. 

Install floor heating if you plan on crawling around the floor to work on your car. 

Install garage air conditioning and heat if you plan on spending time in the garage during the summers and winters. 

Install sub-panel to avoid power inconveniences in the future. 
Building a garage can be a lengthy process, and planning alone could take a lot of time. However, a well-planned and built garage can prove to be a very good long-term investment.  
Finding the right garage is just a step away. Check out our wide collection of garage building kits and find a garage that will best suit your lifestyle needs. With our wide variety of styles and sizes, we can assure you we've got something for everyone!
More Posts You May Find Interesting