If you want your backyard to reflect your unique personality, the ordinary lawn and garden has got to go. You must integrate personalized elements into your backyard design to make it truly one-of-a-kind. With the right blend of elements, your friends and family will instantly recognize your backyard as an extension of your individuality. Combine any number of the innovative elements listed below to create a fully customized backyard space to enjoy for years to come.
1. Rock Garden
Your backyard space will take a unique turn with the inclusion of a Zen rock garden. Frame out the area with simple bricks and place your rocks in an interesting configuration. Fill the rest of the area with tiny, round pebbles to complete your garden. Make sure to regularly rake the pebbles into smooth ripples that mimic the movement of water.
2. Miniature Orchard
If you do not have room for a full size orchard, utilize dwarf fruit trees to create a miniature version right in your backyard. Place your dwarf fruit trees in containers to limit their normal 10-foot height to about four feet at maturity. You can find almost all fruit tree varieties in this tiny size, including peaches, lemons, limes, oranges, cherries, bananas, apple and figs.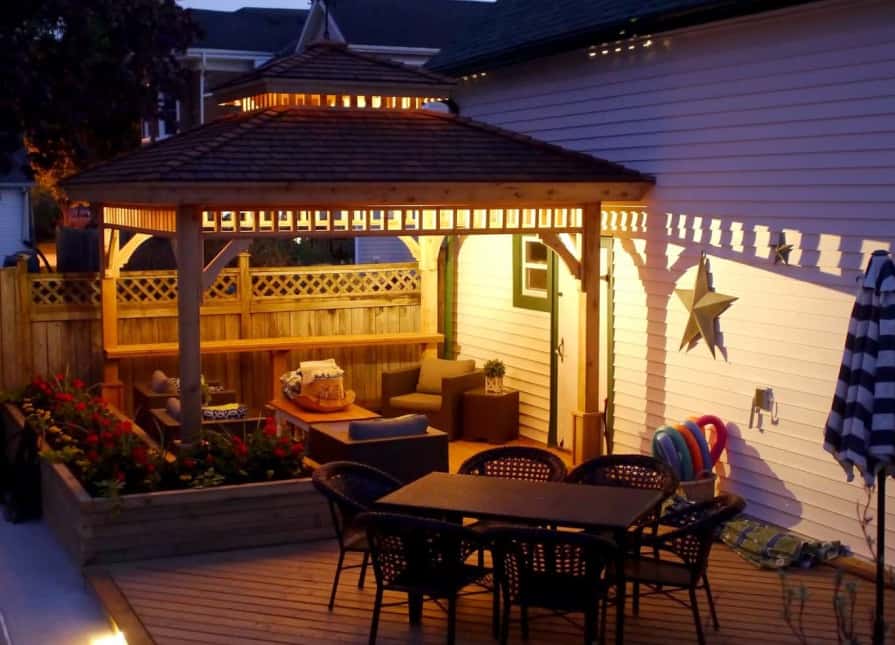 3. Log Pathways
Utilize log slices of various circumferences to create a pathway you will be proud to walk down. The wood stain covered logs will display their age for all to see without succumbing to the elements. You can choose to leave the bark on for a distinguished look or display the wood with bare edges to create a design that looks a bit more uniform.
4. Heart Planters
Beauty and brawn come together in heart shaped planters made of concrete. You can pair large and small heart planters together in various spaces throughout your yard or create a full line of hearts to separate two areas of your yard into separate sections. Make sure to plant tall flowers with wispy greenery to continue your theme of opposing elements.
5. Block Wall
With a block wall, flowers almost seem to defiantly jut out from the crevices in an attempt to soften the edges of this tough structure. Create this structure by stacking cinder blocks into a wall up to your desired height. Stagger the ends to leave a cinder block hole, or two, exposed for use as a planter. Create additional planters by turning every third or fourth block perpendicular to the others. You can create a partial wall or use the structure to actually surround a specific area in your backyard.
6. Animal Bushes
Turn ordinary bushes into extraordinary creations by shaping them into the animals you love. You can turn any bush displaying white flowers into a sheep by shaping the plant into an oval and adding a ceramic head, four legs and a tail. Consider turning dense green bushes into frogs, lizards, birds and grasshoppers by shaping the plant using pruning tools and an artistic touch.
7. Pond Container
Build a pond garden in a large container to take your backyard space to the next level. With a small pump, this type of garden will basically maintain itself. Fill the pond with aquatic plants, including cattails, water poppies, irises, taro and lily pads. Your pond will attract frogs, lizards and local wildlife for you and your guests to watch while you relax outdoors.
8. Rain Chains
Replace your boring downspouts with rain chains to make the most of sudden rain showers. Water lazily trickles down the chains to the ground below without making a peep. Carefully place the chains to allow the rainwater to naturally provide thirsty plants with extra moisture.
9. Fire Pit Sculpture
A beautifully sculpted fire pit can light up the night with your favorite scenes, animals or shapes. Choose a fire pit design that matches your backyard theme or personal interests. Make sure to place the pit in an area that allows you and all of your guests to crowd around it together on chilly nights.
10. Tree Trunk Seats
Your backyard is not complete without a full set of tree trunk seats. These simple seats can be placed around a fire pit or aligned tightly together as an impromptu garden bench. You can move the trunks as you see fit to customize your backyard arrangement on the fly.
Completing Your Backyard Build
Once you get your backyard design elements squared away, consider adding a cabin or studio as the main focal point. Your stylish outdoor structure can act as a dedicated space for your artistic endeavors or just as a place to relax after a long workweek. You can obtain prefabricated, purpose built cabins and studios from Summerwood. These structures are always easy to order, construct and personalize. Browse through the options and customize it with the online Design Center to select the best one for your needs.
More Posts You May Find Interesting